Far from the bright lights of the Las Vegas Strip, tucked away within the sprawling, terracotta suburbs, sits one of the most haunted schools in America, a monument to its students—both living and deceased.
Edwards Elementary School may not be ancient, but it no less has history, and it's that very past that has made it infamous, putting it alongside mob-run casinos, dilapidated motels, and abandoned mansions as one of the most haunted places in Las Vegas.
The Strip may have its reputation, but, in town, the students and teachers of Edwards Elementary have their own stories to tell.
Quick Facts
The original Edwards Elementary School was built in 1976.

The School serves around 700 students from Pre-kindergarten to 5th grade.

Room 26 is the central location of the paranormal activity.

As of writing, the school has been demolished and plans to rebuild it are in motion.
The Haunted Grade
On the corner of Lamb Boulevard and Bonanza Road, nestled in an outlying neighborhood northeast of the Las Vegas Strip, sits the notorious Elbert Edwards Elementary School, one of the most haunted present-day schools in the United States.
Built in 1976, this public school has long served the people of Las Vegas, hosting as many as 700 children between Pre-kindergarten and 5th Grade, as well as employing nearly 30 full-time educators and staff.
From the outside, there may not be anything particularly strange about the school or its student body. In truth, it looks like any other school in the city which, in turn, looks like any other school in the country, just another place of learning that has nurtured generation after generation of fresh, young minds.
It has halls filled with mingling students, classrooms full of textbooks and cubbyholes, and a cafeteria that, unsurprisingly, has probably seen its fair share of food fights. But it also has something else, something your own elementary school probably didn't have—a haunted 4th grade.
Not a haunted school, or classroom, or even gymnasium, but an entire grade that has, for many years, been the subject of paranormal phenomena ranging from bone-chilling wails, horrifying nightmares, and hideous, full-body apparitions that have only affected the students and teachers in the 4th grade.
Why is the 4th grade being haunted at this seemingly average, Las Vegas elementary school? Well, you'd have to ask the 4th grader who haunts them: the girl in white.
The Girl in White
Any 4th grade student or teacher will tell you that the girl in white was once a student at Edwards Elementary, a 4th grader herself, who died an unfortunate death not long after transferring to the school in 1990.
She now roams the school, lurking inside classroom 26 and the computer lab, and terrorizing anyone associated with her final grade. Those who have seen her with their own two eyes say she is always dressed in white, and that her face is horribly deformed, while others have only ever heard her tortured screams from across the hall.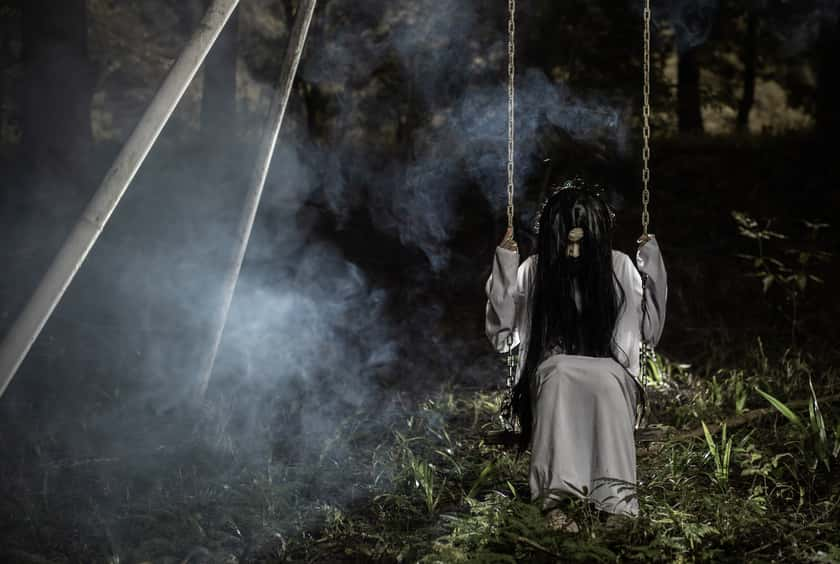 If making the school a terrifying place for 4th graders wasn't enough, she has also been known to follow them home and invade their dreams. Many students have told stories of seeing the girl in white hovering over their bed, only to wake up drenched in a pool of their own sweat.
They say that when the girl in white chooses someone, she stays with them all the way until the 5th grade, following them through the halls and lying in wait around every dark corner. The only way to save yourself is to tell her story to another student or a teacher, making them the next victim.
Is the girl in white really the ghost of a Edwards Elementary student long passed, or is she just the collective nightmare of a student body dealing with the pangs and pressure of finding their place in the world?
It's difficult to say what is truth and what is fiction, but to anyone who has ever crossed the path of the girl in white, or seen her mangled face peeking out from inside classroom 26, the stories, passed down from generation to generation, start to take on a whole new meaning.
Edwards Elementary Today
As of 2021, nothing remains of Edwards Elementary School but raked dirt over an empty lot, the remnants of a once infamous schoolhouse brought to the ground in the name of progress. The building was demolished in 2019 as part of a total reconstruction project that aims to modernize the public schools of Clark county.
The new school, which was originally scheduled to open for the 2020-21 school year, has been stalled until further notice due to complications that arose during the COVID-19 pandemic. Until then, Edwards Elementary School will continue to exist only in the memories of those who have experienced its haunted halls.