We've partnered with El Cortez Hotel & Casino to bring you a Room + Ghost Tour Package in Las Vegas. For more information, please visit their website.

Benjamin "Bugsy" Siegel came from humble beginnings. From forming a mob hit squad in the 1920s to becoming one of the key members of the National Crime Syndicate.
The El Cortez features a classic Las Vegas experience that provides guests with a glimpse of what staying at the hotel and casino was like in 1941 when it first opened. Combining a vintage aesthetic with all the luxuries that modern hospitality has to offer, El Cortez brings the richness of the past into the present.
And those interested in the supernatural should know that the deeper you dive into the past the more you uncover things that wish to remain buried.
Did You Know?
El Cortez is the oldest continuously operating hotel and casino in Las Vegas. As the first major resort in downtown Vegas, it has served guests with a unique experience since opening its doors in 1941.
The hotel was sold for $600,000 to a group that included Benjamin "Bugsy" Siegel in 1945; the following year Siegel would open The Flamingo on the Las Vegas Strip.
Between 1952 and 1957 the hotel and casino featured pirates as the primary theme, going so far as to have cocktail waitresses dressed in pirate costumes.
When you stay and gamble at El Cortez, you're getting as close as possible to experiencing what it would have been like to visit Vegas in the 1940s, back when the city was practically brand new. Before The Rat Pack, Elvis, and Liberace. El Cortez has expanded just as Vegas has while retaining its classy mid-century modern flare.
El Cortez's atmosphere is perfect for guests who wish to gamble and relax while submerging themselves in the world of Bugsy Siegel and Meyer Lansky. And for the supernaturally-inclined visitor, El Cortez boasts a long history of paranormal activity.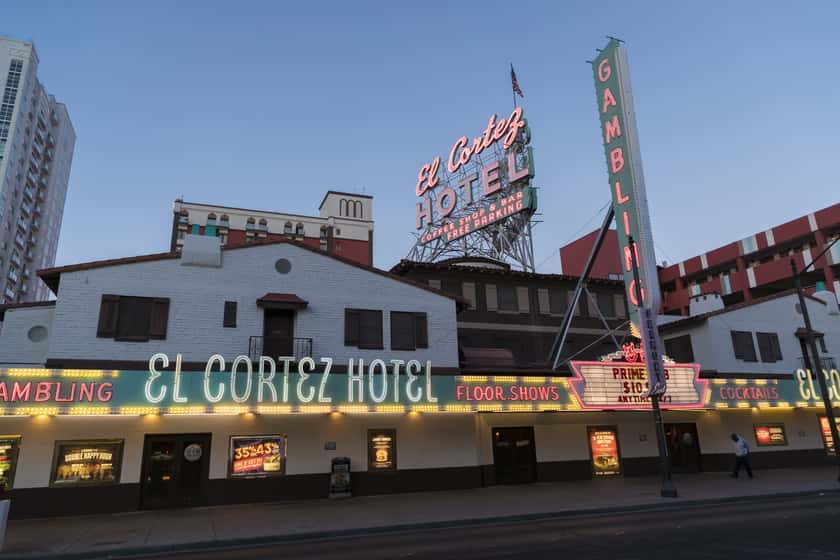 Why Stay at El Cortez Hotel & Casino?
When you check into El Cortez you're getting an experience far classier than the typical lifeless room, or mystery buffet. You'll have the opportunity to stay in their original rooms from the early 40s, renovated to provide 21-st-century comfort.
And with half a dozen bar and restaurant options, guests are more than encouraged to eat at Siegel's 1941. Open 24/7, the restaurant named after the hotel's previous owner combines elegance with 1940s charm without skipping out on the taste.
El Cortez offers rates and package deals to fit every budgetary need. Those who wish to make the most of their stay can enjoy The Vintage Vegas Experience.
This package offers two nights in the Jackie Gaughan Suite, the penthouse home of the El Cortez's former owner and his wife, a $150 credit to eat at Siegel's 1941, two premier passes to The Mob Museum, and a private tour from the museum's resident historian, a private guided distillery tour, as well as other perks.
Few of Las Vegas' oldest hotels and casinos remain, but none offer the classic Vegas experience in the way that El Cortez does. You get all the benefits of being a part of the gang without having to worry about ending up in a nondescript hole out in the desert.
El Cortez's Haunted Present
A few hotels in Las Vegas will try to sell you on supernatural or unexplained activity in the past; a few spooky moments spread out over the course of years. But El Cortez, potentially due to its age, (or even due to its early mob connection) features haunted episodes that happen frequently even to this day.
Employees have seen transparent white disembodied hands reach out from the darkness in entirely empty rooms.
Guests staying in the Cabana Suites, known for their seclusion from the commotion of downtown, have heard loud, repetitive knocks on the door when no one else was staying on that same floor. Shadowy figures appearing in the corner of the room, still and silent, vanish the moment their presence is detected.
Many have attributed the paranormal activity in the hotel and casino over the years to El Cortez's involvement with notorious figures such as Bugsy Siegel and Meyer Lansky. Mob activity of the distant past finds its echo in the supernatural activity of today.
Who knows what grudges are still held from beyond the grave?
If the ghosts ignore your Do Not Disturb sign, have no fear: El Cortez has 364 rooms available if you need accommodation. If that doesn't work, you're always welcome to gamble while the spirits tire themselves out. The only screaming done on the casino floor comes when you hit the jackpot.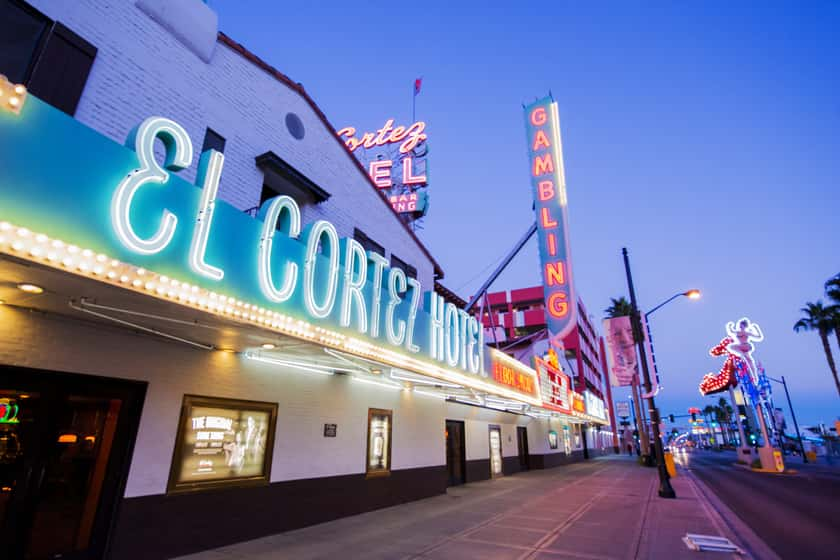 El Cortez: Vintage Vegas
When the El Cortez opened on East Fremont St in 1941 it was downtown Las Vegas's first major hotel and casino resort, with 59 rooms available for guests.
Bugsy Siegel, Moe Sedway, and Gus Greenbaum - all of whom would go on to invest in The Flamingo - bought out the original owners of El Cortez in 1945 for $600,000; more than twice the original construction cost. David Berman, another connected member of Vegas's organized crime, represented Meyer Lansky's interest in the buy out.
The hotel and casino had a grand reopening in 1952 after years of renovation in which a swimming pool, nightclub, 4-story addition, and barbershop were added. Even in the hotel's first decade, the owners made it a priority in maintaining the property to provide guests with the best experience possible in the increasingly competitive gambling and resort industry.
When Jackie Gaughan bought El Cortez in 1963 for $4,000,000 it was near the beginning of a career in Las Vegas that would see Gaughan eventually owning 25% of the real estate in Sin City, including majority shares in numerous casinos and hotels.
Gaughan owned El Cortez until 2008, during which time the interior of the property was renovated numerous times. The biggest addition was the completion of the Guest Tower II in 1980, increasing the room total to 297.
In the years after Gaughan's tenure, El Cortez expanded further by purchasing the Ogden Hotel across the street and turning the property into the luxurious El Cortez Cabana Suites. This would bring the room total to the current number of 364.
El Cortez hasn't stopped improving and expanding their presence in downtown Vegas; nor have they left behind their vintage aesthetic. Siegel's 1941, El Cortez's premier dining establishment, and more remodeling and upkeep were completed in 2015.
Throughout its history, El Cortez has managed to pay respect to its origins without sacrificing the visitor experience. So now you can gamble with today's money in an environment reminiscent of where the first gamblers in Vegas tried to win big.
More people walk away from El Cortez's slots as winners than anywhere else in Vegas.
Feeling lucky?
What to Expect When Staying at El Cortez Hotel & Casino
With 364 rooms available, a swimming pool, barbershop, fitness center, and business center with conference rooms, the needs of every guest are attended to. Complimentary wifi, free parking, and restaurants open 24/7 allow for greater comfort and convenience.
Club Cortez has been voted one of the best loyalty programs in Las Vegas, offering a great deal of perks to help make your gaming experience more enjoyable, more rewarding, and more enticing.
El Cortez's Casino offers blackjack, roulette, poker tables, craps, and, of course, slot machines that are proven to be 40% looser than in any other casino.
In it for the big bucks? Well, El Cortez has a High Limit Room just for you. Place $250 bets at the slots, or $2,000 hands in a game of blackjack.