Savannah is the oldest city in Georgia, and what that title actually means, what it brings to the table, is a whole lotta unexplainable happenings. Many of the historic buildings in Savannah, have at least one ghostly presence, frankly, it doesn't seem to matter where you go in the city, something supernatural will find you. This is especially the case with The Marshall House, as it is very conducive to paranormal activity.
The History of The Marshall House Hotel
The Marshall House Hotel on Broughton Street is one of the oldest hotels in Savannah, Georgia, and with that distinction comes a colorful past filled with enchanting charm. The Marshall House has retained some of the original architectural features, such as the beautiful brick walls and glamorous staircase. One thing that makes the Marshall House so unique is that unlike other historic hotels in Savannah, the Marshall House was not originally a house but was built with the specific purpose of being a hotel. Mary Marshall built the hotel in 1851, on land that she'd inherited from her father, Gabriel Leaver, who was a French cabinetmaker. The Marshall House is widely considered by architectural historians to be the finest structure Mary Marshall ever built.
During the Civil War, The Marshall House was occupied by the Union and used as a hospital until the end of the war. It was also used twice more as a hospital during the yellow fever epidemics of the 19th century, and many believe ghosts still roam the 165-year-old structure. When the hotel was restored in the late 1990s, workers were replacing some damaged floorboards downstairs when they found human remains. The area became a crime scene, but soon it was learned that the downstairs had once been the hospital's surgery room, leading historians to believe that the bones which were discovered came from the amputated limbs of Civil War soldiers.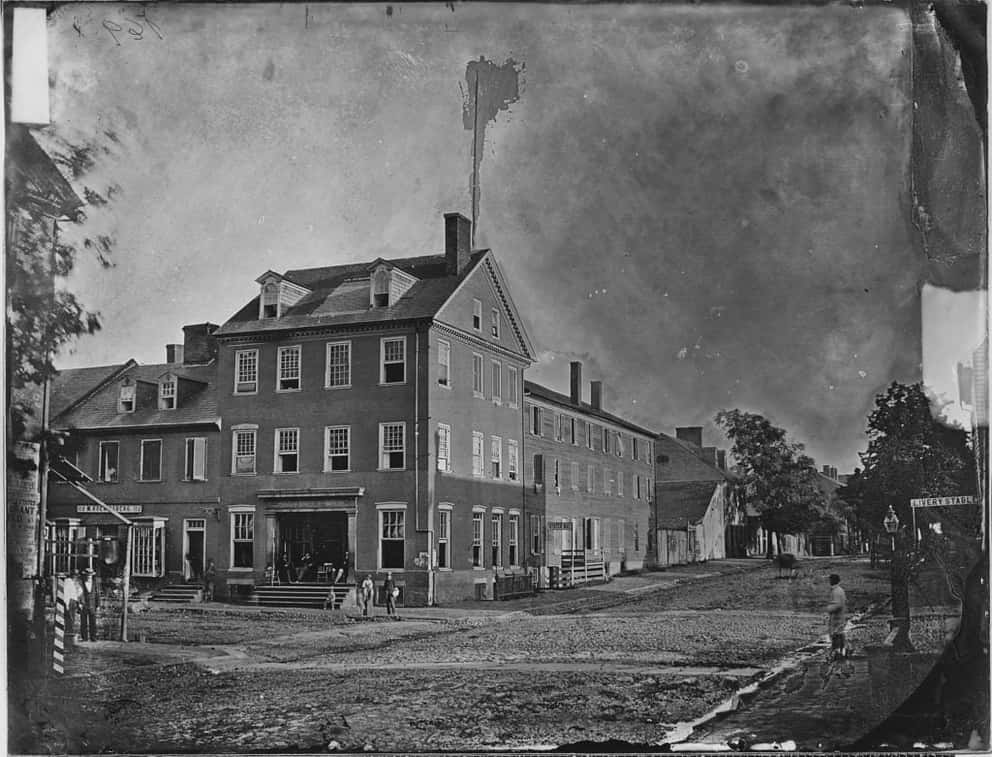 A Timeline of Marshall House Milestones
Courtesy of www.marshallhouse.com
- 1851: Mary L. Marshall opens The Marshall House on Broughton Street in Savannah's premier shopping district.
- 1857: Ralph Meldrim, proprietor of The Marshall House, erects an iron veranda in front of the property 120 feet in length and 12 feet wide and high. The veranda becomes one of the signature features of The Marshall House.
- 1859: Having been fully renovated, repainted, and refurbished, the hotel reopens to the public.
- 1864-1865: The hotel is occupied by Union troops led by General William Tecumseh Sherman. The building was used as a Union hospital for wounded soldiers until the end of the Civil War.
- 1867: Marshall Hose Company (Volunteer Fire Department) was founded to protect The Marshall House and other properties in Savannah.
- 1880: The adjoining building, known as the "Florida House," was annexed as part of The Marshall House, increasing the hotel's capacity by about one third.
- 1895: Hotel closes.
- 1899: Hotel reopens as The Marshall House and features electric lights and hot and cold baths on every floor.
- 1933: Herbert W. Gilbert, a prominent hotel and real estate man from Jacksonville, leases the building and changes the name to the Gilbert Hotel.
- 1941: Herbert Gilbert sells the hotel and eight stores. The property is now steam heated and features a lobby, dining room, living room, reading room, 66 guest rooms, one suite, an apartment, and six storage rooms.
- 1946: The Marshall House reopens with a complete renovation.
- 1957: The 106-year-old Marshall House closes. Extensive alterations to put the hotel in full compliance with state fire laws were not possible on a short-term lease.
- 1998: Renovations to The Marshall House begin once again.
- 1999: The Marshall House, having been fully restored and renovated, reopens to the public as Savannah's oldest hotel.
- 2001: HLC Hotels, Inc., a Savannah-owned-and-operated hotel management company, purchases The Marshall House.
- 2003: Marshall House featured on The Travel Channel's Great Hotels.
- 2004, 2005 & 2014: Marshall House voted "Best of Savannah."
- 2005: Marshall House featured on the Travel Channel's Haunted Hotels.
- 2006: Marshall House named as one of Coastal Living's Top 20 Places to Stay.
- 2008: Complete renovation of Marshall House's guest rooms and suites.
- 2014: Renovation of lobby and library
- 2014: Voted "Best Boutique Hotel" by Savannah Magazine
The Ghosts of The Marshall House Hotel
The Marshall House is well aware of their reputation for paranormal activity. Eerie ghostly occurrences include faucets that turn on and off, lights that inexplicably flicker, electronic items powering themselves, toilets suddenly overflowing for no apparent reason and disembodied voices that echo throughout the halls. On the fourth floor, in the hallway, loud noises are known to take place during the early morning hours, like the thundering of a heavy object crashing to the ground. Also, door knobs to the rooms tend to wiggle as if someone is attempting to enter the room. I'm not sure of the exact intentions this impolite ghost has, but it's a safe bet that it's not the kind of room service you would want.
One guest recalled, "A room to be wary of...306. The loud hall noises in the middle of the night happen on the fourth floor where we just happened to be staying. I've lived in many haunted houses but Marshall House creeped me out completely. I loved it there, but I could not rest. Yes, it is old and noisy, but there's way more going on there than meets the eye. I know others have experienced things too. There is also a ghostly cat but, I never seen it myself...there happened to be another hotel guest who said she did. But, what else can you really expect from a city built on top of dead bodies?"

A portrait of Mary Marshall, painted in 1830 by artist Peter Laurens, proudly hangs behind the front desk in the hotel's lobby. One day a young girl who was staying at the hotel with her father pointed to the picture of Mary Marshall and told her father that she had seen the lady in the hallway. While we don't know exactly what the father said, you can imagine his surprise when his young daughter told him she'd seen the ghost of a woman who has been dead for decades . . . Perhaps they didn't stay at The Marshall House for too much longer.
Guests have also reported hearing the distinct sound of an old-fashioned typewriter coming from the former room of author Joel Chandler Harris, who is best known for his collection of Uncle Remus stories. Is the spirit of Joel Chandler Harris still typing away, intent on creating another tale about Uncle Remus? Others tell of a dapper gentleman reading a book by a window, a lady in white flowing through the hallways, and another ghostly woman who haunts the ladies' restroom, and on occasion she will lock the stall. Let's just hope it is a ghost, and not some Chuck Berry copycat, with a serious fetish problem.
The Ghostly Children of The Marshall House
Yes, The Marshall House is known to be a noisy place, due to its wood floors and high ceilings. But there are countless tales of the apparitions of small children, and the sounds of crying babies that have been regularly reported by guests at the famous hotel. The spirits of these children are known to linger around the Marshall House, as the laughter and playful voices of the children can be heard within the building at any given moment. Sometimes, these ghostly children can be seen skipping, running and playing games through the hallway, their apparitions as a physical form.
During the night, sounds of marbles and rubber balls can be heard rolling and bouncing in the hallways (not exactly modern kids games), but If you were to take a peak out in the hall, most likely you would not see anything. No kids, no balls, no marbles, leaving you to wonder if you imagined the entire thing completely.
A guest named Christoper recalls, "My fiancé and I stayed at the Marshall House for one night over the summer. At the time, we didn't know its history and just saw that it was a cool hotel for a pretty inexpensive price point on Expedia. That night, laying in bed and watching tv, we heard what we assumed were families out in the hall. It sounded a lot like children running around and people talking very loudly which was odd for 12am. However, when I looked, there wasn't anyone there. We heard the same sounds intermittently until we fell asleep. I wouldn't call the experience scary, just weird."
There's an infamous story about a mother and son who stayed at The Marshall House Hotel. The boy's mother was in the bedroom and her son in the bathroom, playing and talking to himself. Her son then came out of the bathroom crying, and she asked him, "What was wrong?"
And, he replied, "The boy bit me."
Confused, she asked, "What boy?"
He then said, "The one who I was playing with in the bathroom."
The boy's mother quickly went to look in the bathroom, and didn't see the boy of whom her son spoke of, but when she looked at her son's arm, she found that there was a bite mark. All the color immediately washed away from her face. She later found out that this was not the first case of strange bites at The Marshall House. There have been other guest who have been inflicted with a child size bite mark, that was done with so much force, that each time a bruise was left and each time the bite mark was on a spot of the body that would have been impossible to reach unless said person was a contortionist.
Civil War Spirits at The Marshall House
After the hotel renovations unearthed the bones from the the Civil War soldiers, the remains were cleared, but the paranormal energy continues to exist. Guest have reported numerous accounts of the ghosts of amputee soldiers who walk vacantly and aimlessly throughout the hotel. One of these departed souls has been seen in the hotel's lobby with his missing arm in hand, pleading with the guests to help him find a surgeon.
Some guests have even made complaints of an awful odor, what seemed to smell like rotting flesh. One source gave this account, "When they were first renovating the hotel and opening it in 1999, three rooms had foul smells and bad vibes so overpowering the staff and workers could not stay in them long enough to get anything done...rooms 214, 314 & 414...414 being the worst and I think it's still very active today. They tried every deodorizer they could get a hold of and nothing worked. Finally they had prayer/blessing in those rooms and the smell and vibes relented only with 414 still having a persisting odor and vibes. Staff is said to play gospel music in that room when they are cleaning it because that is the only thing that keeps the vibes and odor at bay."
At the sight of the old operating room, guests have seen doctors treating soldiers who have been recently brought in from the battlefield. Some have made claims that they have felt a presence holding onto their wrist, as a nurse would do to feel for someone's pulse.
Another guest described seeing a shadowy man dressed like a civil war soldier; with him was a small boy, who shouted at her, "get out of my room!" Understandably, in freight, she grabbed her suitcase leaving just as quickly as she arrived.
Other Haunting Encounters From Anonymous Guests
And because personal paranormal accounts are undeniably the best, we've gathered a few of our favorites and listed them below, completely unedited for your pleasure. It's safe to say that these brave souls got more than they bargained for when staying at the haunted Marshall House—but are you?
"We recently spent several nights at the Marshall House, and had a couple of experiences. Unexplained noises and smells in our room and outside in the hallway, which brought about some unsettling eerie feelings. We were told the floor and room was haunted. Our room was [on the] second floor with a courtyard view. We too heard the marble rolling sound, and hubby swears he was awakened by what he said sounded like a child giggling in the sitting area, but when he turned on the light nothing was there, and he just figured that perhaps he was just dreaming. We really enjoyed our stay but there was an overall sense of spookiness and it was as though we were waiting for something to happen or appear... probably mostly due to all the hype that Savannah has about being a very haunted city."
"I never got much sleep while we were there I always felt very uneasy and utterly creeped-out at night in my guts and could not rest. Did hear some strange noises in the hall late at night around three am or so what sounded like a hard rubber ball rolling along the hallway and bouncing also what sounded like a marble rolling and bouncing also a VERY LOUD crash in the hall three am-ish almost like a body falling and hitting the floor and no one was out there. We also heard what sounded like walking around on the floor above us but there is only the roof. Also very unnerving feeling of being TOUCHED while in bed at night and I was completely awake...touched on the inside of my lower leg/ankle and buttock area. This made me nearly jump out of bed more than once! On the last night we stayed there we noticed a STRANGE SMELL in the room and the bathroom that we could find no source for. It was almost like a burned-flesh smell combined with a slight sewery odor. Would like to hear from more people who have strange/otherwordly experiences at this location."
"Stayed here for 2 nights in a superior king room. Bed was very comfy and breakfast good though the coffee wasn't great. Neil the concierge is a little treasure, recommending places to eat and booking our trolley tour for us. I have to say that I was worried about the ghostly activity mentioned in some previous reports, I'm a scaredy cat but my other half was excited about something unexplained happening! The first night we slept right through, the second night I was woken from a deep sleep by a loud whirring noise right by my ear, it even made my hair move. We could then hear what sounded like drums from a marching band for a while before it faded and we went straight back to sleep - bizarre. Strangely this hasnt put me off returning to this hotel, Savannah is a beautiful place and I wouldn't want to stay anywhere else."
The sightings are endless and supernaturally unexplainable!
Visiting The Marshall House Hotel
Many of people who visit Savannah are interested in staying in one of Savannah's many haunted hotels. It is hard not to recommend the Marshall House on Broughton Street. The ghost stories and gruesome history of the Marshall House is hard to ignore. This maybe why it is featured on so many of the ghost tours here in Savannah, including our Ghost City Tour's Grave Tales of Savannah Ghost Tour.
For more information about the Grave Tales Ghost Tour please call us at 855-999-9026 or visit the Grave Tales Tours page on our website. The Grave Tales Tour runs 7 nights per week at 9 pm.