Ghost Tours for the whole Family!
Here at Ghost City Tours, we like to think of ourselves as experts when it comes to Ghost Tours. And for good reason! More people choose Ghost City Tours than any other Ghost Tour Company - in the WORLD!
Because of this, we often get asked about family-friendly ghost tours. Sometimes, it is from a concerned parent, wondering if our tours are appropriate for their children. Or, maybe, they're concerned our tours will be too scary for their children.
When you join us for one of our Family-friendly ghost tours, you're joining an experience with years' worth of thought put into it. We realize that you want a memorable experience for your family - and not memorable because it was so bad or leaving your kids with nightmares! We've put a lot of work into making our family-friendly ghost tours (along with the rest of them) an amazing way to spend quality time with your entire family.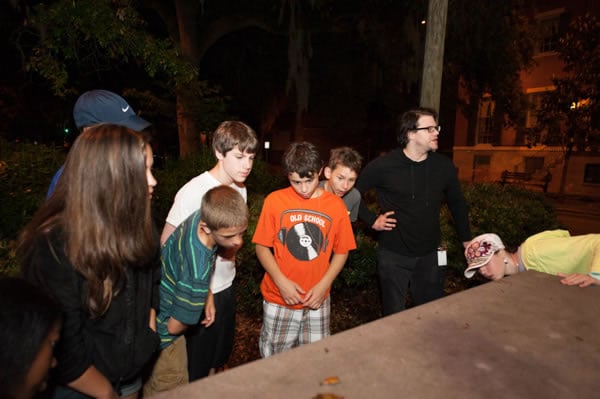 Why do we tour where we tour?
The cities that we operate our Ghost Tours in were picked because of a very specific criteria:
Rich in local and national history
A walkable downtown
An Appealing vacation destination for families
Savannah, New Orleans, and Charleston all have a colorful past, complete with national heroes, local legends, and heartbreaking tragedies which impacted the progress of the United States during the early formative years of the Nation's beginnings.
Ghosts and History
Now, because Ghost City is all about delivering historically accurate information while introducing the city's rich and magical culture to our guests, and because we know that the best way to engage an audience is to offer them original and engaging stories, we choose to incorporate some paranormal mysteries into our tour presentations. And let's be honest, how can anyone expect a city that has endured pirates, battles, slavery, and Yellow Fever to not have a few skeletons still lurking in their closets?
Notice I mentioned "pirates and battles?" What kid doesn't want to hear about pirate ships, government-hired privateers fighting and dueling in the name of our great nation, and the possibility of their ghosts still haunting some of the old buildings that they once frequented? These stories are just too thrilling to only share with adults!
The Tales We Tell
It seems like the one thing that these southern cities all have in common is some pretty unsavory characters in their past. Whether it's stories of torture, pirates, and bootleggers, tales of voodoo, or mass graves that lie right under the streets and sidewalks of the city, the history and the hauntings have been shared with those that have visited these beautiful port cities for decades.
New Orleans Ghost Tours for Children
There is no shortage of history or ghost stories in New Orleans, the unique city beats to its own drum, and sometimes those drums can be heard in the wind that blows down the 300-year-old sinking streets and dark alleys of the beautiful French Quarter.
The Big Easy has the ghost of the infamous pirate, Jean Lafitte, who can be found roaming Lafitte's Blacksmith Shop. Then there is the LaLaurie Mansion, named for the wicked wealthy socialite who built the grand building as her private residence and now stands as a pillar of the French Quarter, and known for her string of dead husbands, as well as the slaves she supposedly tortured and killed, the dark and mysterious, Madame Delphine LaLaurie. For full disclosure on these characters, you'll have to join us on our Ghost of New Orleans Tour, but here's a taste of what you and your family will hear from one of our professional guides.
View our New Orleans Ghost Tours
Jean Lafitte: Pirate and Privateer
As children, we were introduced to pirates by way of Peter Pan's nemesis, Hook, and the nefarious swashbuckler, Black Beard. But there's one that still lives on in the culture and history of New Orleans; some refer to him as a hero, while others would call him a dastardly criminal, as both terms have been used to describe the Gulf's most famous pirate (or privateer), Jean Lafitte. He is known locally as a major player in the Battle of New Orleans, which happened during the War of 1812. And depending on which side you were on, he was either a friend or a foe.
Lafitte and his brother had set up camp in Barataria Bay, about 25 miles south of New Orleans, where they ran their smuggling operation out of a fake blacksmith operation. They traded in people and goods that they "acquired" from seized ships, and were quite successful in their questionable practice. But it was Lafitte's snub to the British that landed him his partnership with the soon to be President of the United States, General Andrew Jackson.
Jean Lafitte is said to have won the Battle of New Orleans for Jackson, made both of them heroes, and because of his performance in the battle, he received a pardon from the US, excusing his pirate ways. Most of his life is still a mystery for historians, but his reputation lives on, and some say his spirit does too! Walking the streets of the French Quarter and lurking about in Lafitte's Blacksmith Shop.
Madame Delphine LaLaurie
It's impossible to talk about the Crescent City's famous residents without mentioning the notorious Madame Marie Delphine LaLaurie. Born to wealth and privilege, but famous for her alleged cruel and torturous actions. She's sort of the Wicked Witch of the South. And you have to admit, the witches are always the most interesting characters in children's stories.
In 1834, a blazing fire began to engulf the LaLaurie Mansion, but the real tragedy wasn't smoke and flames devouring the beautiful home, it was the atrocities uncovered by the authorities that had gone in to put out the flames. The legend says that there was a torture chamber where Madame Delphine would commit brutal assaults on her slaves, some were even still chained up in the hidden room suffering unspeakable pain.
Her secrets had been uncovered, and the citizens of the Vieux Carre didn't take too kindly to her nefarious doings, they organized a mob protest and ran LaLaurie and her husband out of town, never to be heard from again…. Or at least that's the story. Our Ghost of New Orleans Tour delivers all of the gory details about her alleged evil ways and the spirits of those unfortunate souls that still haunt the home of where they perished.
Savannah Ghost Tours
The charming southern city of Savannah is an absolute must for families to visit. The Spanish Moss on the centuries-old Oak Trees and the town squares that make up the Historic District ad to the mystic and beauty of Savannah. There's also the rich history and hauntings that make it a wonderful place not only for a family vacation, but for a family ghost tour.
There are so many stories in Savannah, it was hard to narrow it down to a teaser of just 2, but Colonial Park Cemetery and Factor's Walk are absolute musts on a ghost tour. Our guides never run the risk of losing anyone's attention during our Grave Tales Ghost Tour, and the children's faces always light up when we mention the thousands of bodies buried in Colonial Park Cemetery, or the souls that lost their lives in their march through the tunnels that are accessed in Factor's Walk. The haunted history of Savannah can be almost overwhelming.
Colonial Park Cemetery
It's no secret that any cemetery adds a bit of delicious creepiness to any ghost tour; the history and hauntings of Colonial Park Cemetery in downtown Savannah is no exception. I don't want to give too much away about this 6-acre graveyard located in Wright Square, but it's worth mentioning that there are over 10,000 bodies buried there, with less than 1,000 headstones and markers acknowledging the souls that were laid to rest in what is said to be the oldest cemetery in Savannah.
Colonial Park Cemetery opened its gates in 1750, and over the years it has hosted what many would say are the ghosts of those that haven't left the gates. We've even had guests on our tours claim to see mists and shadows floating between the headstones while standing at the gates after dark. On our Grave Tales Ghost Tour, you will hear who these lost souls could be and why some believe they are still roaming, lurking, in the darkness of the centuries-old burial ground.
Factor's Walk
There's a seldom talked about spot in Savannah called Factor's Walk. One would assume that perhaps it's the practice of Southern politeness that keeps most from chattering on about this alley and its unsavory secrets. But you can't keep those secrets forever.
Factor's Walk could be considered one of the main arteries of Savannah's trade. And one of the main commodities that Savannah traded in was humans. In the mid-1800's, slaves would be brought into the sea port, marched through tunnels and into the basements of buildings on Bay St., Factor's Walk connected these tunnels. And in turn, Factor's Walk saw the deplorable conditions these poor people were in, as well as witnessed the beating and murders that were all too common during the Factor's Walk march.
Ghost City Tours take guests on a walk through history via Factor's Walk. We breathe life back into the stories and do our best to keep the memories of those that were a part of this difficult era alive.
Charleston Ghost Tours
Charleston, South Carolina, some call it the "Holy City," while others refer to it as the "Unholy City" with a smirk and a chuckle. The city was founded in 1670, and the history is still steeped in her cobblestone streets and antebellum homes. This port city is not only the home to some of the South's most important influencers, but is also where the first shots of the Civil War were fired, as Ft. Sumter is just across the harbor from Waterfront Park. Some claim to still hear those shots echoing in the night air over the water.
Charleston's beautiful downtown historic French Quarter and Battery districts are windows into the past of this quintessentially charming southern city. And the home to some of the most spectacular hauntings in the United States. On our Ghosts of Liberty Tour, your family will hear the history and the legends of some of Charleston's most famous events, locations, and characters. Places like The Old Exchange and Provost Dungeon, The Powder Magazine, and notorious folks like Lavinia Fisher or any one of the Civil War soldiers said to still float about the beautiful city on the water.
View our Charleston Ghost Tours
The Old Exchange and Provost Dungeon
Just saying the word "dungeon" lights up a face, especially the face of a kid. The word conjures images of a dark, damp space with rats and medieval torture devices. That's not too far off from Charleston's Provost Dungeon. The Old Exchange and Provost Dungeon has been around for a few hundred years, and has seen its share of scoundrels, thieves, pirates, murderers… you name it.
For more than two hundred years, The Old Exchange and Provost Dungeon have been front and center of Charleston's history. The Exchange housed 257 chests of stolen tea in a strike against the 1773 Tea Tax, The Declaration of Independence was read on the balcony of The Old Exchange, and up until 1856, slaves were sold in the building. The Provost Dungeon was a miserable holding room for many that awaited their execution, including pirates and those who fought for The Crown. Today, guests of the building have reported hearing terrifying screams, the rattling of chains, and the chilling sounds of moans as if the walls themselves are weeping. It's the perfect stop on a ghost tour!
The Powder Magazine
Everyone knows that when you're looking for ghosts, the older and more historical the place is, the more likely you are to happen upon a leftover spirit or two. The Powder Magazine just so happens to be the oldest public building in Charleston. Built-in 1713 with the mission to keep the citizens of Charleston safe from the pirates sailing into the harbor, the French and Spanish that desperately wanted this British colony, and the Native Americans that were experts at ambushes.
The Powder Magazine was at its peak during the Revolutionary War, as Charlestonians were in the midst of the famous Siege of Charleston, which lasted over 40 days. After the war the building sat vacant for many years, eventually becoming a horse stable and even a print shop. But it's said that the ghosts that once sought to protect the citizens of Charleston and the arsenal that was housed here, are still roaming the grounds. Visitors have seen apparitions of soldiers marching across the grounds, and even the spirit of the famous female pirate, Anne Bonny. Which means in one stop we have war, guns, pirates, soldiers, and ghosts…. perfect!
Ghost Tours for the Whole Family
As you can see, a walking ghost tour is a great choice for your family vacation! Ghost City Tours gives you history, hauntings, and a new perspective on the city you are visiting. Ghost Tour Guides are master storytellers and are certain to not only intrigue but also ignite one's fascination in the history and the tales of those that have shaped the culture of the city.
But not to worry, we are sensitive to the shadows that grow in the imagination and the bumps that are heard when the lights go out, and the silence is nothing less than threatening. A Family Ghost Tour will magically walk you and your loved ones down the road of history and through the spooky tales and legends of the city you are visiting; our guides may incite a goose bump or 2, but no jumps or gasps or, Heaven forbid, a teary-eyed pale face in sight, during or after your tour.