One of the topics we cover on any of our Savannah Ghost Tours is the topic of Burial Grounds here in Savannah. After all, it seems like a lot of the Historic District is built on top of or near some sort of burial ground. Many people, including myself, think that these desecrated burial grounds are partially responsible for the high instance of hauntings here in Savannah.
The photograph above is the mini-monument to the Jewish Burial Ground set aside by General Oglethorpe, the founder of Savannah. We point this spot out on our ghost tours because of its unique location. It is located between the eastbound lane and westbound lane of Oglethorpe Ave. You heard that right, the burial ground is located between the lanes of this heavily traveled road. Of course part of the road covers this burial ground that was set aside for the first Jewish burials. I remember reading somewhere, and I wish I could remember where I read it from, that there are still three bodies buried in the grassy area between the two lanes.
When the guests one our ghost tours see this monument the idea of desecrated burials becomes real for them. You can easily see how this area was simply paved over, with little regard for those buried there. This is a common scenario which seems to play out all over the historic district.
Souls Not at Rest
Many cultures believe that when graves are disturbed or desecrated the people buried there will not remain at rest. Could this be at least partly responsible for the number of hauntings buildings here in Savannah? I would have to say that it does.
Throughout the Historic District, we know the location of many of these burials grounds. People who take our ghost tours would remember hearing the names of stops on our ghost tours, such as Calhoun Square. It seems that these areas to have more hauntings. Now lets think about all of the burials that took place in the last 300 years which we have no idea where they took place.
For many years burying your loved ones in your yard was allowed. These graves, long forgotten, are certainly still throughout the Historic District in Savannah. Is it possible that some of the haunting places we take you to on our ghost tours are also locations where these long forgotten burials took place? It is certainly possible.
If you've walked around the historic district of Savannah, on a ghost tour, shopping, anything..there is a pretty good chance that you have walked over unmarked graves. When Savannah was a much smaller city you would simply bury your family members in your backyard, or in burial plots outside the city limits. Well, as Savannah grew most of these graveyards were simply paved over, built upon and forgotten about. On our ghost tours, we will show you some of these forgotten graves. According to many paranormal researchers, desecration of a burial spot could lead to a haunting or a ghost. I personally do not know if I buy into this because it would imply that the person had a choice to remain behind. Even further, what if that grave was desecrated 100 years after they died? Are you saying they made a conscious decision to come back as a ghost in Savannah, put on a white dress and walk around? Hmmm....I mean, it sounds cool and all...'Oh, you messed up my grave, now I am coming back to...make the sounds of footsteps in your hallway'...but it just doesn't seem very practical.
Now, the cases we do believe merit hauntings and ghosts are the cases where individuals were buried alive. This happened many times in Savannah's past. Savannah suffered many tragedies which helped trim the population on occasion. Yellow fever outbreaks produced victims which appeared to be dead but were simply in a comatose state. Many times these victims awoke after being buried, only to die one of the worst deaths imaginable. During battles fought in Savannah, the wounded were sometimes buried with the dead. Did these souls, trapped underground and after dying from a horrible death stick around as ghosts in Savannah? I think that situation is more likely. Did this contribute to Savannah being as haunted as it is? I certainly think so. On our ghost tours, your guide will often stop at unmarked burial grounds throughout the city. You will hear the tales of plagues, murders, secret burials and more while touring Savannah looking for our ghostly residents.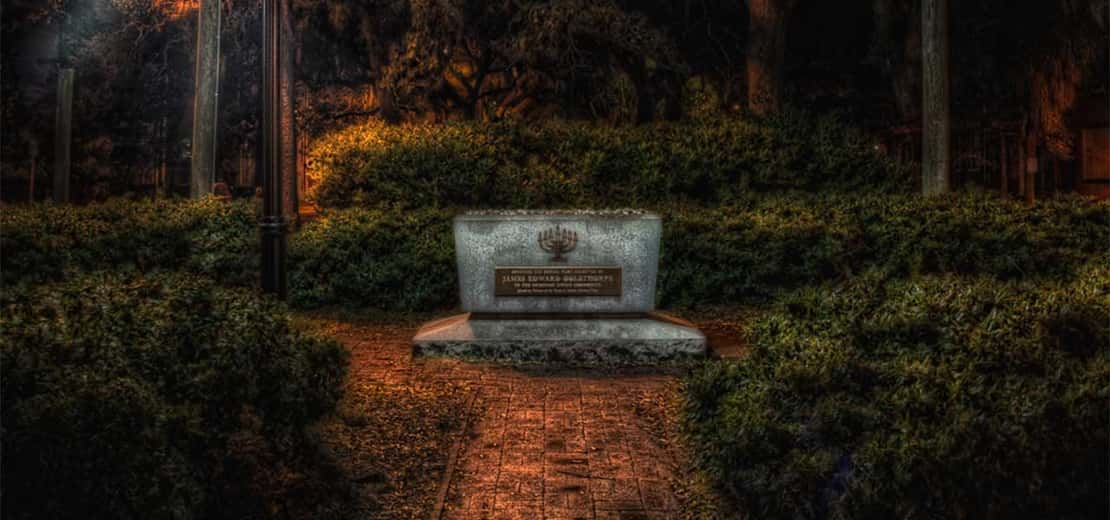 Certainly not the only reason Savannah is Haunted
With the number of secret and forgotten burial grounds in Savannah, it is impossible to give a ghost tour and not talk about them. Each one of our tours makes a stop at at least one of these forgotten burial grounds. You'll hear the stories of the people who are buried beneath your feet. But these burials are not the only reason for the hauntings here in Savannah.
Murders, suicides, battles, duels, disease epidemics…and the burial grounds talked about above have all have contributed to the high number of hauntings here in Savannah. These is no single reason that can explain all of it.
When you take a ghost tour with Ghost City Tours you will learn about many of the hauntings here in Savannah.