The Ghosts of the Pharmacy Museum
Located at 514 Chartres Street, the New Orleans Pharmacy Museum is a popular attraction for tourists visiting New Orleans. Inside you can view all sorts of medical contraptions, some looking rather medieval. What you might not see are the ghosts which haunt the Pharmacy Museum.
For years, people have been reported having paranormal activity inside of the Pharmacy Museum. So, who could it be that is haunting the Pharmacy Museum? While you'll have the chance to hear the particulars on our world famous ghost tours ... here is a snippet to tide you over until then.
The History of the Pharmacy Museum
Louis Dufilho Jr was born in 1788 in Mirande France. He was the son of Jean Dufilho and Jeanne Marie Bonnet, who moved the family to New Orleans sometime between 1800 and 1803. Louis also had an older brother, who was also named Louis.
The older Louis and Jean opened a pharmacy at 12 Toulouse Street and census records show that the family also lived here in 1805. In 1816, Louis Jr., the youngest, graduated from the College of Pharmacy in Paris, France. Upon his return, the two brothers started their own pharmacy at 63 Chartres Street until the younger Louis started his own Pharmacy at the present-day location of the Pharmacy Museum in 1823.
The younger Louis went on to become America's first licensed Pharmacist. Louis Dufilho married Emy Adel Becnel in 1819. They had seven children together although only four of them lived past childhood.
Their children: Louis, born and died in 1820; Delphine, died in 1824 as a child; Amelie, went on to marrie Pierre Rousset Palmyre; Josephene, went on to marry Adolph Giles; Adele, went on to marrie Leopold Jenneat Remis; Jules, died in 1832 as a child; Alfred, born in 1833 and married Corrine Taylor.
The Dufilho family lived in this location until 1855. At that time, they sold it to Fleitas Dupas and her husband, Dr. Joseph Dupas, for $18,000. Dr. Dupas lived in the home until his death in 1867 from syphillis.
The Hauntings of the Pharmacy Museum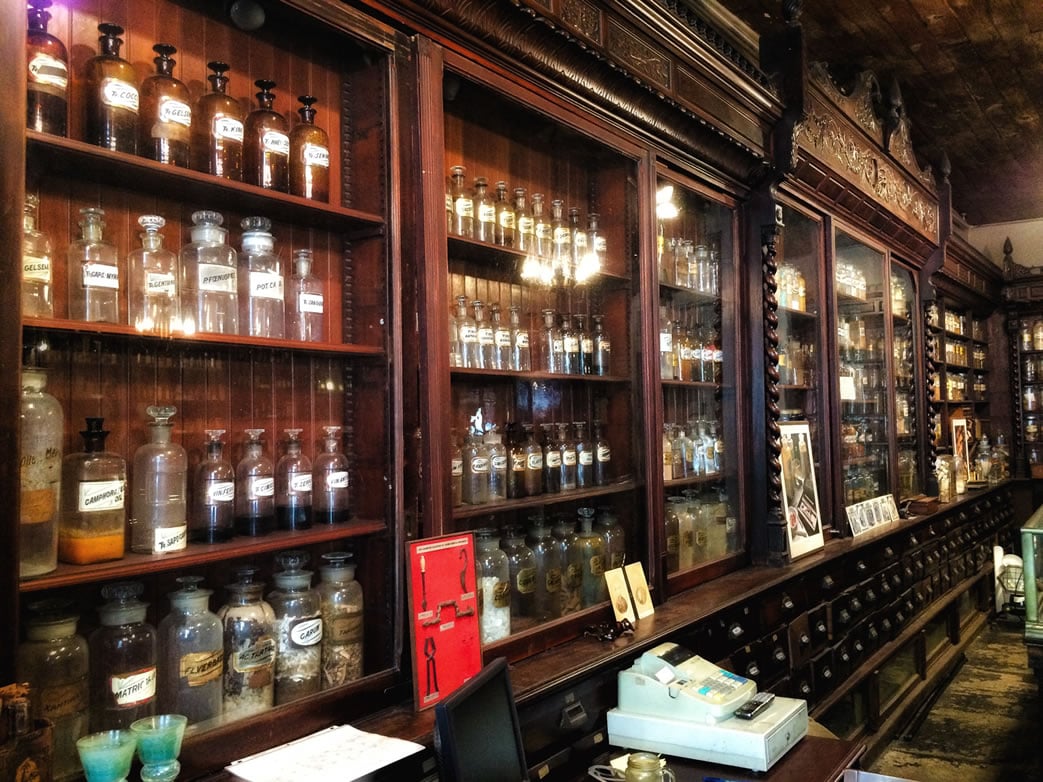 One of the ghosts of the Pharmacy Museum is said to be Dr. Dupas.
According to local legend, Dupas "imposed shocking experiments on pregnant slaves," and other people have stated that he performed voodoo rites within the property itself as well.
Today, it is said that Dr. Dupas' ghost haunts the Pharmacy Museum after it closes.
His ghost is seen wearing a brown suit, and most oftentimes a matching brown top hat too. His ghost appears to be of a man in his mid-sixties; he is said to be short and stocky with a mustache.
His spirit is responsible for throwing books, moving items that are on display in the Museum, and triggering the alarm system--even in the dead of night!
A paranormal team who spent time here said that pregnant women, in the presence of this evil entity, are very susceptible to empathic physical reactions. We have not been able to verify the part of the story that talks about Dr. Dupas using slaves during experiments.
Could this have happened? It's not implausible, as doing "experiments" on the enslaved at this time was not unheard. Alternatively, however, it seems like slaves being tortured or used during medical experiments is a common theme for many ghost stories here in New Orleans.
Many of the New Orleans ghost stories you hear being told by ghost tour companies are not verified, yet presented as fact.
When Ghost City Tours visited the Pharmacy Museum, the kid working the front desk looked bored so we jokingly asked him if he knows of any ghosts in the building. We didn't tell him that we owned a ghost tour company in New Orleans, simply played the part of a tourist. He repeated the story mentioned above, but also mentioned that two children have been seen inside the building and out in the courtyard behind the building.
Naturally we asked if he knew if they were boys or girls. He said, as far as he knows it is a boy and a girl....well, guess what.... Look at the dates above for Louis Dufilho's children. Both Delphine and Remis would have died during the time the Dufilho family lived in this location. Could this explain the ghosts which have been seen here?