When faced with the swell of tourists, "big ass beers," and noise, it's easy to forget that this street has been hosting rowdy drunks in its taverns and speakeasies for centuries, some of which helped shaped the face of New Orleans today. One of the oldest, and most historic buildings on Bourbon Street, is the Old Absinthe House.
It is also widely regarded as one of the most haunted buildings in New Orleans' French Quarter. We stop at the Old Absinthe House on some of our famous New Orleans Ghost Tours, including our New Orleans Haunted Pub Crawl.
The History of the Old Absinthe House
Fire and a Grocery Store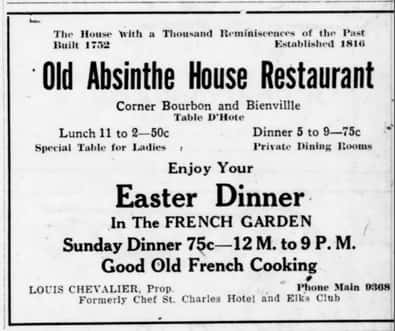 Originally built in 1752, The Old Absinthe House's notoriety exists because of a few different reasons.
It was allegedly the meeting location for General Andrew Jackson and the infamous New Orleans pirate, Jean Lafitte, prior to the Battle of 1815 (during the War of 1812), and;
A century later, it was a hit spot during Prohibition, and was nearly shut down multiple times.
The original building, however, was destroyed in the 1788 Great Friday Fire, a conflagration that ravaged the city within hours.
All that stood after the smoke wisped away and the soot had settled at the Old Absinthe House was its fireplace - a very solemn and eerie image to behold.
Fortunately, the building at 240 Bourbon Street was reconstructed in 1806 by two Spaniards, Pedro Front and Francisco Juncadelia, who operated a grocery store there for forty years. They sold globally imported fine wines and tobacco products, and made a tidy profit off their business.
The Absinthe House Becomes "The Absinthe House"
Absinthe became hugely popular in New Orleans, and in 1846, Aleix's Coffee House was eager to take over the site to meet the growing demands of their clientele.
During the 19th century, you went to a café for coffee and a coffee house for your other vices. "Coffee houses" worked similarly in Louisiana as they did in Europe, in that the other "vices" generally referred to the green fairy (absinthe) or drugs.
Aleix's Coffee House's popularity grew almost directly from the start. Tourists to New Orleans visited the bar regularly, spending their nights wiling away until dawn peeked over the horizon and workers headed to their jobs.
By 1874, it was renamed to "The Absinthe Room" when mixologist Cayetano Ferrer created the Absinthe House Frappe. If the Coffee House had been popular, the Absinthe Room was even more so.
Until Prohibition struck, of course, and the Absinthe Room faced the possibility of immediate closure. Suddenly, absinthe was no longer all the rage and the government was actually threatening to have it abolished. The speakeasy's notoriety nearly lead to its downfall, when the authorities became privy to its dealings and threatened to burn it down.
But New Orleanians are nothing if not savvy humans, and so they did one thing better: the owners of the Absinthe Room had the bar's operations moved to a secret location a few blocks down Bourbon Street. There, they set up shop in an abandoned warehouse and continued to shell out business for anyone was in the know.
(Fun Fact: Today, that warehouse is actually the Mango Daiquiri Shop.)
When government officials came to their senses and overturned Prohibition, the Absinthe House returned to its former haunt and went back to work.
In 2004, approximately sixty years and three million dollars later, both the copper-topped bar, and all the ghosts that once frequented it, came out of storage in the original (though newly renovated) location on Bourbon Street.
The Old Absinthe House has seen its share of celebrities, including writers such as Oscar Wilde, Walt Whitman, P.T. Barnum, Mark Twain, politicians and pirates such as Jean Lafitte, Robert E. Lee, and Franklin Roosevelt, as well as celebrities including Frank Sinatra and Liza Minelli. In fact, they say, 'everyone you have ever known or will ever know, eventually ends up at The Old Absinthe House."
The Ghosts of the Old Absinthe House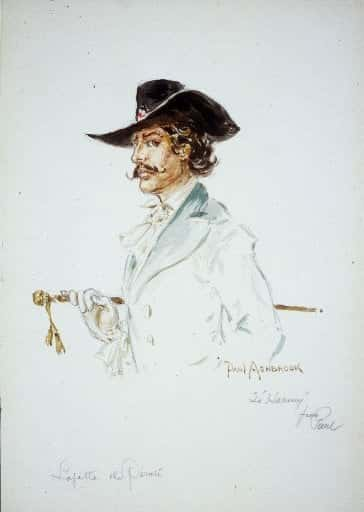 That being said, since we're all fated to go there, it may be worth knowing why the Old Absinthe House is a worthy "haunt."
There's a lot more to this bar than its stubborn resilience through history (and Bourbon). When Jackson arrived in New Orleans, he found a city that was unprepared for battle, with neither hope nor time on its side until Jean Laffite, our favorite pirate and outlaw, approached Jackson with a deal.
Legend has it that on the second floor of the Old Absinthe House, Jackson agreed to release Lafitte's army of pirates from prison and to grant full pardons to anyone that would fight in the Battle of New Orleans. Lafitte and his men were experts on the swamps and surrounding waters, which proved instrumental for America's victory over the British.
Perhaps Jean Lafitte had a strategic plan for meeting at The Old Absinthe House. Legends tell of secret underground tunnels linking the tavern to his blacksmith shop further down on Bourbon. Though no evidence of these tunnels has been found, we could speculate that perhaps Lafitte wanted to meet in a place where he knew his exits, including secret ones.
It should be of no surprise that over it's over 200-year history, The Old Absinthe House has picked up a few … regulars.
In fact, the tavern still caters to some of its very first patrons. The ghost of Jean Lafitte himself is said to throw an occasional spectral party there, donning his signature pirate hat, and is blamed for the occasionally unexplained sounds of laughter and carousing.
Visitors and employees have also reported seeing the ghost of Andrew Jackson, as well as the ghosts of Marie Leveau and Benjamin Butler, whom visited here from time to time. In addition to these spirits, other ghosts have been seen or felt here: a woman in a long white dress, a child running around the third floor, as well as sudden drops in temperature. Perhaps these are the ghosts responsible for doors inexplicably opening, bottles and chairs moving about the bar, and mysterious whispers from unseen sources.
It's easy to see why haunted The Old Absinthe House has a hard time shaking its oldest patrons. Famous for its absinthe frappe and its immediate proximity to the Bourbon buzz, many of its still living patrons find themselves unable to resist its allure. The room is dark and antiquated and the exposed beams leave you feeling small and somewhat suspicious in the shadows. Patrons gather at the copper bar fixtures beneath football helmets lingering overhead like capsized balloons, unable to resist closer inspection or comment of the walls, which are covered haphazardly with business cards and vintage tavern signage.