Enter, the Mahogany Jazz Hall
After spending an hour with one of the owners of the Mahogany Jazz Hall, Thais, it became apparent to us, that not only was the Mahogany Jazz Hall a legitimately haunted location but the historical events which happened here bordered on unbelievable, making it a perfect stopping place for the Pub Crawl. Many of the staff who work here have had run-ins with the ghosts that haunt here. Mysterious hands touching them, whispers into their ears when nobody was around, and most interesting, the shadows of people walking through the Club ... when nobody is there, have all been reported by the staff. The question remains, who could possibly be haunting the Mahogany Jazz Hall? Luckily for us, the owners are allowing us the chance to spend time here, doing our own paranormal investigation. Hopefully, spending the night at the Mahogany Jazz Hall, with our ghost hunting equipment on hand, will help us find out who is haunting here.
However, with the history that this haunted location has, it may not be too hard to narrow down exactly who is haunting this location.
Mahogany Jazz Hall's Past
Thais gave a little insight on her Hall's history, but it was after doing some of our own research that we uncovered a few tragic stories that may explain the unrest going on inside the Mahogany Jazz Bar.
It starts back in 1888, when the Hall was a lodging house owned by Fred Folks. Charles Murphy, a 26 yr old shoemaker from England, came to stay at Folks' Lodging House. He had been in New Orleans for about 2 years and had been employed by Anderson's Shoe Factory on North Peters, when he was struck with a fever that he just couldn't seem to shake. His illness was making it difficult for him to work the long hours that he had been accustomed to and was sending him into what some said a "depressed state."
On the morning of March 31st, Mr. Folks did his regular 6am wakeup call on Murphy. They chatted briefly and Folks went back down stairs. Once alone, Murphy secured a piece of clothing line about 2 ½ feet long, made a loop knot on one end, placed it around his neck, and fastened the other end to an iron hook in the wall. 3 hours later, Mr. Folk found him – he had strangled himself to death.
Murphy wasn't the only one that found himself in a desperate state of mind at Folk's Lodging House; just two years later, George Kreis, a 32 yr old German immigrant, was stranded in New Orleans when he found Folk's Lodging House. He had arrived in the city a few weeks earlier and had apparently spent all of the money he had arrived with in the Crescent City. He was penniless and homeless, but Folk gave him a room and helped him find some work.
Mr. Folk had a friend who lived in the country, he decided to reach out to this man to inquire about giving Kreis a job. The gentleman said he would hire Kreis, but Kries had to "know how to bake." Kreis had the "fake it until you make it" attitude, and even though he didn't have a clue about baking, he said he would take the job. He thanked Mr. Folk and went about his day in his usual good-natured, humorous self.
On Valentine's Day, 1890, George Kreis took the last bits of his money and purchased a Defender 32 caliber revolver. At 10pm, in good spirits, Kreis retired to his room, as usual. Once behind the closed doors of his private quarters, Kreis put the muzzle of the revolver into his mouth and blew his brains out. Poor Mr. Folk was left to discover yet another suicide victim in his lodging house.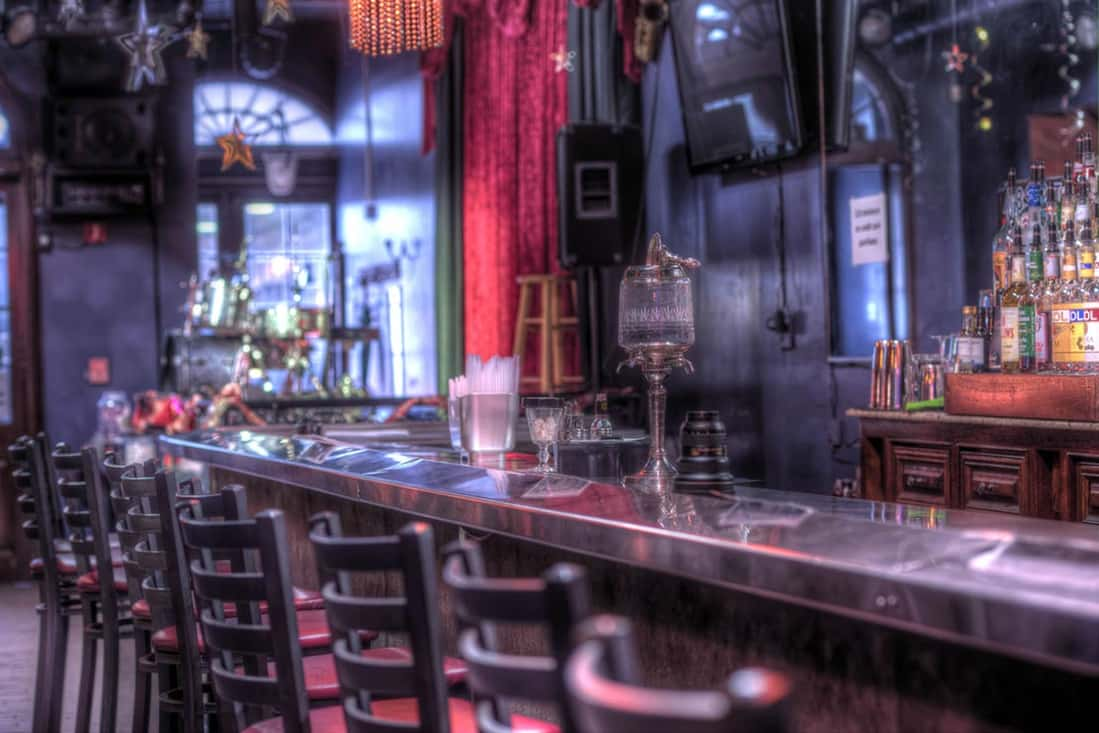 The tragedies at 125 Chartres don't stop there… The headline on November 22nd, 1892, read, "Shot in the Dark: Mysterious Killing on 125 Chartres Street."
Scotty Boyle, a well known character and vagrant on the streets of the Quarter was standing right where the door of Mahogany Jazz Hall is now. He was probably loitering, but reports say he was "minding his business hen a tall man in dark brown suit approached him," and instigated a confrontation. Tempers began to flair and voices were raised. A bystander heard the man in the brown suit say, "I'll shoot you for fun!"
The next thing heard was gunshot. Scotty Boyle had been shot in the face with the bullet exiting through his left temple.
The man in the brown suit fled the scene, he ran down Chartres to Toulouse and then headed towards the river, as Scotty's body fell into the gutter in front of 125 Chartres. He was alive for a short while, unable to speak, but had died by the time the ambulance reached him.
A man was arrested for armed robbery of the sheriff's office weeks later and held as a suspect in the murder of Scotty Boyle, but proven innocent in both cases. Scotty's killer was never found.
Visiting the Mahogany Jazz Hall
We're guessing it's the spirits of these poor men that still inhabit the Mahogany Jazz Hall. As time has gone on, we have only recieved more information from Thais. More hauntings, more stranger murders or suicides which took place at this former boarding house. Are all of these instances merely coincidental? Perhaps the spirits of this haunted club will one day tell us.
Until then, we highly encourage you to join us on our Haunted Pub Crawl, in which the Mahogany Jazz Hall is often a featured stop.