The Haunted Mansión Magnolia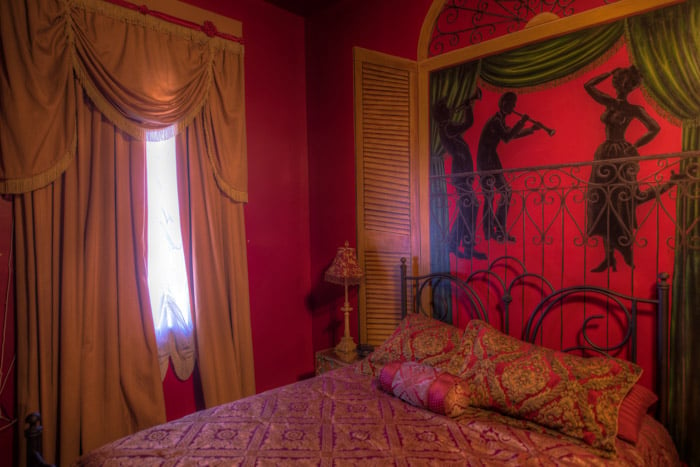 The facade of Mansión Magnolia at 2127 Prytania Street is not for the feint of heart.
White-washed walls the color of freshly fallen snow stand this property apart from the mauves and sandy yellows of the houses around; a hint of sky blue peeks out from under the veranda's ceiling. (Legend says that the blue prevents any evil spirits from entering the home; architectural history says that the blue mimics the sky and functions as a deterrent for birds looking to nest.) Eleven ornate Corinthian columns encircle the massive-wrap around veranda. To any tourists meandering past, Mansión Magnolia is an eye-catcher, and it is (unsurprisingly) the most photographed location in the New Orleans' Garden District.
But this antebellum mansion, known also as "The Gateway to the Historic Garden District," is more than just a pretty picture: it is a pure testament to an era of family tragedies and celebrations and a dedication to helping others. And, according to employees and guests of the boutique hotel, Mansión Magnolia is home to not only an interesting history of New Orleanian families but also to the ghosts who still haunt this beautiful location.
After all, Mansión Magnolia has received numerous accolades about its hauntings, and has been featured in the #1 Top 10 Haunted Homes for Sale (2011), USAToday.com's 20 Greatest Places to Sleep with a Ghost (2011) and DestinationsTravelMagazine.com's Haunted Holidays Series (2011), among others.
But who, exactly, is haunting the Mansión Magnolia? With so much history and momentous events occurring on one single property, it's almost difficult to say . . .
The History of The Mansión Magnolia
The Early Harris Years
In 1857 this Greek Revival mansion was commissioned by Alexander Harris as a gift for his new bride Elizabeth "Lizzie" Johnson Thompson. Lizzie, it should be noted, was still a minor when the marriage was officiated. Nevertheless, Harris decided to build a grand estate for his bride. (Let's be honest, though, he probably did so as a way to show off his incredible wealth, too.)
Alexander Harris was a successful cotton merchant. He purchased this property from a man named Rufus McIlhenny in 1857 for $12,000, and no doubt spent an even larger sum on the house that he intended to live in with his blushing bride. After commissioning architect James H. Calrow and builder William K. Day to construct one of the most opulent homes in the Garden District, it would be two years before the house was completed.
(Fun fact: Norfolk architect Calrow also designed the former home of vampire authoress Anne Rice at 1239 First Street).
Unfortunately, tragedy made itself a permanent residence within the Harris family home.
In the summer of 1869, just eleven years after the Harrises moved in, Alexander Harris fell victim to yellow fever, New Orleans' most ruthless killer.
But the curse of yellow fever was not over, not just yet. Another victim was Alexander's own brother, Aaron Harris, who died at his home at 35 Bourbon Street. More strangely, the two brothers died less than twenty-four hours apart. And their funerals? Held on the exact same day, 20 July 1869, at the brothers' respective homes: Aaron first at 10AM, 35 Bourbon Street, and then Alexander second at 5PM at the Harris family home at 2127 Prytania Street.
The aftermath of the Harris brothers' deaths resulted in an even more bizarre turn of events: Lizzie, Alexander Harris' widow, wanted to ensure that her sister-in-law Henriette received nothing of the Harris family fortune. She sued Henriette for a sum of $8,400 that was allegedly owed to Alexander by Aaron Harris some time before his death. But Henriette had nothing, her husband having been worth very little when he died of yellow fever, and she was forced to convert her home at 35 Bourbon Street into a boardinghouse in order to support her five children. That, too, was not enough and shortly after Henriette lost her family home.
What happened to Henriette and her children? We'll never quite know, but it seems safe to say that Lizzie was perfectly satisfied with the way things turned out. Her husband had barely been interred in the tomb before she courted another man, Carneal Burke, whom she married 28 July 1871.
And the Harris Mansion at 2127 Prytania Street? Alexander Harris' once blushing bride felt no attachment to the property her first husband had built and she sold it just a few years later.
Tragedy Strikes Again: The Maginnis Family
Lizzie Harris—then Burke—sold the property to John Henry Maginnis and his family in 1879.
For a period of time, things went very well. The Maginnis family owned one of the largest cotton mills in New Orleans. In 1881, John and his older brother purchased the land for Maginnis Cotton Mill (which still stands in the Warehouse District). The cotton mill brought endless fortune to the Maginnis family, just as it brought endless turmoil to its employees.
It wasn't uncommon for mill workers to work ten-to-twelve hour long shifts, and the hazards of the job were incredibly dangerous. Historians James Leloudis and Kathryn Walbert have written that "constantly breathing in cotton dust contributed to lung problems such as byssinosis, or as it was more commonly known, 'brown lung.'" Death wasn't uncommon in cotton mills, nor was it unheard of for workers to lose fingers, arms, or for small children to even become caught in the machinery.
Tragedy struck the homeowners of 2127 Prytania Street just ten years after John Maginnis and his family moved in: on 4 July 1889 John was struck by lightning.
(The bad luck of these families seriously can't be competed with.)
News spread of John Maginnis' death and while some people no doubt shared in the family's grief, others were . . . less forgiving. Rumors spread that John's Death By Lightning was a show of "Divine Retribution" for the way he carelessly treated those in his employ.
(I should also point out that John's sister-in-law, the wife of his brother Arthur Ambrose, died a "sudden" death in 1887. What caused it, though? Your guess is as good as mine).
John's daughter, Josephine, would later become one of the most sought after debutantes in all of New Orleans during the 1890s. She was crowned Queen of the Krewe of Argonauts in 1892 and Queen of the Mistick Krewe of Comus in 1893. After her mother's death in 1921, the family property was bequeathed to Josephine who kept it until 1939.
Upon a New Generation: Hope, Cures and Liberty
When Josephine Maginnis sold the 2127 Prytania in 1939, she sold it to the American Red Cross.
For the entirety of World War II and the Korean War, 2127 Prytania—the old Harris-Maginnis Mansion—was home to employees and volunteers of the Red Cross, who dedicated their lives to helping others. A school, centre for first-aid, and hospital service were all programs in operation at the mansion.
Unfortunately, the cost of up-keeping a chapter of the Red Cross was incredibly high, nearing $3 million each year that its doors were open. By 1954, the chapter closed and the American Red Cross sold the property to Dr. Clyde E. Crassons who once again converted it to a private residence.
The Mansión Magnolia Today
It was not until the early 2000s that 2127 Prytania became a bed and breakfast and, later on, a boutique hotel. Between owners, the property underwent a two-and-a-half year renovation that maintained its historical appeal while still ensuring that it met the expectation of its guests (it is also now handicap accessible!). With fifteen guest rooms throughout the property, this almost 200-year old residence is a place of charm and history mingled together to exude sophistication and timeless elegance.
Antique furniture decorate the rooms and each of the nine suites are appropriately themed: Gone with the Wind, Napoleon's Rendezvous and Vampire Lover's Lair are just some of the themed suites at the Mansión Magnolia. Kim, one of Mansión Magnolia's innkeepers, told us during our visit that many of hotel's repeat guests are themed obsessive, making sure to either stay in the same suite each time they visit or to try a new one when they book their next stay.
(Vampire Lover's Lair is certainly a hit favorite among the boutique hotel's guests and if you want this room for your own, make sure to book sooner rather than later).
But as beautiful and warm as the Mansión Magnolia is, there is no denying that some of its guests are more permanent, ghostly, figures.
The Hauntings of the Mansión Magnolia
With so much tragedy having occurred on this location, it should be no surprise that Mansión Magnolia is considered one of the most haunted places to stay in New Orleans.
Even while wandering through the property during our visit, we ran into a guest with paranormal plans. Not only had she booked herself a stay in the Vampire Lover's Lair, the most popular suite, but she and her husband "went roaming around [the hotel] last night, trying to find some ghosts."
Kim and Yaz, the Innkeepers, expressed to us that while they can't guarantee guests will see ghosts (if only, right?), more often than not the ghosts of the hotel are more than willing to make their otherworldly presence known.
Ghostly Tales of the Innkeepers
Kim and Yaz, the Innkeepers of the Mansión Magnolia, were quick to disclose that they both have experienced paranormal activity on a regular basis at the hotel.
Downstairs on the first floor of the property, Yaz was watching TV one night. Nothing, it should be said, was out of the ordinary. He switched the TV off, but as he moved away the TV abruptly turned back on. The unexpected noise no doubt sounded even louder and more jarring considering that silence had reigned only moments before.
On the first floor of the hotel, paranormal activity occurs regularly. Yaz will close up for the night, making sure to lock each and every door . . . but the locks always unlatch within moments—those doors sometimes opening—even though there is no one else around.
Up on the second floor in the front entry way, the brilliant and bold red room instantly transports you to antebellum New Orleans. Doors lead to suites like Napoleon's Rendezvous on the left, and to the right is the parlor and dining area. The entrance way is lit by beautifully intricate chandeliers. Each night, Kim dims the lights to a soft, soothing glow. She'll leave to go and do something else, even sometimes for just a few minutes at a time, but when she returns the lights have been turned all the way back on.
"Every night I turn the lights off," Yaz told us, "And every night the lights are turned back on."
Kim pointed out, "It could be guests."
"Could be," Yaz replied, "But there are no guests downstairs. One time I turned the TV off three times and each time it popped back on. After that, I said, you know what? Do you want. I'm leaving."
(I don't blame him).
What ghosts or spirits may be responsible for this? Kim and Yaz aren't certain, but they wholeheartedly believe that whatever paranormal energy remains in the Mansión Magnolia, it is kind-hearted and harmless. From their perspective, the ghost simply wants the lights on for the property's guests.
The Haunted Vampire Lovers' Lair
Decked out in deep, sensual colors and dark wood, the Vampire Lovers' Lair is possibly the most haunted room in all of the Mansión Magnolia. Orbs and apparitions have been caught on camera or visibly seen by guests.
Only recently, a woman staying in this room went to pass by the mirror when she turned and caught the reflection of a man stepping into the room. She figured that it was her husband and she proceeded into the bathroom to get ready for bed. But upon returning back to the main part of the room, she realized that her husband was no where to be found and the sheets . . . well, the sheets remained completely untouched.
She only grew more confused when the door to the suite opened and her husband stepped through. Immediately she asked why he'd come and gone—but he hadn't. He'd stepped outside for a cigarette and hadn't come back in the room at all for the last twenty or so minutes.
The reflection spotted in the mirror? Clearly it was not her husband but a ghost, a spirit of a man who still makes himself at home at Mansión Magnolia.
Other guests have reported that while staying in the haunted Vampire Lovers' Lair suite, they wake around 2:30AM-3AM to feel a cool breeze skate across their skin, as if someone or something is stroking their skin.
(Let's all just pretend the ghost in this room is actually Lestat from Interview with a Vampire, shall we?)
The Bronze Statue
It was a few years ago when a particular couple was staying at the Mansión Magnolia. They'd gone shopping down on Royal Street (as most visitors to New Orleans commonly do) and had purchased a nineteenth century bronze statue.
After spending the entire day out wandering the Crescent City, they were exhausted by the time they returned to 2127 Prytania for the night. They got ready for bed and placed their newly acquired antique statue on the desk beside the bed. The couple gave each other a good night kiss and promptly dove for the covers to get some much needed shut-eye.
In the middle of the night, they were awoken by the sounds of metal grating against metal. It was unbearable, like nails screeching down a chalkboard, but they reasoned that someone was moving furniture around upstairs. Burrowing deeper into the covers, the couple succumbed to the power of sleep once more.
The next morning, the wife noticed something strange . . . Her shoes had been moved. Her husband looked at her, brows arched as if to say, are you sure ? The wife knew, though, she knew that she had left her shoes by the door.
She'd found them that morning by the bathroom.
As they gathered their belongings, the couple went to grab the bronze statue only to realize that it had been completely turned around so that its face was turned the opposite way. The scraping sound, they realized, was not from someone rearranging furniture but their statue being moved—but who, or what ghost, had moved it?
The Ghostly Children of Mansión Magnolia
Mansión Magnolia is a haven for romantic destination getaways. The courtyard outside is perfect for weddings, and the restaurant on the first floor can easily cater up to around three-hundred people. Within New Orleans, Mansión Magnolia can easily be called the "It Place" for anything and everything romantic, from honeymoons to proposals to renewal of vows.
What this means, however, is that Mansión Magnolia is an adults-only location.
What this means, then, is that when guests constantly report upon hearing the sounds of children laughing, employees have no other option but to politely inform the guest that Mansión Magnolia seems to be a hotspot for children . . .
Or rather, the ghosts of children.
"A lot of guests have said that they hear children at night," Kim told us. "It'll be in the dead of night, around four in the morning, when they hear them."
Yaz was quick to jump in. "You'll hear their small feet running up and down the stairs, but we don't allow children."
Guests have reported finding tiny handprints in the bathroom rugs or even in the tubs themselves. Others have actually seen the apparitions of children and heard the ghostly sounds of childish giggles. Personal belongings like shoes and hair brushes are moved about in the room. One can only imagine that the spirits of these children are enjoying playing jokes upon Mansión Magnolia's guests.
Who are these ghostly children, however? That's a question that many people have speculated upon but no answers have truly been discovered. The ghost of a young girl was once spotted right outside of Mansión Magnolia by a passing tourist across the street from the property. The tourist, realizing that the young girl was all alone, decided to go and ask where her mother was. The tourist looked up, intending to cross the street, only to find the little girl abruptly standing less than a foot away. When the girl opened her mouth to speak, water poured out, splashing onto the concrete and wetting the tourists' shoes.
The little girl vanished right then and there.
Legend has it that this spirit was once the niece of the Garden District's first owner in the early nineteenth century, who drowned in a lake where Mansión Magnolia stands today. Is the ghost of the little girl responsible for all the harmless pranks occurring in the boutique hotel today?