Is Bishop's Palace Haunted?
Galveston is infamous for ghosts, so it's no surprise that Bishop's Palace is haunted. The Hurricane of 1900 was particularly catastrophic for the island, killing 6,000 to 8,000 people. Yet Bishop Palace withstood the storm, big enough that it even saved the lives of 200 people who ran to it for refuge.
The Bishop's Palace was a beacon for safety in Galveston then, but today witnesses report inexplicable pushing, scratching, tripping, and punching from unseen or unidentified forces while they stand or pass by the front of the house.
There are no reports of tragedies inside the home, but those who are sensitive to spirits say that Bishop's Palace is saturated in paranormal activity. Are these sinister specters? Or overprotective poltergeist?
The Gresham Ghosts
Walter and Josephine Gresham lived in the house from 1892 to 1920
The most infamous inhabitants of Bishop Palace are undoubtedly Walter and Josephine Gresham. Of course, their presence is no surprise: Walter and Josephine Gresham commissioned the estate, living within it with their nine children until their deaths.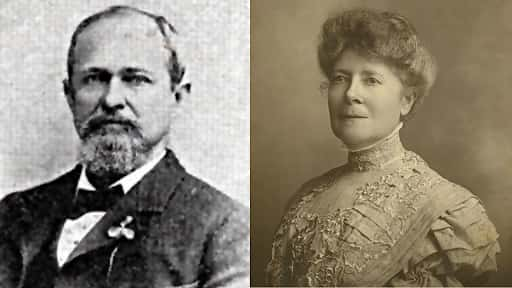 The Gresham Ghosts allegedly move about the mansion, attentive to the property's improvements and progressions. Keep your eyes peeled, Walter's known to pace the halls. He's particularly active during hurricanes, leading some to believe that his frequency is protective rather than pugnacious. Some even say that he's an anxious apparition, nervously fretting about.
Josephine's most notable haunting involves her former card box: the box remains within the home, though it's said to move about on its own. It contains relics from her travels, making it especially sensitive to supernatural energies. Perhaps that explains why it's never where you left it? Although it's an ultimately innocuous incident, it's still spooky.
Building Bishop's Palace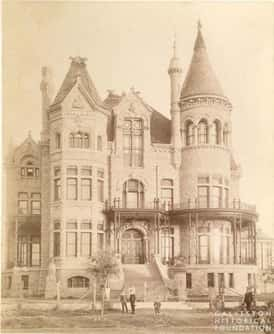 Designed by architect Nicholas J. Clayton, Bishop's Palace was built for Colonel Walter and Josephine Gresham at a whopping $250,000. The Gresham's themselves tagged the property "Gresham's Castle," no doubt referring to its Châteauesque style and sprawling square feet. With steep roofs and steeper turrets, Bishop's Palace appears from a fever dream.
It took over six years to build, which may account for its intricate ornamentation and flamboyant features. Although the foundation is constructed from carved limestone, the property's facade is supplemented with sandstone and granite. Together, they span three stories high – making for a formidable, albeit foreboding estate.
The facade is likewise embellished with etchings of people, animals, and plants alongside those of mythical creatures. Yet Bishop's Palace is somehow more remarkable on the inside: stained glass windows flank fireplaces, floors and staircases are wrought from rare wood. One fireplace within the estate is even lined in silver.
You can see why Bishop's Palace looks as if it sprang from the pages of a storybook, singular and spectacular. (The palace's proximity to the seaside is another plus.)
Who Was Walter Gresham?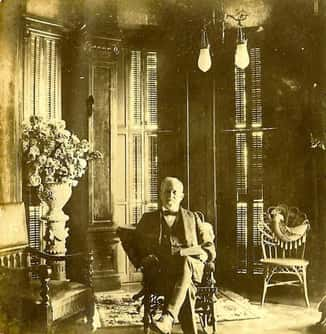 Born in 1841, Walter Gresham founded the Gulf, Colorado, and Sante Fe Railroad, earning his reputation as a railway magnate. Yet Gresham was likewise a Civil War Veteran, and, later, an attorney and politician. Gresham was one of the highest paid attorneys in the state of Texas, and no stranger to success.
By 1868, he opened a law office and married Josephine Mann. By 1872, he was elected as Galveston County's District Attorney. Gresham was elected to Texas Legislature in 1887, which is the same year that he commissioned Clayton to design the home. Six years later, in 1893, Walter and Josphine formally opened Gresham's Castle.
Even in the 19th century, most politicians like Gresham couldn't escape some kind of controversy. According to a Fort Worth Star Telegram article from 1911, Gresham was put in custody of the Galveston County Sheriff when he refused to show up for a senate investigating committee about politicians receiving funding from liquor companies to push a anti-prohibition agenda.
However, Gresham's reputation in Galveston remains squeaky clean. He is known for being instrumental in the construction of Galveston's Seawall, traveling to Washington D.C. to push for federal funding for the island's harbor.
Gresham died in the United States Capital during 1920, and Gresham's Castle was sold three years later. Gresham was returned to Galveston, however, where he was interred. You can find his gravestone in Lakeview Cemetery – though, again, you'll find his ghost elsewhere.
Who Was Josephine Gresham?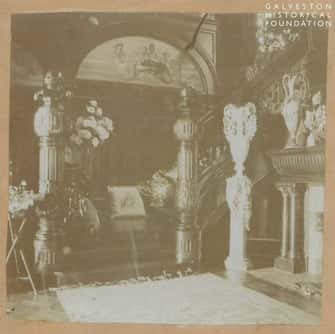 Like many affluent women of her time, Josephine Gresham loved throwing extravagant parties and playing the role of hostess. She was so thoughtful about her guests' comfort in Gresham's Castle she laid pillows on the staircase during parties. They were there so guests could stop and take a nap if they grew tired of the festivities.
Her love of greenery transformed the home into a residential jungle with vines crawling, covering walls and staircase banisters. Does her dedication to hospitality keep her spirit tied to Bishop's Palace today?
Josephine was an artist and painted murals throughout the home, including angels on the ceiling above the dining room. If you look closely, you will see each angel has distinct facial characteristics. They reportedly were painted to represent each of her nine children. You can still see Josephine's impressive work in the Palace today above the dining room table.
Why Call It Bishop's Palace?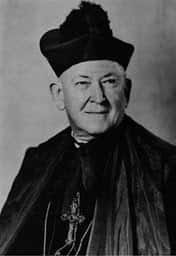 The Galveston-Houston Diocese of the Catholic Church purchased the Gresham House in 1923 for $40,500. "Gresham's Castle" then became Bishop's Palace, renamed for the Most Reverend Christopher C. E. Byrne.
The Bishop lived in the home until he died of a heart attack at age 82. He was so well-respected that 8,000 people attended his funeral.
The Bishop's Palace was turned over to the Newman Club in 1963. Three months later, the diocese opened the estate to the public.
Bishop's Palace Today
Bishop's Palace is now owned by the Galveston Historical Foundation, who acquired the property in 2013. According to Road Trippers, "the mansion is recognized as one of America's finest examples of Victorian exuberance and Gilded-Age extravagance."
The American Institute of Architects even listed Bishop's Palace as one of the 100 most important buildings in America.
Yet with its ghastly ongoings, Bishop's Palace is more than a historical house. Apparitions appear and disappear; specters are seen, then recede. Walter and Josephine Gresham remain the home's haunted hosts – vigilant to visitors, wakeful and watchful.
Visiting Bishop's Palace
On the lookout for the Gresham Ghosts? Bishop's Palace offers tours during the full moon. Keep watch for any eerie encounters, of course! Oh, and be sure to let us know if you come across any paranormal activity.
Bishop's Palace is available for daytime tours seven days a week. A portion of the admission price supports the Bishop's Palace, aiding its restoration and preservation. You'll find this architectural treasure Galveston's East End Historic District at 1402 Broadway.