Piracy, brothels and greed mark the smoothly polished cobblestones before the Pink House's front stoop; a stain that has not been erased in last three centuries. Whether you believe the rumors or not, there is no doubting the Pink House's historical significance.
Nor, is there any doubting its ghostly lore.
The History of Charleston's Pink House
The Early Days: Architecture
At the start, Chalmers Street was nothing but mud. Which naturally became a problem when the city flooded. Soon, there was the (minor) realization that all of the ballast stones which had been placed in the ships, and thereafter thrown into the harbor as they were deemed useless, found a home as the foundation for Charles Towne's streets.
From there on, properties began to sprout up in the area one by one. The Pink House (then a tavern) was one of these properties, and remains one of two oldest buildings in all of Charleston.
Built with only one room on each of its three levels, the Pink House in the 18th century was a common-enough sized place with overly large fireplaces for heat in the winter months and cooking all year around. Interestingly enough, while the first floor was (and is) 13ft x 13ft, the third floor's walls slant in slightly.
Most Colonial Charleston homes have an outdoor kitchen dependency, though none has ever been discovered for the Pink House.
As for why it is called the "Pink House?" Well, that's because it really was pink. John Breton, the builder, used Bermuda stone for the property. Also known as West Indian coral stone, it nevertheless consists of a pretty pink hue. Such stone was put on ships and brought into Charles Towne with the hopes of using it for cobblestones. Quite quickly, the Charlestonians realized that the rounded ballast stones made better pathways, and the Bermuda stone was perfect for building.
Today, the Pink House has been painted a color to match its namesake, though the original blush Bermuda stone rests directly below, a true testament to its strength and endurance despite its three centuries of life.
Lodge Alley or Mulatto Alley: Charleston's Sordid Strip
While the Pink House's neighborhood may not be classically nicknamed the "French Quarter," it went by something completely different in the 18th centuries. Instead, it was coined "Lodge alley," or more frequently, "Mulatto Alley."
In the building's earliest days, the Pink House functioned as a groggerie (coffee house) and a tavern for sailors coming through the area. By the early 1700s, Charleston had already become the fourth busiest port in the colonies. Sailors flooded the area, and almost all made the short, easy trek to Mulatto Alley.
At the time, the cobblestoned street mainly housed bordellos, taverns or a mix of the two. The Pink House was no different. Sailors in particular visited with the hopes of satisfying the Three W's: whiskey, wenches and wittles (food). Contemporary city officials of the 19th century mockingly would "laugh over their nocturnal adventures in Mulatto Alley."
Depending on your perspective, the 10ft-wide pathway either offered freedom (at a personal cost) or another form of slavery. Most of the establishments belonged to slave-owners and offered only enslaved or free women of color to their clientele.
"In Charleston," historian Cynthia M. Kennedy wrote in her article, Nocturnal Adventures of Mulatto Alley, "the distinction between housekeeper and concubine blurred, so when enslaved and free women of color assumed positions as housekeepers, most understood the role to include sex and expected to derive material rewards for the extra service."
Some brothel owners forced their slaves to offer sexual services in their bordellos, where the upper floor was almost always exclusively held for sexual activity. Some of the women who worked in the bordellos, including the Pink House, chose the lifestyle as it afforded them material gains to better their lives as well as their family's life.
Records show that Thomas Coker owned the Pink House during the 1750s, but by the early 19th century, Mulatto Alley had declined into all-out bawdiness. Thomas Elfe, a furniture maker who lived nearby, wrote to the city council in 1800 about the fights and noise emanating from the tavern.
When neighbors like Elfe issued complaints, owners like Coker were only ever charged with creating a 'common nuisance.'
Charleston's unofficial red light district would not begin to fade away until the latter half of the 19th century. The Pink House deteriorated along with the time lapse.
Art Galleries and Renovation: 20th Century
From the late 1800s until the 1930s, the Pink House sat almost completely dormant with disuse.
It wasn't until Mr. and Mrs. Victor Morawetz stepped in that things began to turn around for the historic building. The couple hailed from New York who had recently restored nearby Fenwick Hall, as well, and had made a name for themselves in buying blighted properties and restoring them to their prime.
It was the Morawetz couple who added a small wing on the southeast side of the building, and who brought life and vitality back within the Pink House's walls.
When 1946 rolled around, a Harry McInvaill, Jr. bought the property and opened a small publishing house. For years, McInvaill welcomed artists of all modalities to the Pink House. He hosted exhibitions and art shows, and fully supported the Charleston art scene.
When McInvaill, Jr. parted with the Pink House, it went to another local artist--Charleston's most famous painter, Alice Ravenel Huger Smith. The Pink House was then converted into her studio, and she too hosted various exhibitions at the property.
It was during this period that the Pink House also was the homebase for the group, Piping & Marching Society of Lower Chalmers Street. Started by a group of World War II vets, who used the meeting location as a place to talk philosophy, drink good beer and give presentations to their fellow members.
It wasn't uncommon to see members of the Piping & Marching Society strolling the French Quarter district, bagpipes in hand and they played for any and all who came outside to watch them parade past.
More Art and the Pink House Today
The Pink House never truly lost its artistic flair. It seems that in some way or another, its link to Charleston's creative scene has been a constant since the 1940s.
Following Alice Ravenel Huger Smith's stay, attorney Frank H. Bailey bought the property and overhauled the place, once again. While the Pink house still maintained its colonial aura, the Bailey family brought it up to par and instilled new features--like electricity and telephones!--to its repertoire.
Tours of the property were held throughout the 1950s and 60s, before the structure was passed on to Mr. Bailey's daughter. Once again it became an art gallery, and still is to this day. It features the artwork of Alice Stewart Grimsley, Nancy Wycoff Rushing and Detta Cutting Zimmerman.
And, according to a real estate ad, the last time the Pink House was listed for sale, the going-price was $899,000. A lofty price for a lofty property with a tantalizing history and a ghostly lore.
The Ghosts of Charleston's Pink House
Ask a local and they'll probably tell you that the Pink House has one or two ghosts lingering around. Sightings of apparitions popping up in photographs have been frequent occurrence years.
Most commonly, the apparition spotted is that of a female figure up on the third floor. Her spirit wanders, pacing back and forth as though in wait of something or perhaps even someone.
Those who have been lucky enough to catch a glimpse of her otherworldly form claim that she is the ghost of the female pirate Anne Bonny. Can it be true?
Anne Bonny, The Story of a Female Pirate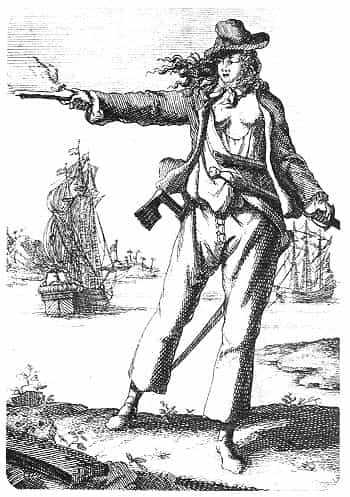 Anne Bonny was born in County Cork, Ireland, in 1697, as the illegitimate daughter of attorney William Cormac and his housekeeper, Marry Brennan. Cormac's wife was not happy with this turn of events and promptly announced her husband's infidelity all over the village.
With no reputation to speak of, William packed up his daughter and his new soon-to-be-wife and sailed for the New World. Charleston was their final destination, and William dug deep to build a new career out of the invisible ashes.
Turns out that it worked well, because William later purchased a plantation for his family.
Unfortunately, Anne's mother, Marry, died while Anne was in her teens, and this was about the time that Anne's natural, flamboyant personality emerged. Rumor has it that Anne murdered a servant girl with a knife, and that she even caused enough damage to an older boy that he ended up in the hospital! (In her defense, he'd attempted some sexual advances and Anne properly put him in his place).
But soon Anne fell in love, with a pirate named William Bonny no less, and tensions rose within the household. Her father argued that she was much too young--16--to be contemplating marriage. She married Bonny anyway, and Anne was promptly given the boot from home.
The allure of being married to a pirate faded quickly. Not, however, because the pirate life was hard on Anne, but because her husband reformed himself into an assistant to a governor! Anne was not pleased, and she fled with the help of her friend, Pierre, who ran a bawdy house. While she fled from William Bonny, she ended up in Calico Jack Rackam's arms, who was another pirate. Soon he discovered that she was pregnant, and he dropped her off in Havana (Cuba) for the meantime.
(If this is sounding like a crazy TV soap opera, that's because it sort of is).
From there, Rackam finally decided to pick up his (sort of) wife a few months later. With her was Anne's new friend, the infamous Mary Read. While many account their closeness for just being friends, others have inputted that they believe Anne and Mary may have been in a relationship.
(Soap opera, really).
Life would not be kind to Anne, for their ship, the Revenge, was attacked and she and all of her friends were imprisoned. The punishment for piracy in the 18th century was execution by hanging. One by one her friends perished, but she and Mary pleaded that they were both pregnant.
It must have been with a great sigh of relief that they realized they would not be put to death like the others.
Even so, Mary ended up in a Jamaican prison where she died of (yellow) fever. As for Anne, her father allegedly felt pity and paid her ransom for her return to Charles Towne. Did she vanish as legend has it? Probably not. Instead it seems that Anne soon gave birth to Rackham's child, and then remarried to Joseph Burleigh in 1782.
She died on April 25, 1782, in Charleston.
Is Anne Bonny Haunting the Pink House?
While it would be utterly fantastic to assume that the Pink House is haunted by Anne Bonny, the female pirate, it's also probably unlikely. There aren't any records to suggest that Anne spent any time at all at the Pink House in the 18th century, leading many to believe that the Pink House is instead haunted by someone else.
Or, perhaps, many other souls.
Ghostly Activity at the Pink House
Windows burst open suddenly, despite the fact that no one is touching the window panes. The soft sound of footsteps climbing the three-hundred year old stairs is heard often throughout the night . . . and even the day when employees are alone.
Visitors have sworn to feel an uncomfortable sensation skittering down their spine, as though someone is watching them from the stairwell. But when they glance toward the stairs, anticipating a face or a body standing there, they find it empty.
Leaving them to wonder if they are, in fact, actually alone.
As for the female spirit who roams the third floor of the Pink House, it makes more sense if she were perhaps the spirit of one of the women who once worked at the property during its tavern/bordello days.
Generally speaking, brothels and taverns are some of the most haunted places in the world. With the influx of new people arriving every day, in addition to the tumultuous emotions of rowdy sailors and enticing women, taverns are prime hotspots for paranormal activity.
Visiting the Pink House in Charleston
Are you looking for new art? Perhaps some jewelry? If so, be sure to stop in at one of Charleston's oldest buildings.
Whether you are looking for ghosts or paintings, the Pink House will have all you have to offer. And, if you believe the legends, perhaps even a female ghost pirate or two.
Visiting the Pink House
Private property, you cannot access the Pink House. However, it is worth taking the walk to check out the house. We highly recommend you grab your camera and take a walk to see this historic home.