Haunted by war criminals, Confederate spies, and Lincoln co-conspirators, the Old Brick Capitol is America's spookiest location.
Did You Know?
Former Prison for Confederate Soldiers
Haunted by Lincoln Co-Conspirators
Site of the Execution of Henry Wirz
Now the Supreme Court Building
Is the Old Brick Capitol Haunted?
Visitors to the premise overhear the unexplainable banging of metal bars. Phantoms of former convicts plead for their lives, forever tethered to this bygone prison. There are mysterious orbs, strange and unaccountable sounds. Apparitions materialize and disappear, spooking spectators before vanishing forever.
Those sensitive to supernatural phenomena even claim to hear hysterical crying. Are these tied to the property's phantom inhabitants?
Phantoms of the Supreme Court Building
With their ghostly guestlist, it's no wonder the Old Brick Capitol is haunted. The property's former inmates include Confederate spy Belle Boyd, the notorious Henry Wirz, and Lincoln co-conspirator Mary Surratt. Their residual energies engulf this ominous property.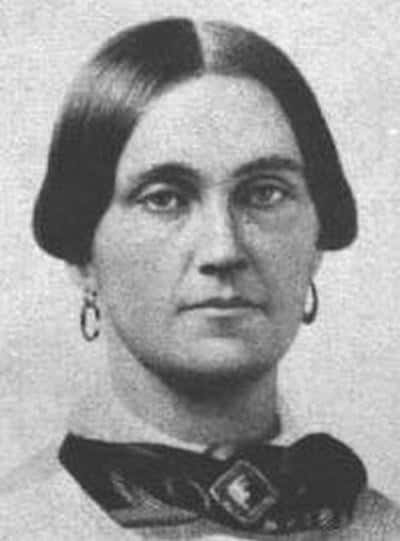 America's First Woman Hanged
As the first female executed by the US Government, Mary Surratt's an impressive poltergeist to have haunting the house. Yet, she's better known for her implication in President Abraham Lincoln's assassination.
Surratt was the proprietor of the boarding house where she and her co-conspirators plotted Lincoln's murder. John Wilkes Booth, an associate of Surratt, even sought refuge near Mary's establishment during his daring escape from Ford's Theatre.
After John Wilkes Booth was apprehended, Mary Surratt was imprisoned at the Old Brick Capitol. They say that she pleaded her innocence up until her gruesome hanging at Arsenal Pentiariary.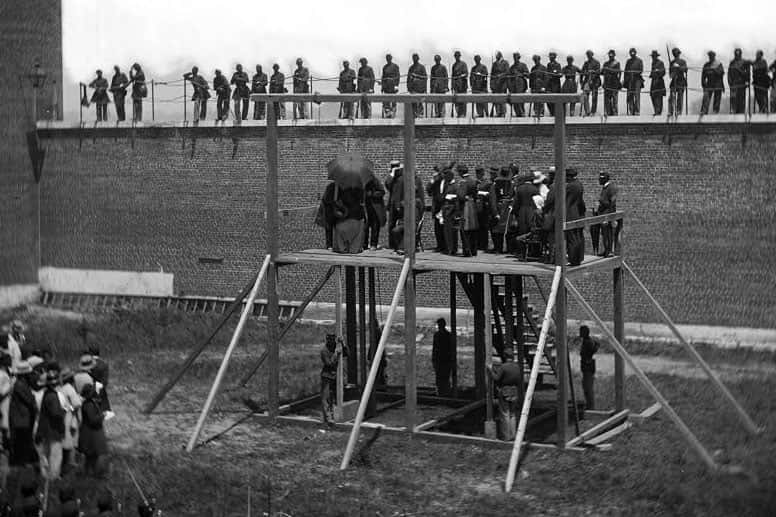 Lincoln Assination Conspirators Tried, Convicted, and Executed
The Ghost of Mary Surratt
Despite Mary's off-location execution, some think her poltergeist lingers at this former prison. Spectators spot her full-bodied apparition near the windows of the property, where she's spotted clutching the bars as she wails away.
They say that she's an anniversary ghost, most often appearing around the date of her death. Does Mary Surratt still plead for her innocence? Perhaps that explains her unceasing screams.
The Ghost of the Girl Spy
Highly regarded as the Civil War's most famous spy, Maria "Belle" Boyd met her start after shooting an Union soldier. The man had hit her mother; like any good American girl, Belle pulled a pistol from beneath her dress, retaliating with murder.
Despite killing one of their own, Union soldiers adored Belle. She was charismatic and clever, wooing soldiers as quickly as she had shot the first. Belle was so popular with her bewitched suitors that she was doubly quick to receive confidential military information.
Realizing the power of her position, she relayed the information to rebel lines.
When Belle was caught, she was only lightly reprimanded. No one would confront this striking, traitorous beauty.
It was only after a former lover betrayed her that she was ever apprehended. She was held for a month at the Old Prison Capitol, where witnesses spot her ethereal poltergeist today.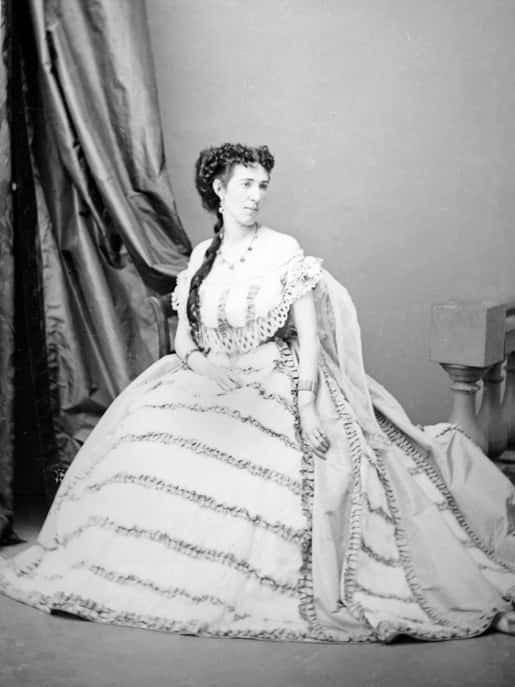 Belle Boyd. Courtesy of the Library of Congress.
After her arrest and release, she continued to gather information for the Confederate cause. They say bullets tattered her petticoats, yet she never conceded her cause.
Belle even managed to exploit her position after the Civil War, touring packed theatres where she recounted her experiences. Yet, not only did her stage career take off, her book Belle Boyd In Camp and Prison was a critical success, too.
We don't know why her spirit stalks the Old Brick Capitol, but it's a specter worth seeing. This infamous Girl Spy of the Civil War manages to stun spectators today, as astonishing in death as in life.
The Ghost of Captain Henry Wirz
Captain Henry Wirz, the infamous overseer of the Andersonville Prison, was likewise executed at the Old Brick Capitol. Some say his restless spirit roams the Supreme Court Building today.
During the Civil War, this Swiss-born Confederate commanded the infamous Camp Sumter in Andersonville, Georgia. Inmates were held in deplorable conditions, often emaciated or exposed to disease.
So cruel was their circumstance that soldiers were expected to build their own shelters from limited materials. Even then, they were at the whims of the weather, suffering from the unrelenting heat and rain. Many soldiers had no choice but to sleep in holes dug in the sand or clay.
Of the forty-five thousand Union soldiers imprisoned, thirteen thousand died of starvation.
Once the public was made aware of these conditions, they were outraged. They demanded the execution of Captain Henry Wirz.
While scholars today debate his level of power and the ethics of his execution, the public was far more unforgiving. He was hanged within the Old Brick Capitol's courtyard, where his ghastly apparition is sighted today.
Old Capitol Prison shortly before Henry Wirz was hanged on Nov. 10, 1865. Courtesy of the Library of Congress Civil War Collection.
The History of the Old Brick Capitol
During the War of 1812, the U.S. Capitol was demolished by fire, forcing the Old Brick Capitol to serve as an interim meeting point. Congress would congregate on the property for four years, deciding the fate of all future Americans.
Even after the original Capitol was restored and congress relocated, the moniker Old Brick Capitol remained. Yet the site itself took a dark twist.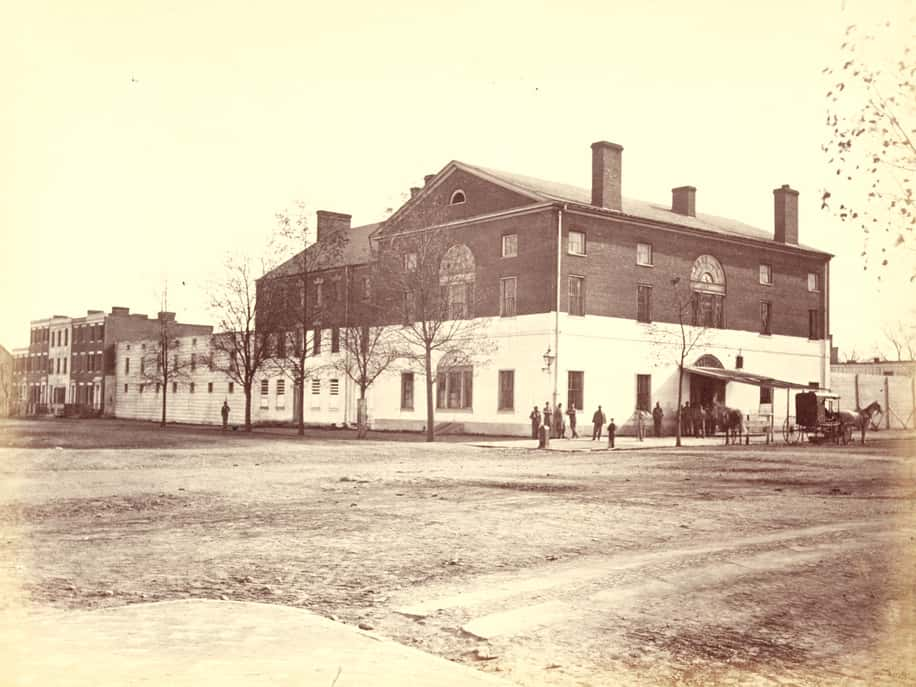 Washington's Civil War Prison
It only fits that this federal establishment would later act as a prison. During the Civil War, the Old Brick Capitol was repurposed into a penitentiary, housing America's most dangerous detainees.
The Old Brick Capitol became the Old Capitol Prison, overcrowded, underfunded, and uncared-for. Here, Confederate spies and co-conspirators found company with the city's petty criminals and prostitutes.
The National Women's Party
In 1922, the National Woman's Party acquired the property, converting the building into a boarding house for its members. Since the Old Brick Capitol's jail cells were individually converted into bedrooms, the supernatural phenomena come as no surprise.
As you would expect, these women were some of the first to witness the property's paranormal activity. Sources reported disembodied voices, muffled screams, and the spooky, ceaseless slamming of nonexistent cells.