Madame LaLaurie
Here at Ghost City Tours, we pride ourselves on being a ghost tour company that actually takes the time to find out the truth about ghost stories and hauntings. In an industry filled with corny costumes, stories about zombies and vampires, we consider our tours a breath of fresh air. It takes a long time to research some of the haunted locations we visit on our Ghost Tours. Maybe this is why some companies resort to simply making up nonsense instead of finding out what the real haunted history is.
The Ghost Story of Delphine LaLaurie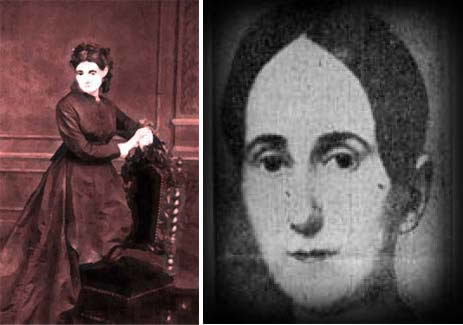 Here in New Orleans, one of the most famous ghost stories revolves around Delphine LaLaurie, more commonly known as Madame LaLaurie. Madame LaLaurie lived in a majestic home on Royal Street during the 1830's. The common ghost story talks about her abusing her slaves, with her and her husband performing medical experiments on them. Supposedly, when found, these slaves were found mutilated, the victims of torture and experimentation. Slaves with holes drilled in their heads, limbs broken and reset in unnatural positions - you name it, the weirder it sounds, these poor souls had it done to them. These slaves were found when a fire in 1834 burned most of the house. Upon looking through the house for survivors, these slaves were found in a torture chamber. Supposedly.
These got us thinking..if those stories were not true, where did they come from? Many of these stories come from a combination of bad reporting at the time and a book called The Haunted House of the Rue Royal by Jeanne Delavigne. If these stories about slaves being mutilated are actually true, why wasn't there more coverage about this at the time of the crime?
Or was that Elizabeth Bathory?
The other night, I was talking with Skippy, one of our tour guides, and he brought up the fact that a lot of these stories being circulated, being told by New Orleans ghost tour companies, seemed an awful lot like the stories that were told about Elizabeth Bathory. Elizabeth Bathory was a countess in the royal family Bathory in the Kingdom of Hungary. She lived from 1560-1614. Bathory is considered to be the most prolific female serial killer of all time. It is said that up to 650 women found their lives ended by Elizabeth Bathory.
Aside from testimony, the most compelling evidence against Elizabeth Bathory was - get this -a torture chamber in her home where they found the bodies of women who had been mutilated. Heads drilled in their heads, limbs broken and reset in unnatural positions. Are you noticing some similarities here? It seems as if over time, someone decided that they'll simply retell the stories about Elizabeth Bathory, and apply them to Madame LaLaurie. I have seen this happen numerous times over the years in other cities like Savannah. So, to see that someone has done this in New Orleans is not surprising at all. Do you want to know how many times I have heard a ghost tour guide in Savannah tell the story about Lavinia Fisher, the notorious woman who was hanged in Charlestown, in Savannah? Tour guides have been recycling ghost stories from other cities..or countries, for as long as there have been ghost tours.
This is why what we do here at Ghost City Tours is so important. Nowadays every tour company in New Orleans tells the fabricated, exaggerated version of the Madame LaLaurie story. It has happened so much that many people consider it to be real history. It distorts everything. And, in our opinion, it does a disservice to New Orleans and our real haunted history. It is a shame. It is unfortunate that many tour companies don't do the research to uncover the real history instead of encouraging their tour guides to tell these fabricated stories.
If you're interested in hearing the real haunted history of New Orleans, check out our haunted New Orleans Tours where you can choose from multiple high quality, historically accurate ghost tours.