Madame Delphine LaLaurie
The legend of Madame Delphine Lalaurie has grown into a pop culture phenomenon, and like most things in pop culture, the line between fact and fiction has faded. There is no denying that Lalaurie was a fascinating character in New Orleans' history. But was this complicated woman really the femme fatale that your ghost tour guide would lead you to believe? Or is she just one of history's powerful and misunderstood women of the south?
Who Was Madame Lalaurie?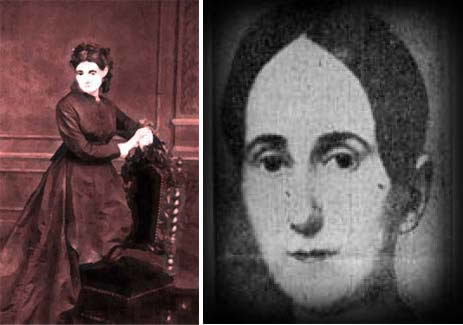 She was born Marie Delphine Macarty on March 19, 1787, to a wealthy family in New Orleans. The Macarty men had military backgrounds, most were landowners, and her father, Louis Barthélémy de Macarty, was knighted as the Chevalier of the Royal and Military Order of St. Louis. By 1794 her family had a 1,344 acres plantation between Bartholomew and Independence, backing up to St. Claude Avenue, and next door to the famously wealthy Count Pierre Philippe Mandeville de Marigny. One could safely assume she led a charmed life.
Her mother was known to be quite the hostess. She loved having parties that went into the wee hours of the night. Some nights included jumping into the canal on their property, and stealing the clothes and shoes of the male guests, forcing them to go home in bare feet and nightshirts. She loved a good party and a good prank. When Delphine's mother passed away in 1807, her father explored companionship in an untraditional, though popular, manner. The Chevalier Louis Barthélémy de Macarty had a long term relationship with a free quadroon, Sophie Mousante. In 1815, Sophie gave birth to a daughter, Delphine Emesie Macarty. The child's godparents were Delphine and her brother, Louis.
Records show that quite a few of the Macarty men had relationships with free women of color or women of mixed race. Delphine's uncle, Eugene, had a fifty-four-year relationship with a woman of color, Eulalie Mandeville de Marigny (yep, the same name as the Count). Eulalie was the daughter of an enslaved woman and the Count himself. Eugene and Eulalie had seven quadroon children together in what appeared to be a successful union. Eulalie must not have cared that Eugene also had children with two other free women of color, five children in fact.
New Orleans history tells us of quite a few wealthy Creole men practicing the "cohabitation with women of color." (Carolyn Morrow Long; Madame Lalaurie Mistress of the Haunted House) Delphine's father, uncle, cousins, and associates contributed to the development of biracial free people of color. These women were referred to in the legal system as a concubine, the Creoles called them ménagère or plaçée. Research proves there were quite a few women of mixed race who were in relations and had children with the Macarty men.
Let that seed germinate a bit as we explore the life of Delphine Macarty Lalaurie.
Delphine and Her Husbands
Husband #1
She was barely fourteen when she married her first husband, the 35-year-old widow, Ramon López y Ángulo de la Candelaria. Ramon was an officer of the Spanish Crown and 2nd in command to the Louisiana governor. He had recently lost his wife on the treacherous and cruel voyage from Spain to Louisiana to step into his appointed position. He and Delphine were married by the bishop in a private ceremony on June 11, 1800. Five years later, Ramon made Delphine a mother and a widow.
It seems Ramon wasn't thrilled with the Crown. Perhaps he harbored some bitterness and blame with the death of his wife, there is a record of him saying that they were sent over from Spain at the worst time of the year. Had they postponed their voyage one month, as he requested, his wife's life could have been spared in a less grueling voyage. And with the bitterness came a bit of rebellion in his role.
Ramon pissed off Spain for the last time when he opened up the importation of captives directly from Africa, defying the orders that Spain had implemented. The orders prohibited the importation until hostilities had settled, and had become a more peaceful environment in the human trafficking trade. It is also speculated that Spain reprimanded him for marrying without permission. The Crown he served began shuffling him around the globe, removing him from his prominent position.
After many efforts by way of letter writing, and supposedly a visit to the Queen by Delphine, he was pardoned and appointed Spanish Consul to New Orleans under the American Administration. At this time, Delphine was pregnant and waiting for him in Havana, so they could return to New Orleans together.
Ramon boarded a ship in Bordeaux to make his way back to his expecting wife. On January 11, 1805, his vessel hit a sandbar off the shores of Havana, and Ramon was killed. Around this same time, Delphine gave birth to their daughter, Marie Delphine Francisca Borja López y Ángulo de la Candelaria. The baby girl was named in part after Ramon's dead wife. Delphine stayed in Havana long enough to bury her husband and have her daughter baptized. She then returned to her home in New Orleans, a young widow, and mother, to discover that New Orleans was no longer under Spanish or French rule, but now under American ownership.
Husband #2
The young widow would soon be married again. On Delphine's twentieth birthday, March 19, 1807, and just a few weeks after her mother died, she married an older Frenchman and widower, Jean Paul Blanque. Delphine's mother had divided her estate between her three children. Blanque was a savvy businessman, perhaps he saw her inheritance as an opportunity.
Jean Paul Blanque had arrived in New Orleans with an agenda. He was a ruthless businessman who had been active in the slave trade as well as politics, and an associate to the notorious pirate brothers, Jean and Pierre Lafitte. Delphine's inheritance of $33,007 made for a healthy dowry for the marriage to her new husband. Her mother also left her a downtown plantation on the bank of the Mississippi River, fifty-two slaves, and livestock and farm equipment. Her father gifted Delphine and Blanque another plantation, property on Chartres Street, and an additional twenty-six slaves. In today's value, her inheritance was worth over $2 million.
Blanque went on to purchase a 2-story townhome on Royal and Conti, next door to the Bank of Louisiana where he was the director. By 1815 they had five children, the eldest being the daughter from Delphine's first husband. The family would split their time between the townhome and their plantation. Delphine and Blanque had secured a privileged life for themselves. But things are not always as they seem.
Less than a year after the Battle of New Orleans, the fifty-year-old Jean Blanque passed away. Delphine, just twenty-eight years old, was left to settle Blanque's estate. His estate consisted of debts that totaled over $160,000, over $2.5 million in today's currency. In 1816, Delphine renounced their community property to the courts and forfeited all of their mutual assets, to protect and keep her personal property and assets.
Over the next ten years, Delphine auctioned off much of Blanque's property, including enslaved persons, to try and pay off his debts. She even purchased one piece of his property herself at auction, as well as retaining some of his slaves. Records show that eight of the enslaved people she now owned died in a span of about five years. Most were children or women of childbearing age. The causes of death are "unknown."
The debt that Blanque left behind could have depleted Lalaurie's wealth. Delphine had the luck of the Irish, though it came in the form of morbid and macabre luck. Her father, Chevalier Louis Barthélémy de Macarty, passed away in 1824, leaving his children with a substantial inheritance. His daughter, with a free woman of color, was included in his will, he left her "$5,000 and two slaves."
Husband #3
When Dr. Louis Lalaurie came into the picture, in 1825, Delphine was an experienced and shrewd woman of wealth. Lalaurie arrived from France with a mission to start his physician practice of "destroying hunches." He was basically a chiropractor, "straightening crooked backs." And in 1826, one of Delphine's children needed some help being "straightened" out, henceforth the romance began.
Lalaurie was an "older" woman at thirty-eight, with two dead husbands, five children, and considerable wealth. One could speculate a few scenarios around their blossoming relationship, but one thing we know for sure is that Madame Delphine became pregnant with Dr. Lalaurie's child out of wedlock.
Five months after the birth of their son, Jean Louis Leonard Lalaurie, Dr. Lalaurie, and Madame Delphine were at a notary negotiating their marriage contract. Delphine was now worth $66,389.58. Once their property and finances were sorted out, they headed over to St. Louis Cathedral to make it legal in the eyes of the Catholic Church. However, it has been discovered that the date of their marriage was rolled back six months. Having a child out of wedlock would have been frowned upon in their circle of high society.
The forty-year-old Delphine was now on her third husband, and the twenty-five-year-old Dr. Lalaurie was a new father in a new country with a very wealthy wife. Archived letters written by friends mention that the marriage was not a happy one; they were known to "fight, often separate, and then return to each other." Some of these letters begin to make early mentions of Delphine's cruelty to her slaves.
In 1831, Madame Delphine Lalaurie purchased the lots on Royal and Hospital (now Governor Nichols), which would become the infamous Haunted Lalaurie Mansion. But their lavish home in the Vieux Carre did not a happy marriage make. On November 16, 1832, Delphine Lalaurie petitioned the courts for a separation from the bed and board of her husband. She claimed that Lalaurie had "treated her in such a manner as to render their living together insupportable." She also claimed that Lalaurie had beaten her in front of witnesses. Five months later, Dr. Lalaurie acquiesced and consented, moving permanently to his newly acquired residence in Plaquemines Parish.
The Lalaurie Mansion Fire
On April 10, 1834, a fire broke out inside the home Delphine Lalaurie and her estranged husband. Through the smoke and flames, an ugly truth was exposed, and suspicions confirmed. The LaLaurie Mansion, a beautiful home, held ugly secrets.
Just as within any scandal, the stories and embellishments grew over time, but the immediate reports and eyewitness accounts are horrifying and atrocious. Seven slaves were rescued from deplorable conditions, "their bodies covered with scars and loaded with chains." They were taken out on stretchers and delivered to safety at the Cabildo. While a mob proceeded to destroy the furnishings of the home in outrage.
Judge Jacques Francois Canonge was a neighbor of the Lalauries, and one of the first to arrive at the fire. Some of the early arrivals began to help the Lalauries transfer their valuables to safekeeping in case the fire started to spread from its originating place in the kitchen/outbuilding. A few of these concerned citizens began to tell Judge Canonge about the captive bondspeople. Prompting the Judge to politely ask permission of Dr. Lalaurie to have the slaves removed and taken to safety. It is reported that Lalaurie replied, "there are those who would be better employed if they would attend to their own affairs instead of officiously intermeddling with the concerns of other people."
Red flag! As the flames began to spread, Judge Canonge gave orders to break down the doors. It was then that the citizens were met with a scene that they could never have been prepared for. Depending on the source, the level of the discovery's gruesomeness varies, but even the tamest of the depictions is nothing less than appalling. The mob mentality shifted and people began smashing the contents of the mansion. Destroying the Lalaurie's property and belongings, no different from the way the Lalauries had treated the poor people in their home.
The more sensationalized (they at least sound sensational) of the Lalaurie victims had these poor people "horribly mutilated" with some "suspended by the neck and their extremities stretched and torn." Judge Canonge told another judge that when he arrived, he was "apprized of there being in one of the apartments some slaves who were chained and were… exposed to perish in the conflagration." Judge Canonge, accompanied by a few other citizens, discovered "two negresses incarcerated, whom they liberated… one was wearing an iron collar, very large and heavy, and was chained with heavy irons by the feet [and] walked with the greatest difficulty."
Days after the fire, it was reported one of the slaves, who had been removed from the residence, did not survive. And that bones were excavated from the Lalaurie's courtyard. It was documented that one set of bones were those of a young slave girl that Madame Delphine had chased straight out of a window, allowing the young girl to fall to her death, and then buried her on their property. There were opposing reports printed, as well, discrediting the death and bones. So what do we believe?
As unbelievable as the scene was, there are records of letters written years prior by Jean Boze stating that Delphine had been brought before the criminal court for "the barbarous treatment of her slaves," but was absolved for lack of accusers willing to testify they had seen her beating the slaves. In the book Madame Lalaurie: Mistress of the Haunted House, Carolyn Morrow Long does a wonderful job in presenting all of the recorded statements, as well as the media claims and articles in regards to the atrocities that were found inside the Lalaurie Mansion. She delivers to the reader the different POVs of the time. She points out where the lines of fact can be linked by connecting prior accusations and concerns.
How much is accurate and which are embellishments, we'll never know. But what is hard to deny is the multiple sources and eyewitness accounts of the cruel and inhumane conditions that the Lalauries kept their enslaved persons in. And it should be noted that she was never accused of mistreating her bondspeople until after she married Dr. Louis Lalaurie. Perhaps she began to take her unhappy marriage out on her servants. Or maybe she just didn't care about concealing it any longer.
Madame Lalaurie's Escape
Madame Delphine Lalaurie did have one loyal servant on her staff, this we know for sure. Amid the mayhem and flames, her enslaved coachman brought her carriage around, and Delphine stepped into it with complete confidence. The mob was stunned, initially. It is said that the angry citizens tried desperately to hold the horses and snatch her from the carriage. Still, the coachman used his whip and plunged the horses forward, escaping the crowd.
He drove the escape route and delivered her to a schooner waiting at the docks of the New Orleans Navigation Company on Lake Pontchartrain, where she boarded and fled. When the coachmen arrived back, the determined crowd met the carriage and began to destroy the carriage and stab the horses to death.
Just as the stories surrounding her cruel and heinous actions towards her slaves have circulated, so have the speculations and rumors on where exactly she ended up. It turns out an American poet, William Cullen Bryant, published a journal that uncovers the mystery for us.
Bryant wrote that he set sail for France out of New York on June 24, 1834. He mentions one of his passengers, "a pretty-looking French woman… a Madame Lalaurie." He went on to describe the atrocities that she had been accused of, that she had "committed such horrible cruelties upon her slaves last winter in New Orleans." Adding that her home had caught fire, and in attempts to extinguish the blaze, it was discovered that "several negroes were confined, some chained in painful postures and others horribly wounded and scarce alive."
Madame Lalaurie's reputation had made it across the country. Bryant also wrote that Delphine spent time in Mobile before making the journey out of New York "with her husband to his native country."
Delphine and Louis eventually ended up in Paris with Delphine's children coming over for extended stays. Louis lived off of Delphine's wealth, but grew tired of her complaining and left her in Paris as he made his way to Havana. Shortly after, more of Delphine's family moved to Paris, where they all occupied homes in the 1st arrondissement. She had her family back together.
Death of Madame Lalaurie
Delphine Macarty Lalaurie died in Paris on December 7, 1849. The Prefecture of the Department of the Seine reports she expired at "her domicile" but does not specify the cause of death. Letters between her and her children talk about a lingering illness she had been suffering from; it's safe to speculate that she probably succumbed to whatever this mysterious illness was.
Even in death, rumors swirled around Delphine. In 1941 claims were made that a mysterious epitaph plate was discovered in St. Louis #1 Cemetery. The weathered and corroding plate had the words: Madame Lalaurie, née Marie Delphine Maccarthy, decedée a Paris, le 7 decembre, 1842.
Records in Paris show that on December 9, 1849, Marie Delphine "Machaty" was presented for burial and that she was interred in the tome of the Notta and Noel families. But her body was exhumed on January 7, 1851, to be sent back to New Orleans. The date on the plate found in St. Louis #1 Cemetery didn't have the incorrect date; the number "2" was so worn that it was misread.
Does Delphine Lalaurie Haunt Her Mansion?
In New Orleans, one of the most famous ghost stories revolves around Madame Delphine Lalaurie. Her infamous and majestic home on Royal Street has been the center of French Quarter attention for over two centuries. The typical ghost story talks about her abusing her slaves, and the atrocious conditions they were found in during the famous fire.
The stories have grown throughout the years, with the torture turning into the most violent acts of human cruelty imaginable. There are tales of Madame Lalaurie's slaves having holes drilled through their skulls and their limbs being broken and reset in unnatural positions. And after much research, we can be utterly confident that Lalaurie absolutely committed heinous crimes against the enslaved persons in her possessions, but the outlandish tales that are out there now, sound a bit more like another horrible woman in history.
Or was that Elizabeth Bathory?
Elizabeth Bathory, a 14th Century Hungarian Countess more than one-upped Delphine Lalaurie in her levels of cruelty.
Elizabeth Bathory was a countess in the royal family Bathory in the Kingdom of Hungary. She lived from 1560-1614. Bathory is considered to be the most prolific female serial killer of all time. It is said that up to 650 women found their lives ended by Elizabeth Bathory.
Aside from testimony, the most compelling evidence against Elizabeth Bathory was a torture chamber in her home where they found the bodies of women who had been mutilated: holes drilled into their heads, limbs broken and reset in unnatural positions. Are you noticing some similarities here? It seems as if over time, someone decided that they'll simply retell the stories about Elizabeth Bathory, and apply them to Madame LaLaurie. It all sounds a bit like tour guides, and storytellers are simply recycling ghost stories from other cities...or countries.
Is the Lalaurie Mansion really haunted? Who knows… it wouldn't be surprising if it was. A lot of pain and trauma went on at that address, so it would make sense that there would be some old energies still stuck in their cycle of grief and hurt. But know this, the next time you hear someone tell of Madame Lalaurie drilling holes in her slaves' brains, or you watch another campy television show reenacting Delphine's psychopathic life events that never actually happened, you are allowed to roll your eyes.