Jazzland/Six Flags New Orleans
In 2002, Jazzland became Six Flags New Orleans and brought life and joy to New Orleans East—until it was ravaged and flooded from that storm. Yeah, you know the one, Katrina. The park has sat vacant for years, enduring legal battles between Six Flags and the city, with redevelopment plans falling through, time and time again. As a result of the neglect, Jazzland has become the pinnacle of creepiness. The stuff of true nightmares, a place for all the rejected, demented clowns of the world to unite, in this crumbling land of dis-amusement. Joker's equivalent of the bat cave, everything he could have possibly wanted and much, much more. Tim Burton doesn't even have the imagination for what awaits anyone who takes a peek at what has become Nightmareland.
Although several attempts have been made to redevelop the park in the years since Katrina, these "attempts" have never quite worked out. However, the site has become famous world wide, and is now on many people's bucket lists, from urban explorers and photographers to paranormal investigators. Whatever your goal upon entering, remember you run the risk of not only encountering something quite haunting, but also the local Paul Blart: Park Cop. Which could, honestly, be more terrifying.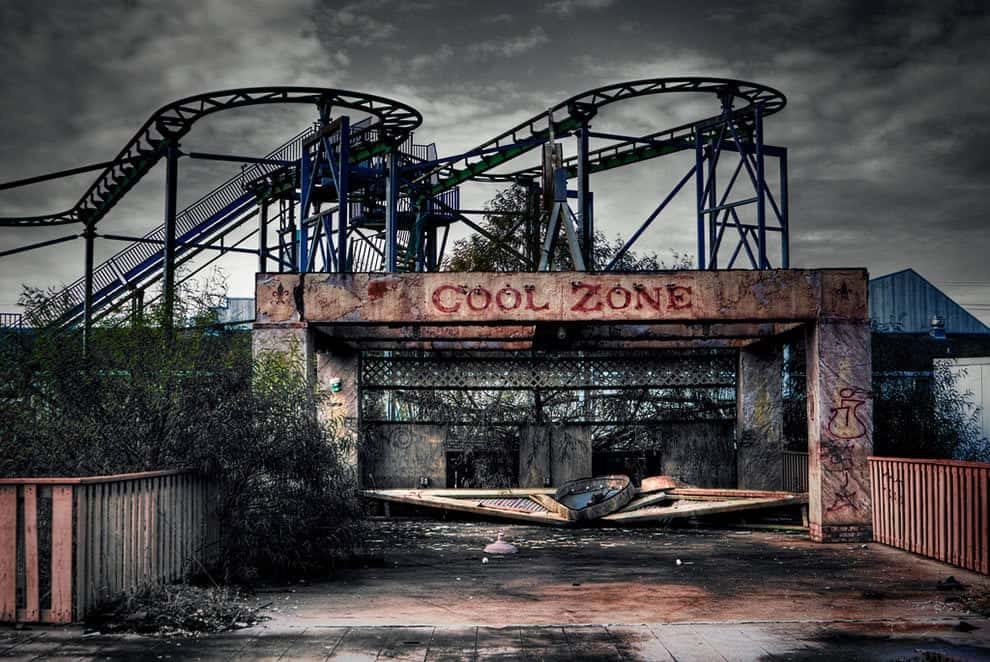 When you walk through the area, you immediately feel a presence, you can feel the eyes of someone or something watching you, as children's laughter and the swooshing sounds of the past chime throughout the park. Some have reportedly heard metal banging and motors riving up, park rides itching to give visitors a spine-tingling rush. When entering some of the buildings, you might expect to hear nothing, just a calm but creepy quietness, yet this is not the case, as there are ghostly whispering sounds that emanate from all around.
In some areas of the park, lights have been known to come alive, a strange occurrence indeed considering there is no electricity at all throughout Jazzland. Are these light-charging anomalies the result of spirits who have found an After-Life haven in the otherwise desolate theme park? If so, that would explain the distinct presence you feel upon your entrance, which will seemingly follow behind you the entire time. The need to check over your shoulder will stick for days, long after your trip to the deserted Jazzland—as if the park's ghosts have decided that perhaps you are their next amusement.
Photographer Skip Bolen spoke on his visit to haunted Jazzland, claiming, "Having never been there before, I was immediately overtaken with its desolation and abandoned rides, as I had already previously documented abandoned homes right after Hurricane Katrina, and each year following for five years—so I was completely intrigued."
Another photographer, Keoni Cabral, felt much the same, "I spotted the haunted lines of its empty roller coaster from the Ninth Ward off Interstate 510 while playing tourist in 2009 and begged a friend to pull over to investigate. We found an open gate, infiltrated it, and proceeded to sneak around the eerie, 'end of world' Zombie like setting. An adrenaline enhanced experience I'll never forget. It was like exploring a haunted, adult junkyard theme park on ecstasy, the sick criminal cousin of Disney World. In a good way….I could have spent days, if not weeks taking pictures on the lonely grounds."
Until the city decides to do something with Jazzland, it seems that it will continue to be run by urban explorers and the ghosts that call it home. Oh! And, by the way, we advise that you do not go on your own Jazzland supernatural adventure!
Lindy Boggs Medical Center
A Roman Catholic order of nuns called the Sisters of Mercy opened the facility as Mercy Hospital in June of the year 1953. They had operated a hospital on Annunciation Street in the Lower Garden District of New Orleans since 1924, and in 1949 they purchased the land in Mid-City, with plans to build a new 219-bed hospital. In 1993, Mercy merged with Southern Baptist Hospital, and the two facilities operated their respective campuses as Mercy+Baptist. Later, Tenet Healthcare bought the Mid-City facility and renamed it in honor of Lindy Boggs, who served as a member of the U.S. House of Representatives and later as United States Ambassador to the Holy See.
The Lindy Boggs Center in Mid-City is another popular abandoned place for urban explorers and ghost hunters alike. Once one of the city's primary healthcare locations, the Lindy Boggs Medical Center was abandoned after Hurricane Katrina. Today, it looks like something straight out of the The Walking Dead, with giant chunks of bricks missing and blown out windows, giving a revealing look into the former offices and hallways. Only thing that is missing are the zombies—to our disappointment.
This horrifying building is a rare case in which you just might as well go ahead and judge a book by its cover. Those who died in the hospital during the days, weeks following Katrina's destruction, continue to leave their mark on the abandoned property. The injustice continues to echo through the halls, and outside the walls, causing the building to decay from the blooming rose it once was. The ghosts of former patients reportedly roam around, seemingly doomed to this supernatural jail forever, with no chance for escape it seems.
Inside, debris lines the hallways, and thumb-tacked calendars on the graffiti'ed walls still display the date before Katrina hit. Outside, noxious, green water fills the emergency ramp, and a lonely chair can be seen dangling out of a shattered third floor window.
One urban explorer recounts that "It was very quiet, but also kind of haunting and melancholy, and the way the wind would come through, it would howl."
And yet another explorer's account reveals the haunted mystery that is the Lindy Boggs Medical Center: "The creepiest, was turning the corner to face a room that caught fire post-abandonment. The burnt paint chips, with their coal black bodies and gray tips, animated the wall. I couldn't breathe for a moment, as if the room was still on fire, and I had to blink a few times to ensure the room was not engulfed in ghost flames. I take moments like these as my cue to leave."
Is this Lindy Boggs' destiny, from here on out? Hopefully not; hopefully, the folks at St. Margaret's, the owners of the Lindy Boggs property, will quit dragging their feet, and restore this site to the great hospital it once was.
Charity Hospital
When you are driving on the I-10, Charity sticks out like a sore thumb. Amidst all the contemporary buildings, one stands out that appears as though fingernails have torn down its sides, and how its steepled towers physically look as though only ghosts/spirits inhabit it. Without even knowing what the building is, it looks like misery.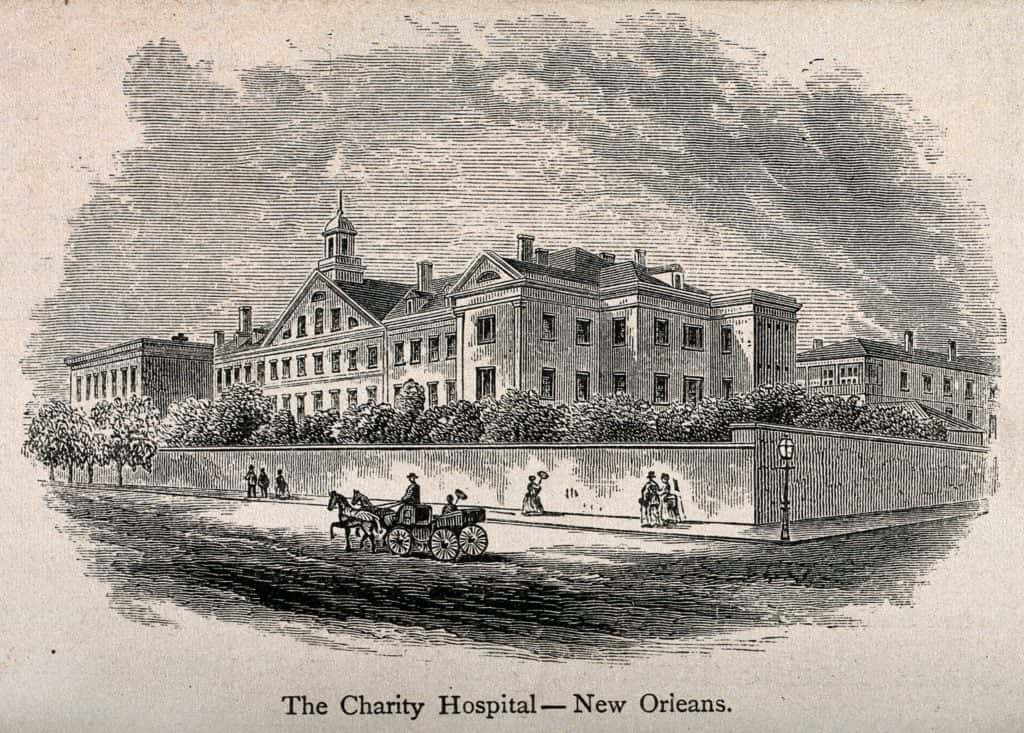 At one time Charity was the oldest operating hospital in the United States. Built in 1736, from a grant willed by shipbuilder Jean Louis, Charity Hospital was founded so that the city's poor would always have a place to go for their health care needs, and it quickly grew into a symbol of pride, located right in the heart of downtown New Orleans. That is, until Hurricane Katrina, flooded the basement rendering the generators useless, and the hospital unable to operate. Nearly eleven years later, Charity has become a different symbol for the city, one that embodies the people's disillusionment with the city and state government, created by massive corruption and apathy for the poor.
One Dr. Roderick Bennett recalls his time at Charity, "I can close my eyes and I can picture what it looked like when this place was busy. It was bustling and there was always chaos and commotion but you just loved it. My heart still hurts for Charity Hospital, watching how long it's taken us to recover and how it's just devastated the lives of a city with so much heart, that's what hurts. Health care here has been compromised for the indigent people who need it and I think this building could have been at the heart of that solution."
For those doctors who once worked at Charity, seeing its abandonment, seeing its desolate state, has left them feeling nostalgic.
Dr. Ruth Berggren, "Charity Hospital was an icon. It is still an iconic symbol in many people's minds, I mean, people talk about being born in Charity Hospital and their mama's mama's mama being born in Charity Hospital. It's here because of a desire to make health care available to people who don't have access, to just shut Charity down without trying to reopen it, that's very sad. That's tragic."
The Ghosts of Charity
The ghosts of the poorest of the poor patients, Sister Stanislaus (who greeted Presidents and dealt with a gunman), and even founder Jean Louis are known to still haunt the halls of Charity Hospital today.
Charity Hospital made news around the world, just a few days before the Christmas of 2015, igniting the Internet ablaze, for the first time since Katrina. To set the scene, the abandoned hospital was completely dark as usual. Well, at first glance. However, upon a closer look, centered in the heart of the building, a single window out of hundreds of rooms was lit with a ghostly glow.
Lisa Walley Staggs, a nurse at Tulane Medical Center across the street, was the one who started the media fire when she uploaded the picture she took onto her Facebook page.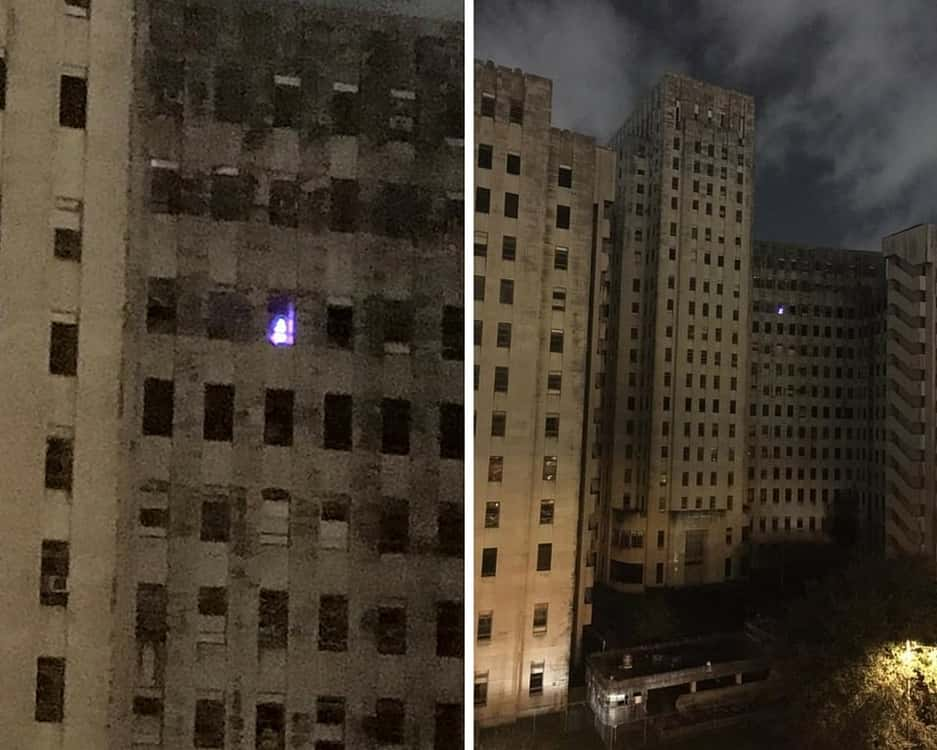 Photographer and Nurse Lisa Walley Staggs recounts her tale, "For those few of you who may not know, I work at an inner city New Orleans hospital that happens to be situated directly across from Charity Hospital. Charity Hospital has been closed, its windows darkened, since Hurricane Katrina, and is a gloomy and dreary sight on the best of days. At night, it's down-right scary — Until tonight. See, I park on the roof of my parking garage, and tonight as I was leaving work, I glanced over at the forgotten building, only to see the light of a tiny Christmas tree! I wish the pictures did it justice. I don't know how it's lit. I don't know how it's even in there. But it made me smile just a little bit tonight."
Another R.N. commented, "It's so people don't forget — the bodies may have been removed, maybe, but the souls are still there."
"It's really pretty and a little creepy, it gave me chills when I saw it, and of course, it made me think of my brother, who passed away at Charity Hospital," said anesthetist Mike Arbon.
The story was shared so many times that the police had to investigate, and later claimed there was evidence of a break-in. Though there is no proof one way or another, the ghostly Christmastime mystery of the luminous window from the abandoned Charity Hospital has left a lasting impression on the city. For that, even if it was only just for that one night, Charity Hospital brought hope once again to the Crescent City.
These three haunted locations, all abandoned following Katrina, share another common thread. Their ghostly legacies continue to grow despite the city's apathy for their existence.