South Carolina can boast being one of the thirteen original colonies that eventually made up the United States. It's largest city, Charleston, happens to be the oldest city in the state. Charleston -- or Charles Town, as it was formerly known -- was founded in 1670. Nearly 350 years is a long time, long enough for many restless spirits to claim the city as their home. In that time, there have been wars, Indian raids, and colonial insurrection. Later, Charleston would be home to many of the familiar vices of any big city -- gambling, dueling, and prostitution.
It seems all the conditions are right for Charleston to become one of the most haunted cities in America. Consider this your guide to all the best places to eat, drink, stay, and otherwise commune with the spirit world while you're in town.
Haunted Hotels and Accommodations
Staying in a haunted location is a must for your paranormal weekender. There are many options, but here are some of the best.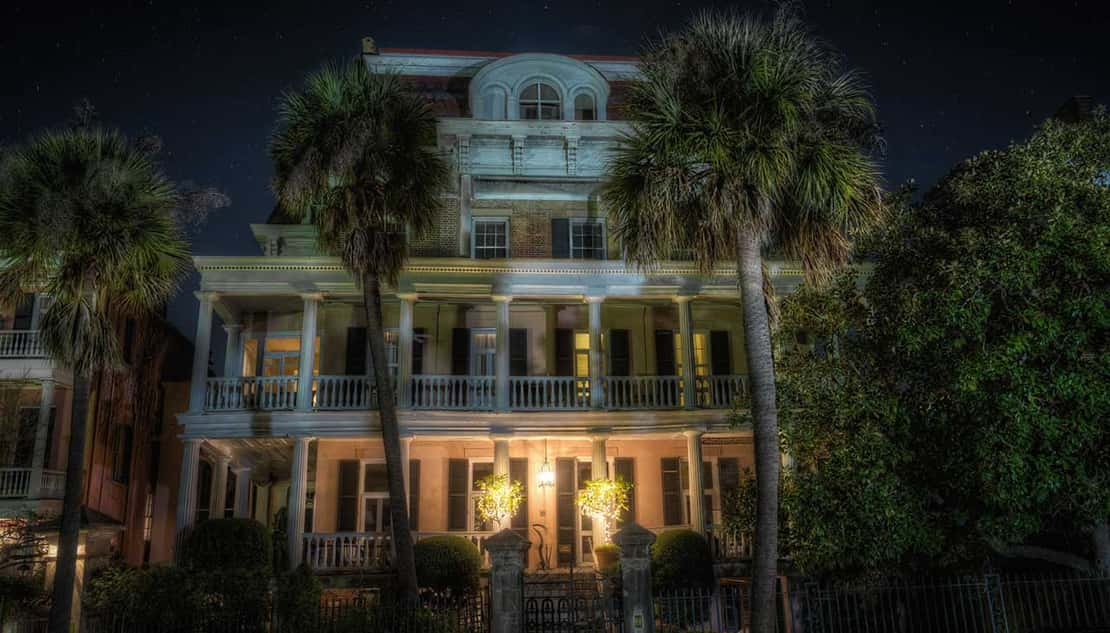 The Battery Carriage House
You can't talk about haunted Charleston without talking about the Battery Carriage House. The building, located at 20 South Battery, was constructed in the 1840's by a wealthy commercial agent named Samuel Stevens. The house changed hands many times over the centuries before becoming the inn it is today. During that time, it experienced the ravages of the Civil War in the 1860s as well as the raucous gambling, drinking and prostitution of the 1940s.
It's clear some of the former owners and guests of the inn have never left. Staff and those staying at the location have all experienced extensive amounts of paranormal activity throughout the years. Stay in rooms 3, 8, or 10 if you dare! Those are some of the most highly active rooms in the inn. But don't be surprised if you see orbs or even an apparition or two.
Andrew Pinckney Inn
Located at 40 Pinckney Street, the Andrew Pinckney Inn is another cozy place to crash that also happens to be full of spirits! The two buildings that comprise the inn are more than 300 years old, so you know they have stories to tell.
Staying at this immaculately restored boutique hotel, you're very likely to have a paranormal experience. Many guests and staff alike notice that the buildings seem to come alive at night with activity. Many have heard odd noises and glimpse movements out of the corner of their eye. At least one guest even reported seeing a full bodied apparition descend the staircase in front of them. If any of this sends a chill down your spine, don't worry. The ghosts are said to be harmless and even friendly.
Jasmine House Inn
Another historic and reportedly haunted hotel is the Jasmine House. This picturesque Greek Revival building was originally the home of wealthy merchant Benjamin F. Smith. He built the home in 1843. Like most places that have been around that long, it changed hands quite a bit before officially becoming a hotel in the 1980s.
Though there has only ever been one reported incident of a ghost at The Jasmine House, the oddness of the encounter bears its mentioning. This story claims that a man awoke in the Chrysanthemum Room to find a woman staring down at him from the edge of the bed. Alarmingly, when the man tries to leave the room, the phantom fiercely prevents him. She blocks the door; she corners him. Clearly, she does not want him to leave. After finally alerting the hotel manager of this strange situation, the man proceeds to gather his things and leave. In retaliation, the angry spirit grabs his newspaper and tears it into tiny shreds. She also throws his mail all around the room. By the time the hotel manager arrives, she has already disappeared, leaving shreds of paper in her wake.
Such a bizarre incident has never been reported before or since.
Maybe, if you're lucky, this spectre will appear during your stay and take a liking to you too.
Meeting Street Inn
This hotel, a sister hotel to The Jasmine House Inn, has the most eclectic history of all. The original building that stood at that address was the Charleston Theater. The theater opened in 1837, but sadly, a devastating fire destroyed the building in 1861. That fire, known as The Great Fire, destroyed many irreplaceable, historic buildings in the city.
The man who built the structure that stands there today was German immigrant Adolph Teifenthal. The building because a hotel in 1981. Before then, it was a saloon, a brewery, and a nightclub, among other things. It's clear a great number of souls have passed through its doors.
If you stay at this beautifully restored, luxury inn, you may experience any number of activities. The spirits here seem to like playing tricks, especially with locks and doors. Housekeeping often reports that deadbolts on suite doors, which can only be locked from the inside, lock on their own when there are no guests in the room. Guests also sometimes find that the key to their room no longer works. If you're brave, rooms 303 and 307 seem to have a lot of activity.
Sleep there, if you dare!
Spooky Places for Food and Drink in Charleston
You're going to need food and drink to fuel your ghostly weekend in Charleston. There are many amazing restaurants that showcase low country cuisine and the like, but why not have your meal with a side of spirits instead of fries?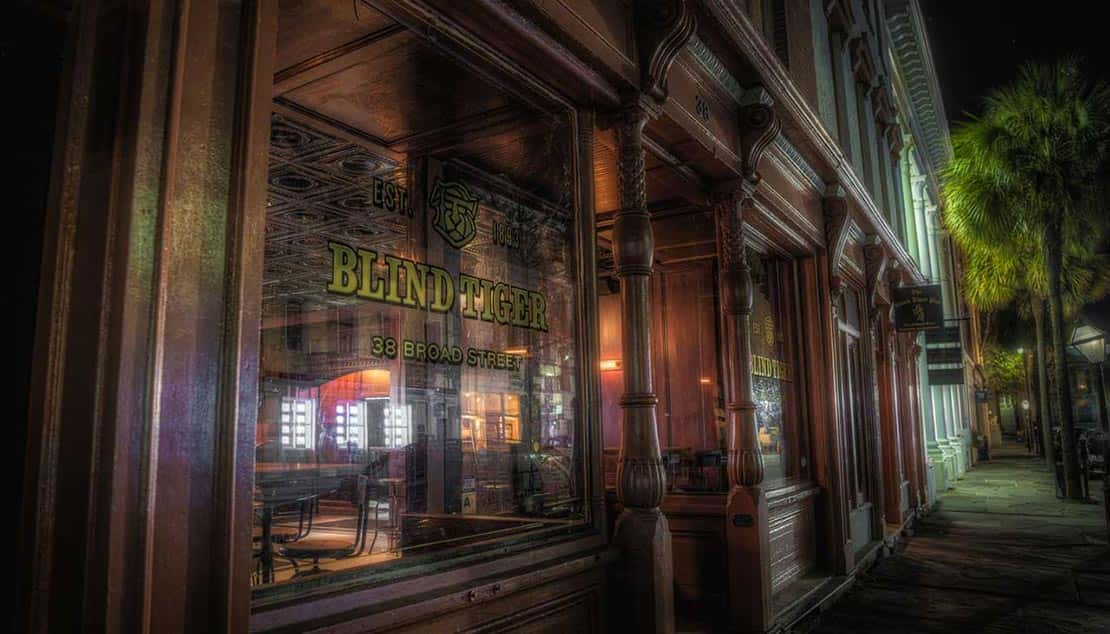 The Blind Tiger
A blind tiger was another name for a speakeasy. These businesses of ill repute operated during Prohibition, which lasted from 1920 to 1933. At the peak of prohibition, dozens of blind tigers dotted Charleston, providing booze and debauchery for those who sought it out.
The Blind Tiger Pub pays homage to this piece of American history with its name, but there is more to this quaint little pub than meets the eye. It is housed in a building that was constructed in 1803 and opened its doors as a purveyor of food and drink in the late 80's. It quickly became a neighborhood favorite.
It is also popular with ghosts. One such apparition is that of a woman. She is usually seen wearing a black dress and will sometimes pull patrons' hair as they sip their pints. Others have heard loud footsteps behind them only to turn around and find no one there.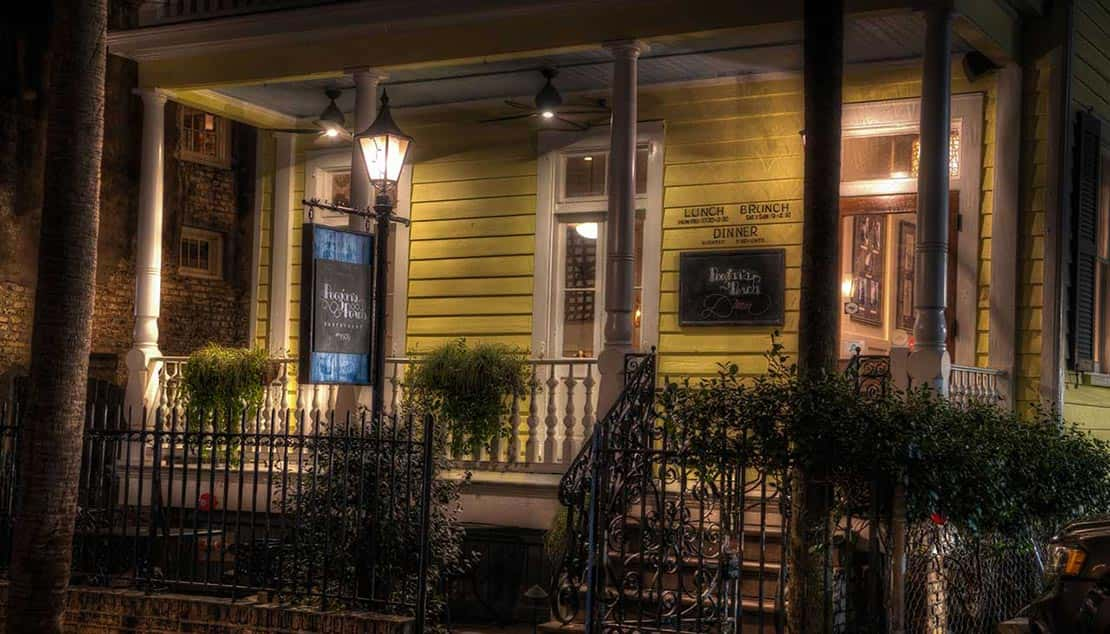 Poogan's Porch
A place famous and well respected for its take on lowcountry cuisine, Poogan's Porch is a must visit while in Charleston. But look beyond the she-crab soup and fried green tomatoes, and you'll find that there is more to this restaurant than meets the eye. This place boasts a sad tale of a furry protagonist who seems to have never left the premises.
There are several variations on the story of Poogan, a sweet wirehaired pup who likes to greet patrons at the restaurant to this day. Poogan's Porch is housed in what was originally a home. Some say that poor Poogan is the ghost of a dog abandoned by his previous owner, who moved away in a haste. Others believe he was a neighborhood stray dog who would come to the front porch of the property daily looking for scraps. Guests today can still feel Poogan as he brushes up against their legs or even catch a glimpse of his spectral form while they dine.
Sad little Poogan is not the only ghost said to haunt the restaurant. Another ghost called Zoe has been seen and felt by guests. She is believed to be a former owner of the home that once occupied the space. To some onlookers, she seems so real that she does not even look like a ghost.
Pay special attention to who you are dining next to at this place. It just might be a spirit!
82 Queen
When one talks of low country cuisine, it is impossible to leave out 82 Queen. This is the restaurant that pretty much invented the term. The restaurant opened its doors in 1982 at the height of the tourism boom in Charleston and remains the gold standard to this day. This place serves classic, traditional low country fare along with the opportunity to witness a spirit or two.
The building that houses the restaurant was built in 1865, which gives it plenty of time for spirits to accumulate. Both diners and staff have claimed to have seen apparitions. Paranormal writer James Caskey writes of one server's experience, in which she walked through an apparition that turned into a cloud of smoke.
Come for the she crab soup, stay for the full-bodied apparitions!
Tommy Condon's Irish Pub
Though it's only been in business for around 20 years, Tommy Condon's also makes the list as a place where you can grab a bite and see a ghost. In a building originally utilized as a candy factory, Tommy Condon's is a no frills, family friendly place to grab a drink and some pub grub. Check their website for their extensive calendar of music and events if you are also looking for a little entertainment that ghosts cannot provide.
There haven't been many reports of apparitions at the pub, but that doesn't mean the place isn't crawling with spirits. The ghosts at Tommy's are more atmospheric. There is a certain part of the restaurant -- and I won't tell you where exactly! -- where guests feel very uneasy. The kitchen and women's restroom are also known to be hot spots.
Historic Haunted Attractions in Charleston
Now that you've got the lowdown on all the best haunted places to get your eat and drink on, it's time to think about what you want to do and see on this mini-vacation. As one of America's most haunted cities, Charleston has a lot to offer in the way of ghosts and ghouls. One of the best ways to do that is to take one of our nightly ghost tours! But if you're keen to do some exploring on your own, here are just a few places you can visit where spirits still roam.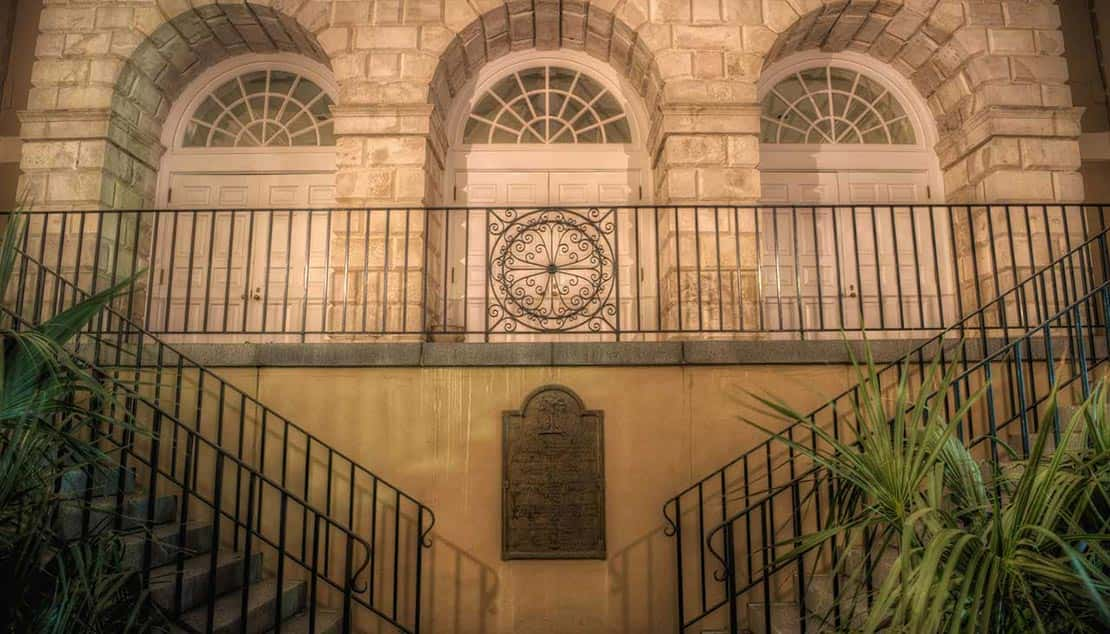 The Old Exchange and Provost Dungeon
No haunted weekend in Charleston would be complete without a visit to The Old Exchange and Provost Dungeon. It consistently tops the list of most actively haunted places in Charleston. It's grisly history starts in the mid 1700's. The exchange was erected to accommodate the growing trade and new merchant businesses that were expanding in the city. The building at 122 E Bay Street was built in 1771. It served as a custom house, market, meeting place, and below ground, a dungeon.
This dank prison beneath the Old Exchange has been called one of the worst prisons in the history of the United States. Over the years, the dungeon would see many criminals pass through it doors and often exit by the noose. Conditions were appalling. All manner of reprobate was crammed into small spaces with inadequate food and medical care. Many lost their lives before the hangman could take them. The sick were not separated from the healthy. As such, disease was rampant. Some drowned in a pit full of groundwater seepage that lies just beyond the dungeon gate. Still others burned to death. This makes the dungeon a perfect breeding ground for restless spirits.
The ghosts of the Provost Dungeon don't like to show themselves frequently. Still, they make their presence known. Visitors and tour guides alike will often hear voices or feel unnaturally hot or cold in certain areas. Ghosts of prisoners past have made objects move and chains shake as if they are still twisting in their bonds even now.
Visit the Old Exchange and Provost Dungeon and maybe a restless soul will try reaching out to you. Guided tours are available during the day from 9am to 5pm.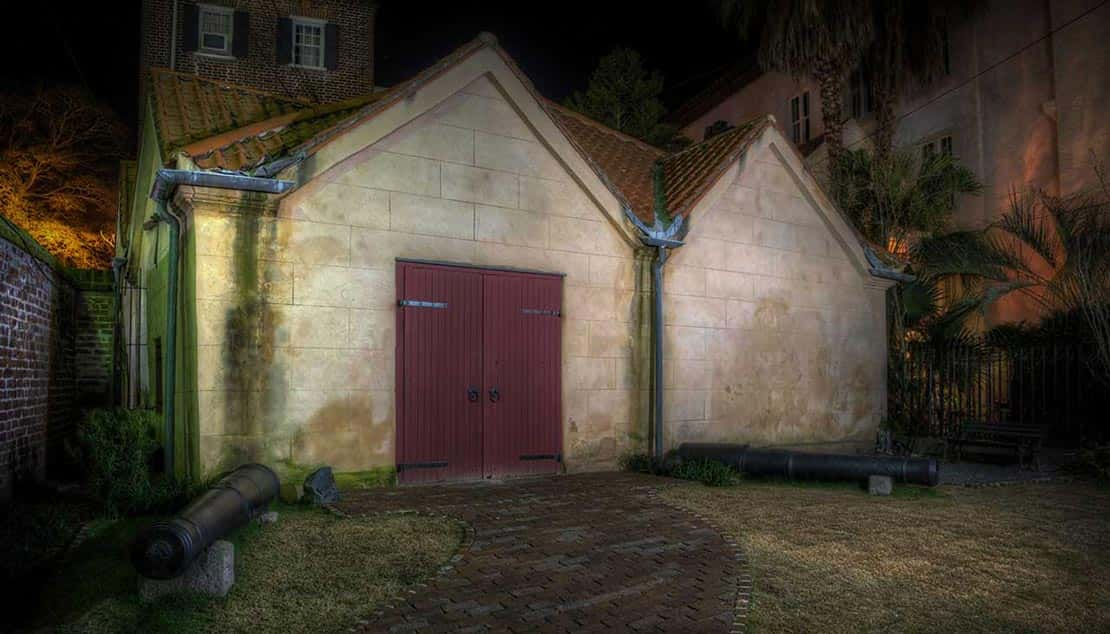 The Powder Magazine
If you're looking for ghosts, it makes sense to start somewhere old. The more history and life a location has seen, the more likely restless spirits may reside there.
As one of very few surviving structures from the colonial period, the Powder Magazine in Charleston, South Carolina has the benefit of time on its side. The structure was built in 1713 by British colonists to house guns and ammunition so that the fledgling colony could protect itself from the dangers around it. Its solid walls kept Charleston's weapons safe for over one hundred years before being decommissioned. It's safe to say this building has seen a lot of action from Indian wars and Spanish threats to French invasion and colonist insurrection. It's said that some of those who fought and died in these exchanges never left.
The structure's unique design was meant to prevent damage from both outside and from within. Extremely thick walls and a tapered roof protected the building from attacking enemies and also from accidental ammunition explosions. Perhaps these thick walls trapped more inside than was bargained for.
The ghostly activity at the Powder Magazine is often of the visual variety. While it is disputed, some rather famous ghosts are purported to haunt the Powder Magazine. Guests of the museum have claimed to have seen the ghost of infamous female pirate and Charleston resident, Anne Bonny, peeking out from behind the displays. Other shadowy figures have been spotted as well. Who they are is anyone's guess.
If you take any of our nightly ghost tours, you will automatically get free admission to this wonderful historic citadel and possibly a chance to see a full bodied apparition!
Unitarian Church and Graveyard
Charleston seems to have a real handle on all things old. This next haunted attractions boasts being the oldest Unitarian church in the south. And we all know by now that things that are old have the most stories to tell.
The church has a rocky history and has changed affiliations several times before finally becoming what it is today. Construction began in 1774 as a place of worship for The Society of Dissenters, but once the Revolutionary War erupted, it had to be be put on hold. The war years saw the building being used for many utilitarian purposes, and the church was not fully dedicated until 1787. It officially became the Unitarian Church in 1839.
Through the years, the church withstood some grave natural disasters. Destruction first came in 1886 during the Great Charleston Earthquake. Much of the building, including its majestic tower, was destroyed. Nearly a hundred years passed before another disaster struck. In 1989, hurricane Hugo swept through Charleston and blew the roof off the church. All of this turmoil over the years makes the Unitarian Church a place ripe for spiritual activity.
Guests have seen the most activity in the church's graveyard. There are two very famous apparitions that have been seen over the years. Both are women searching for their lost loves. One, a young girl from the antebellum period named Annabel Lee, searches the grounds looking for the beloved sailor her father prevented her from marrying. The other is a woman named Mary Bloomfield Whitridge. The story goes that her dear husband set sail on a business trip and died at sea. Poor Mary never received word that he had died, and so she too wanders the overgrown tombstones wondering what happened to her beloved.
White Point Garden
While its name conjures of images of purity and tranquility, the land that now encompasses White Point Garden was once a scene of carnage. The garden gets its name from the bleached oyster shells Native Americans used to leave there as refuse. What started as a dumping ground eventually became a place of death.
In the early 1700's, Charleston had a pirate problem. The city's status as a major port city made it the perfect hub for swashbuckling and smuggling.
One of those pirates was infamous gentleman pirate Stede Bonnet. Unlike most pirates, Bonnet didn't his steal his way to the ocean. He was well enough off to buy his own ship rather than steal it. Once he acquired this vessel, he began to steal in earnest but always offered his crew fair wages rather than simply a cut of the take. A true gentleman indeed!
Bonnet was one of the many pirates hanged in the area that is now known as White Point Gardens. In the year 1718, he and and nearly fifty other pirates were hung in a matter of a few weeks. Once dead, their bodies were left hanging for days as a warning to other transgressors. Those who visit the garden today can sometimes see an apparition of a man hanging from a tree. Other apparitions are a bit more confrontational. Pirates are known to be surly, and some guests have noted seeing the ghost of a man who likes to shout at passersby.
If you begin your stay in Charleston by staying at The Battery Carriage House, this gruesome pirate graveyard will practically be in your backyard. If you listen closely as you lay in bed at night, you might even hear the faint sound of the nooses swinging.
Old Slave Mart
As we all know, the American South's history can be dark. There was no darker period in American history than slavery. The Old Slave Mart, located at 6 Chalmers Street, is now a museum dedicated to preserving the history and art of African Americans, but it was once home to the daily horror of selling human beings as chattel.
The building was constructed in 1859 as part of a complex of other buildings used for the same shameful purpose by alderman Thomas Ryan. It is the only one that stands to this day and the only known slave mart whose structure still stands in the state of South Carolina. Picture one large room with a 20 foot ceiling with octagonal pillars and an iron gate, and you are seeing just what enslaved African Americans saw as they stood atop the auction block. The other buildings that comprised the complex served as tenements, a kitchen, a morgue, and a jail.
The museum is open Monday through Saturday from 9am to 5pm. Though the building was only used for this foul purpose for a very short time, grief and pain still linger. Guests and employees of the museum have often seen shadowy figures throughout the building. No one knows if they are the ghosts are spirits of former slaves trapped there or those of the people who bought and sold them. Hopefully, it is the latter.
The Old Slave Mart is an important monument to a dark time in our nation that should not be missed. It holds history that should never be forgotten and perhaps something else.
Dock Street Theater
Feel like taking in a show while you're in town? If you go to the Dock Street Theater, the spirits may be performing as well. This theater has a long history, which makes for some particularly interesting ghosts.
Construction of the original building began all the way back in 1735. By 1736, the theater was in operation. But its tenure was short-lived. The venue stopped operations in 1740. Most think this was because the building was destroyed in the Great Fire of 1740. After another attempt at theatrics, the building was eventually converted into The Planters Hotel in in 1809. In just a few decades, it became known as the premier hotel in Charleston. Sadly, the Civil War and another natural disaster -- the earthquake of 1886 -- took a huge toll on the hotel, and it fell into disrepair.
The final incarnation of the theater today came about due to economic hardship and ingenuity. In the 1930's, the Works Progress Administration, an agency established during the Great Depression to put people back to work, announced their intentions to do just that for the city of Charleston. The work: to renovate the condemned structure that was once The Planters Hotel. Workers were able to bring the facade of the building back to life, and instead of a hotel, it became The Dock Street Theater.
After some renovations in 2007, the theater still retains its former glory along with new state-of-the-art seating and equipment. A place that was once dubbed "America's First Theater" now boasts a comfy 450 seats and around 100 performances each year.
The ghosts of The Dock Street Theater are quite the colorful characters. One of those characters is Nettie Dickerson. She was a country girl who had grand ambitions to climb society's ladder in the big city of Charleston. Unfortunately, things never quite turned out as planned, and she turned to prostitution in order to be able to afford the luxuries of the upper class. She was beautiful and charming, so this was not hard for her to do.
Nettie was in the prime of her life when tragedy struck one evening. As she was standing on the balcony of The Planters Hotel, a place where she often plied her trade, a terrible storm was brewing. In what can only be described as a freak accident, the beautiful prostitute was struck by a bolt of lightning attracted to the famous wrought iron railing attached to the building. She died instantly. Because of the suddenness of her death, some folks believe she may not even know she's dead. Many guests claim to have seen her walking the halls and balcony of the hotel in her signature slinky red dress. Curiously, she seems to have no concept of the new layout of the theater, for some have seen her brazenly walk through floors and walls that would not have been there when the building was a hotel.
Another famous ghost the haunts The Dock Street Theater is thespian Junius Booth. Father to infamous presidential assassin, John Wilkes Booth, Junius frequented The Planters Hotel. Some say he liked the place so much he decided to put up there for good. Like Nettie, he seems to have no regard for the new architecture of the theater. To him, the place was just as it was in the early 1800's. Junius has been spotted by some, but more often than not, he is heard but not seen. His heavy boots can be heard clomping around at all hours of the day and night.
Come to the Dock Street Theater, and you might just learn the meaning of the word immersive entertainment!
Hannah Heyward House
Maybe you'd like to experience a little culture and history on your vacation. If that's the case, you must visit the Hannah Heyward House. Built in 1789 by Hannah Schubrick Heyward, the house now holds a large and eclectic collection of art, furniture, needlework, pottery, photography, geological specimens, and architectural gems from Charleston's past.
Before it became a temple of art and academia, Hannah Heyward lived in it after the death of her husband, William Heyward. She was a very successful rice planter and was able to take care of herself on her own for quite some time. After Hannah's death, the building was rented to Julia Datty of Santo Domingo who turned it into a girls school. After that, it was acquired by Augustine T. Smythe in 1868. His family owns the property to this day.
The hauntings of the Hannah Heyward house began all the way back in 1805. This was the year Hannah's dear son, James, died in a tragic hunting accident. From that point on, she began to see his ghost in the house. Visitors to the museum have noted that James is a rather quiet spirit. He will often be seen reading or looking out the window, always wearing his green hunting jacket.
Perhaps you too can catch a glimpse of James Heyward if you visit The Hannah Heyward House.
---
Charleston has often been called the city "where history lives." That is undoubtedly true, but as we've seen, there is much more to history than books and monuments. Some history remains on this earth like a shadow peeking out from another plane. History breeds ghosts, and Charleston is full of them. This list is only the beginning. Dig a little deeper, and you may find that Charleston has even more ghostly secrets to tell.