420 E Allen St, Tombstone AZ
If you know anything about Tombstone, you know it was a rough place; full of miners, gamblers, and eager young men with itchy trigger fingers. In such a place, it's remarkable that a saloon was able to operate without stories of drunken gunfights and brutal bar brawls.
How did a relatively high-class saloon in wild Tombstone survive for over 140 years (and counting!) through fires, financial woes, and prohibition? What's more, could the Crystal Palace be haunted by tortured souls of the past, desperate for a fine drink and good company?
Did you know?
It was originally called the Golden Eagle Brewery
Virgil Earp had an office upstairs
It housed a fountain and goldfish pond
Doc Holliday and Big Nose Kate were regulars
It burned to the ground in 1882
Is the Crystal Palace Saloon haunted?
Spirits are known to linger around the location of their demise, and Tombstone is no stranger to tortured phantoms of yesteryear. However, the Crystal Palace Saloon wasn't the site of gunfights or murders.
Is it possible that spirits of the past cling to the Crystal Palace as a familiar refuge from the rough and rowdy lives they lived?
Mysterious Apparitions
The sound of boots and spurs, slamming doors, a roulette wheel that sometimes spins by itself, wispy figures and strange glows appearing in photographs - all of these are signs that the Crystal Palace may be haunted.
I've witnessed the roulette wheel at the Crystal Palace move by itself, said Crystal Palace Manager Colin Regan in an interview with the Arizona Daily Sun in 2009. I'm from Boston, and had never seen the kinds of things that I'm seeing since I started working here. It's a little creepy.

There have also been accounts of full-body apparitions, often dressed in late 19th-century garb. Who might these spirits be, and why are they lingering around the Crystal Palace?
The Gambler and the Ghost of His Companion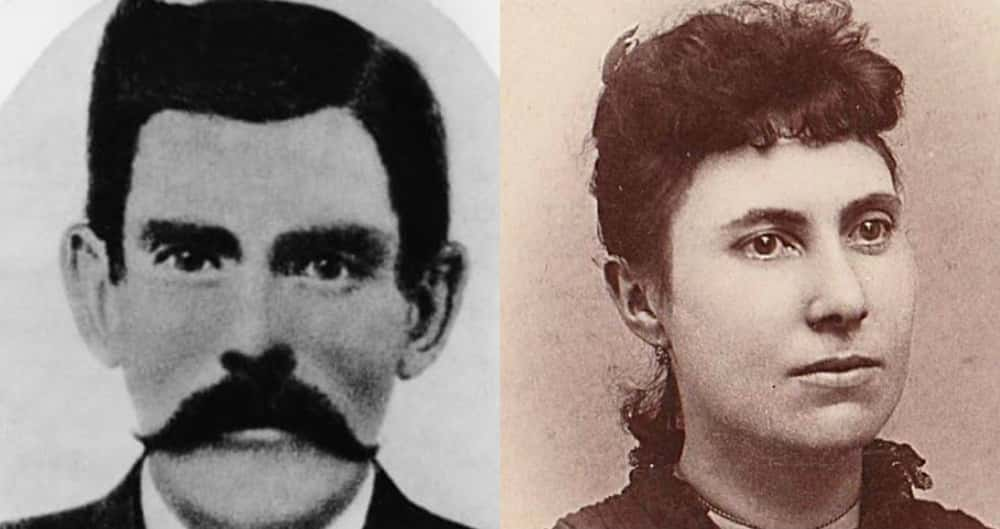 Western gunfighter Doc Holliday (right) and Big Nose Kate (left) were regulars at the Saloon where the Crystal Palace stands. Are their ghosts haunting the Crystal Palace today?
Doc Holliday and famed lady of the night Big Nose Kate were known to be lovers for some time. The two famous figures had an on-again, off-again relationship for a number of years, and when they were in Tombstone together, they could usually be found at the Crystal Palace Saloon (though at the time, it was called the Golden Eagle Brewery)
The couple met in 1877 in Fort Griffin, TX. Doc considered Kate to be his "intellectual equal", high praise from a man who would speak Latin so everyone would know he was the smartest man in the room. They traveled together for some time, but by the time they ended up in Tombstone, their relationship was on the rocks.
Quarreling Couple
Big Nose Kate and Doc Holliday would regularly stay at the Crystal Palace and had frequent arguments that could often be heard by others in the saloon. As they drank, the fights became louder and more contentious.
County Sheriff Johnny Behan once used Big Nose Kate's anger in an attempt to pin two murders and an attempted robbery on Doc Holliday. She signed a document that directly implicated him, but long-time friend Wyatt Earp was able to find several witnesses who could attest to the fact that Doc couldn't have been involved. Doc was freed, but this episode spelled the end of his relationship with Kate.
A Lingering Lover?
There have been several accounts of a "provocatively dressed" woman, usually standing around the bar. Those who claim to have seen her say she seemed to be looking around intently for somebody. She appears, then vanishes without a trace.
The Crystal Palace was no stranger to ladies of the night. This apparition may be a tragic player in a tale lost to time. Or perhaps it is the ghost of Big Nose Kate herself, looking for her estranged lover, hoping to have one more chance to make amends.
A Man in Search of Rest
Another common ghostly account is that of an older gentleman, well-dressed in 1880's clothing. He is seen sitting at a table, only to stand up, and head to the men's restroom. But he never comes out.
There are also several stories of lights in the restroom turning on and off by themselves, faucets and toilets operating with nobody touching them. If these stories are true, who could the spirit haunting the men's restroom be? And why the men's room?!
The Lawman Upstairs
There were a few notable figures who had offices in the upstairs portion of the Crystal Palace Saloon. Possibly the most notable was Virgil Earp, Tombstone's Town Marshal and Deputy U.S. Marshal.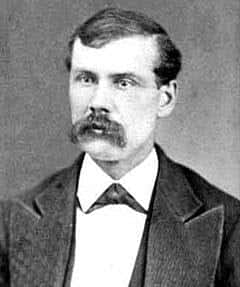 Virgil Earp is probably best known for his part in Tombstone's most famous showdown: the gunfight at the OK Corral, alongside his brothers Morgan and Wyatt Earp and friend Doc Holliday. Could this famed lawman be lingering around his old office looking for rest?
When the Crystal Palace was painstakingly renovated in 1963 and restored to its original appearance, a false front second floor was added. From the outside, the building looks like it has two levels, but the upstairs offices are non-existent in the building's current form. It's possible the restroom phantom is Virgil Earp or anyone else who owned an office at the saloon, waiting for their office to be rebuilt to take care of unfinished business.
Cowboy Carousers
Possibly the most common haunting reports involve cowboys, unsurprisingly.
Visitors recall seeing a group of three cowboys in various locations around the Crystal Palace: the stage, at various tables, and sometimes at the bar, fooling around with guests and staff.

Sometimes these cowboys are seen full-bodied, but they often manifest as wispy figures, occasionally appearing in photographs.
Ghostly Pranksters
One encounter with these cowboys, in particular, seems especially intriguing. A patron of the bar named Kari asked to have her photo taken by the bartender. When looking at the photo, she and the bartender could see a shadowy figure standing behind her.
Sometime later, Kari approached the bartender again, saying she felt "uneasy". She sat on a stool and asked him to take another photo. This time, three shadowy figures were seen behind her, and she felt unseen hands keeping her from standing up.
Connection to the Bird Cage Theatre
In 1882, Crystal Palace employee Little Gertie the Gold Dollar caught wind of a "painted lady" at the Bird Cage Theatre being with one of Gertie's best clients, possibly her lover. This resulted in a particularly gruesome murder, which you can read more about here.
The History of the Crystal Palace Saloon
The saloon initially opened its doors in 1879 under the name Golden Eagle Brewery. Since then, despite fires, financial setbacks, and even prohibition, the building has essentially been in constant operation.
Saloons of the so-called Wild West have a reputation for being downright depraved dens of debauchery and, on occasion, death. When we look at the history of the Crystal Palace, we see a different story. How did a saloon just one block away from the fabled OK Corral maintain such a clean image, and how is it still in operation to this day?
The Golden Eagle
In 1879, a Swiss butcher-turned-businessman named Godfrey Tribolet teamed up with German brewmaster Bernhardt (Ben) Wehrfritz to create the Golden Eagle Brewery. Specializing of course in beef and beer, business boomed from the start, as the brewery became the beer wholesalers for southeastern Arizona.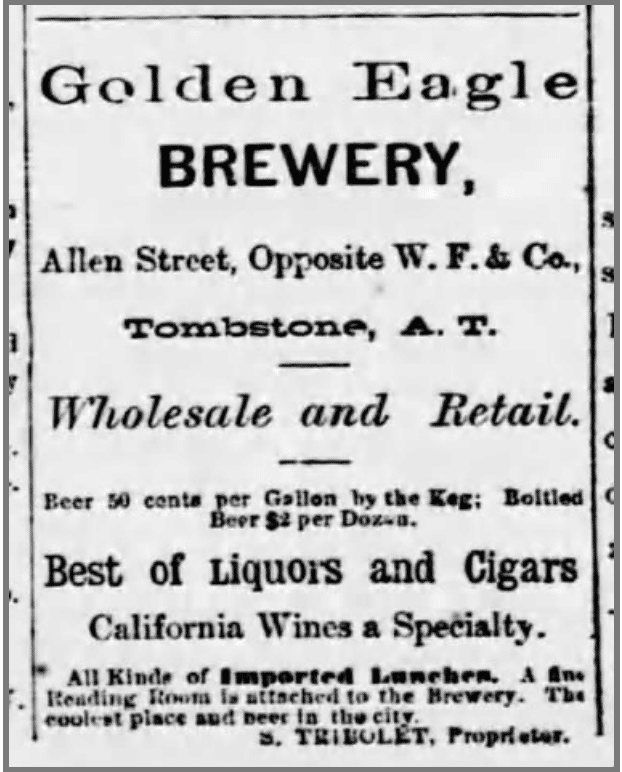 It was during this time that Doc Holliday and Big Nose Kate were regular guests on the property. Perhaps they still stop by on occasion to remember good times...
In 1881, a fire in Tombstone threatened the Golden Eagle, but efforts to save the extravagant Oriental Saloon nearby stopped the blaze before it could reach the Eagle. However, in May 1882, they weren't so lucky. Another blaze consumed the Golden Eagle Brewery. Tribolet left town soon thereafter, but Wehrfritz was undeterred.
Like the Phoenix…
Ben Wehrfritz quickly went about reconstructing his beloved saloon, and he wanted to make it better than ever. Advertised in the Tombstone Weekly Epitaph as having the "finest wines, liquors and cigars" and a "splendidly appointed gaming hall", the Crystal Palace Saloon opened its doors on July 22, 1882.
The new and improved establishment boasted a goldfish pond and central fountain, as well as upstairs offices which would be leased to the likes of Virgil Earp and Dr. H.M. Matthews, the coroner in the famous case of the gunfight at the OK Corral.
The Epitaph reported that the Crystal Palace was the "finest saloon in the territory", and Wehrfritz no doubt sought to protect his business. The management kept patrons in check, and reports of violence of any kind are notably scarce
Tombstone's Struggles
Starting In 1883, financial troubles hit Tombstone hard. Mines began flooding, workers were laid off, those who did have jobs had their wages cut. Many people began leaving town, and in 1886, Ben Wehrfritz was one of them.
Wehrfritz had gone into partnership with a man named Julius Caesar (just when you thought Tombstone was wild enough), and through financial struggle, the partnership dissolved. Ben left town, and Caesar was the sole proprietor of the Crystal Palace.
The saloon would continue to operate, soldiering on until the middle of 1892. Some attempts were made to re-open, but very little happened until 1915 when prohibition began in the state of Arizona
Re-imagining a Legend
With prohibition, the saloon had to change. Its new owner, Joe Norcross, turned it into the Crystal Palace Theatre. The upstairs portion of the building was removed, but the heart of the saloon was still beating. As years passed, it would also be used as a warehouse and even a Greyhound bus station.
In 1963, a company named Historic Tombstone Adventures was formed with the goal of preserving and restoring the history of Tombstone, and its first priority was to renovate the Crystal Palace Saloon. They used photos from the time to meticulously re-create the interior and exterior, though they could only manage a false front second floor.
Today, the Crystal Palace Saloon looks very much like the extravagant saloon Ben Wehrfritz created in 1882. Tourists flock to it, and one could be forgiven for wondering if perhaps spirits of bygone eras flock to it as well.
Visiting the Crystal Palace Saloon
You can find the Crystal Palace Saloon at 420 E Allen Street, on the corner of Allen and South 5th street. When you get there, take a moment and prepare yourself to step back in time to the late 19th century. And if you see a shadowy figure lurking in the corners, raise a glass and salute their perseverance!