Did You Know?
Boothill Cemeteries were named after those "buried with their boots on."
Boothill interred outlaws from 1878-1884.
Billy Clanton and Tom and Frank McLaury are buried at Boothill.
Some of the burials are fictitious.
Tombstone's "Godfather" may haunt the location.
Is Boothill Haunted?
Boothill isn't Tombstone's first cemetery, but it's Tombstone's most notorious. Named for those "buried with their boots on," Boothill interred outlaws from 1878-1884. Their poltergeists come as no surprise.
Travelers report spectral shadows, strange lights, and spooky sounds. In Boothill's Gift Shop, merchandise is inexplicably misplaced, disturbed and disheveled. The sweatshirt rack rotates on its own, untouched by human hands. Photographs reveal apparitions unseen to the naked eye.
Billy Clanton is the most popular poltergeist, said to rise from his grave each night. He meanders throughout Tombstone, packing his pistol. Tombstone's "Godfather" is another internment, though her phantom is often referred to as the "Lady in Red." That's right, the Godfather is a woman! Others witness unidentified ghosts above unmarked graves.
Spirit Photography
Spirit photography is particularly popular at Boothill. Pictures taken at the site often reveal unaccountable "guests." Yet unlike other spectral occurrences, these apparitions appear most often during the daytime.
One infamous image recorded a man wielding a knife behind female relatives. However, both women alleged that they had been alone. Who are these phantom fugitives?
Whispers from an Unmarked Grave
One journalist once overheard a strange, small voice. The journalist had stopped at an unmarked grave, where he could make out a tenuous whisper: "It was nice of you to do that." Startled, the journalist stepped back. He assumed that he had mistaken the sound. Yet once the journalist stepped forward once more, the voice again spoke, "You came back. You must like to play with me a lot." The voice sounded confident, yet childlike.
But it was when the voice began to laugh, that the journalist panicked. He detected a humanlike shadow from the corner of his eye – a spectral figure snaking through the stones. The journalist was struck-dumb, shellshocked. The poltergeist disappeared. The unmarked grave was all that remained.
The Ghost of "China Mary"
The image of a woman in red is sometimes spotted at Boothill. Locals believe her to be "China Mary," a significant figure in Tombstone's history.
Mary, or Sing Choy, was an astute businesswoman who operated Tombstone's General Store – and controlled Tombstone's opium dens. Mary supplied hops to the women of Tombstone's Red Light District, too, serving as a "Godfather" to Tombstone's community. She was a generous woman, known for her kindness as well as her compassion.
Mary died of a heart attack in 1906, interred at Boothill. Is that why she frequents the burying ground today? Is she Tombstone's "Woman in Red"?
The Ghost of Billy Clanton
Some say that Billy Clanton patrols the property before making his way down Allen Street. Clanton was shot dead in the "Gunfight at the OK Corral," so it's likely that his poltergeist remains near the site of the shootout.
Clanton was buried at Boothill; however, his specter tends to lurk about in both locations.
The History of Boothill
Used between 1878-1884, Boothill Graveyard had a short tenure. It was originally called Tombstone Cemetery, by which it was known until Frederick Bechdolt's travels to Tombstone in 1919. Bechdolt, a western writer, renamed the cemetery Boothill.
There are few interments in Boothill, likely because Tombstone's City Cemetery was later established in 1884. Boothill had primarily interred outlaws. Relatives of law-abiding citizens exhumed and reburied their beloveds in the new cemetery, leaving Boothill to the dead criminals. Which may explain the poltergeist attitudes of Boothill's ghosts.
Notable Interments
Notable markers include Marshal Fred White, killed by Curly Bill Brocius, and Tom and Frank McLaury, buried alongside Billy Clanton. Curly Bill and the McLaurys were lost to the "Gunfight at the OK Corral," the famous 30-second shootout.
Jack Dunlop, "Three Fingered Jack," is another Boothill resident. Three Fingered Jack was shot to death during an attempted holdup.
Restoring Boothill Graveyard
By the later nineteenth and early twentieth century, Boothill began to deteriorate. Tombstone was dwindling after the end of the mining boom, and the interments were far between.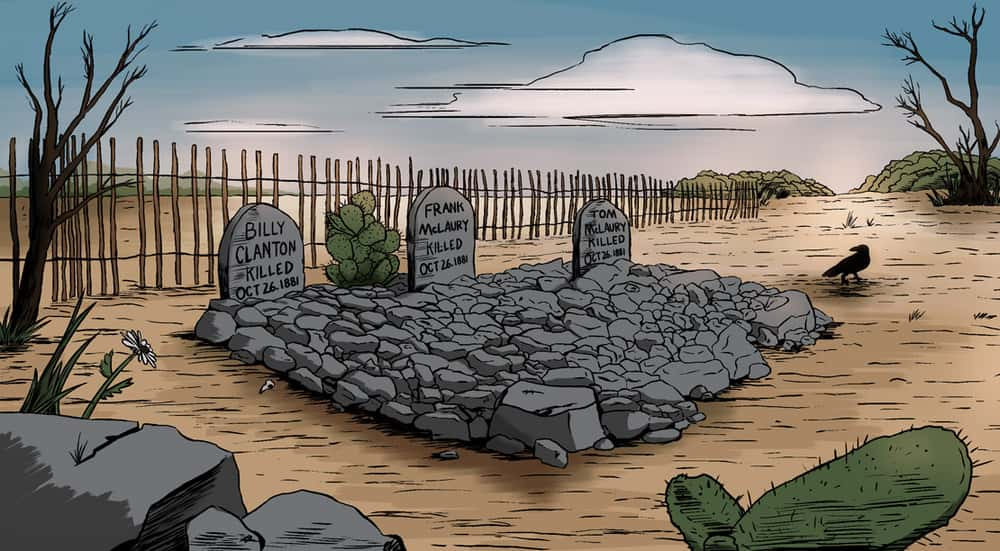 The cemetery began to collect debris. Markers were disintegrated or discolored. Frederick Bechdolt criticized the condition of the cemetery in Tombstone Epitaph in 1923, writing that the "historical and practically only remaining Boothill Cemetery in the West was being neglected."
Bechdolt's was the first time that the Old Cemetery was called "Boothill," a moniker that would later define the allotment. Bechdolt's article resituated Boothill into the spotlight, where it would stay for the century.
Memorializing Those Murdered
Inspired by Bechdolt's article, the Boy Scouts restored the cemetery in the 1920s. They were aided by Harry Macie, who was able to locate the burial sites of the McLaurys and Billy Clanton. Mr. Macie erected their marker "Murdered on the Streets of Tombstone," bolstering the mythos of this American municipality.
Boothill Takes Shape
By 1928, Boothill's mythology began to solidify. The Tombstone Epitaph published a short article, writing that
"Here are the 'self-expressionists' of early Tombstone. Here is the 'live your own life' crowd. Here is the jazz gang of the 80s who lived by their wits, or their six-shooters for the sex appeal. Here are the men of hotheads and soft hands, who would rather shoot it out then work it out or reason it out. Here are the boys who would rather take it from the other fellow by force than earn it. Here is the saloon gang adhere and the dancehall habitues. Men and women who lived gaudy lives and were snuffed out."
Boothill Becomes a Tourist Attraction
In 1923, the "Broadway of America" was established through Tombstone, cutting through Boothill. In consequence, graves were unearthed and relocated to the New Cemetery.
Despite the disruption, the road did provide new opportunities for Boothill. The town council, recognizing the cemetery's potential for tourism, constructed a byway to the graveyard. Tombstone identified the byway by a six-by-twelve foot black-and-white sign, iconic and unmissable. It helped Boothill become one of Tombstone's most remarkable attractions.
Protecting Boothill
Boothill's restoration was still underway in 1933, leading to the discovery that the cemetery was much more extensive than Tombstone had realized. Other findings were also made, such as monkey wrenches; these artifacts were added to Tombstone's collection of curios.
These findings were threatened by souvenir hunters, who snatched everything from headstones to funeral markers. To deter bandits, Tombstone fenced branches around the site, creating a naturalistic barrier. Tombstone later supplemented these defensive measures with a caretaker, ensuring Boothill's preservation and protection.
Boothill – Fact or Fiction?
Although Boothill is an authentic cemetery, some of the most remarkable memorials are fictitious. These were erected to promote tourism, and provide playful interpretations of the American Wild West.
Lester Moore is one example of a fictitious burial: although he purportedly died in a shootout, no evidence suggests that Moore existed. No evidence indicates that Hank Dunstan existed, either – despite allegedly dying in the same gunfight. Nevertheless, Moore's marker reads, "Here lies Lester Moore, Four slugs from a 44, No Les No more."
George Johnson is another popular "burial" in Boothill. Johnson may not have existed, yet his epitaph reads, "Here lies George Johnson hanged by mistake 1882. He was right we was wrong. But we strung him up and now he's gone."
Other fictitious burials include John Heath, accused of organizing the robbery that incited the Bisbee Massacre. Although Heath existed, he was buried at Oakland Cemetery in Terrell, Texas.
Federico Duran, spelled as "Federico Doran," is another misleading memorial: the marker claims that Shariff John Slaughter killed Duran after a train robbery, yet Duran was executed by firing squad. He died in Guaymas, Mexico. Duran was not buried in Tombstone, and Slaughter was absent from his death.
Boothill's Hidden Treasure
Some believe that there's a hidden treasure in Boothill. In August of 2009, Lost Treasure suspected that a small fortune was stashed near the grave of Dutch Annie. Cody Polston records the story in Haunted Tombstone:
The Can Can restaurant was famous in its day for its food. It sold lobster and imported fish from Mexico and had a hired hunter who kept the cafe supplied with fresh meat. It was this man who stole a significant sum of money from the Can-Can and was later caught. He said he buried the score not far from Boothill, but it was never found.
The bandit died before anyone was able to locate the loot. Was this bounty bound at Boothill?
Visiting Boothill
Visitors can find Boothill at 408 AZ-80, Tombstone. The graveyard is open from 8 AM to 6:30 PM. Entrance is priced at $3 per person, though children younger than fifteen may tour the graveyard free of charge.
If you make it over to Boothill, remember, those two-bit criminals and dastardly deed doers are known to still beat around the boneyard, hardfisted and hell-fired. And we'd be ever so obliged to hear if you meet up with one.