Faneuil Hall is a marketplace within Boston, Massachusetts that includes some of the city's best eats, entertainment, shopping, and, of course, hauntings. Built in 1742 by Peter Faneuil, the hall was crowned "The Cradle of Liberty," as it served as the meeting point for colonists to plot their resistance against the British government. Faneuil Hall has four markets within the same location: Faneuil Hall, Quincy Market, North Market, and South Market. With such an interesting - and controversial history - it's no surprise this historic meeting hall has plenty of paranormal activity to experience.
Did you know?
Wealthy merchant, Peter Faneuil, built Faneuil Hall as a gift to the city of Boston in 1742.
The grounds atop which Faneuil Hall stands have a dark past, serving as the place for slave traders and prominent citizens to exchange enslaved Africans.
Ned Devine's, an Irish pub in Faneuil Hall, is haunted by a young slave, a screaming man, and a poltergeist that likes to move things around.
Faneuil Hall was a center of commerce, where fishermen and merchants would sell their goods and where the Sons of Liberty declared "no taxation without representation."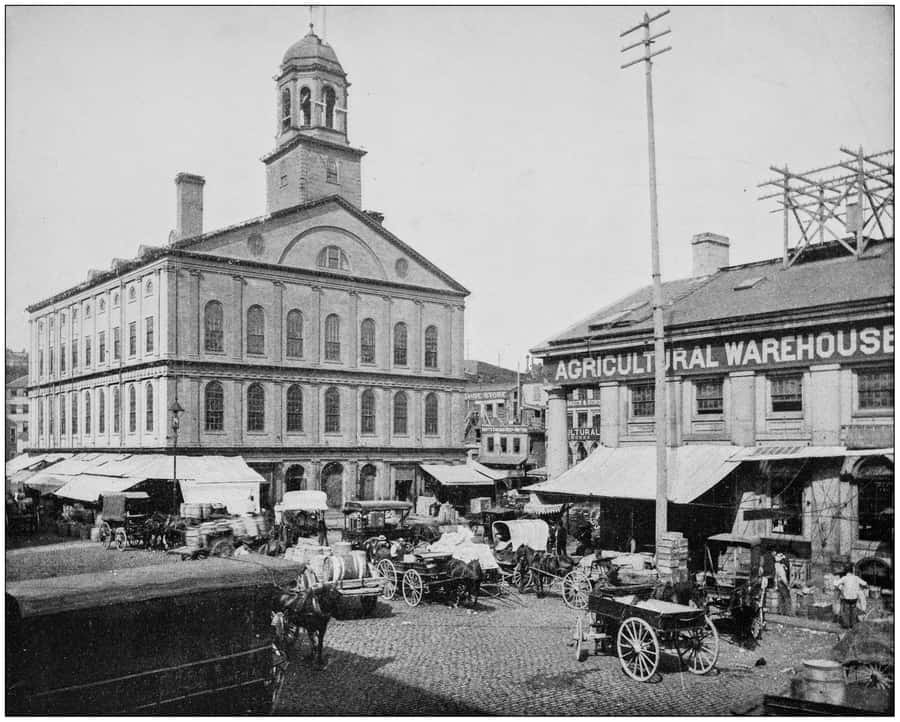 Haunts at Ned Devine's
A huge part of the hauntings at Faneuil are concentrated in Ned Devine's, an upscale Irish pub within Quincy Market, with plenty of history to dive into.
A Slave Was Never Freed
Possibly the most gut-wrenching apparition at Ned Devine's is the scared woman dressed in colonial-era working clothes. She has been seen frantically peeking around corners of the establishment as if she was hiding from someone.
To determine who this woman was, we first need to take a look at the coastal city's past. During the 17th and 18th centuries, Boston was a center for the slave trade, with ships importing people from Madagascar and West Africa. These men, women, and children were then brought to where Faneuil Hall stands today and sold to the highest bidder.
Ironically, the site atop which "The Cradle of Liberty" was built wasn't so keen on freedom after all. In fact, Faneuil Hall was financed by Peter Faneuil, with the fortune he made in the slave trade.
Many believe that this woman was one of the Malagasy slaves brought into Boston and sold to prominent social figures. Those who have seen her claim she looks desperate and afraid, a feeling she transmits to those she comes in contact with. Maybe she somehow managed to run away from her master and was making sure no one saw her escape. Whoever she is, hopefully, she finds peace one day.
Aside from the young slave's specter, pub staff have reported hearing blood-curdling screams inside the establishment. It would seem that the ghosts that haunt Ned Devine's met some pretty gruesome ends.
Echos of A Man Ripped to Shreds
Once again, history explains the paranormal. The unsettling screams employees reported hearing are believed to have come straight from the past, long before the space was an Irish pub.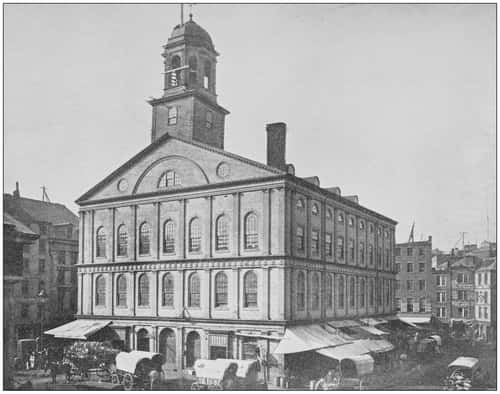 As it turns out, from 1862 to 1909, a large portion of Quincy Market was occupied by a farming equipment store called Ames Plow Company. Despite accidents involving heavy machinery being common, there are no records of accidents at the market, except for the death of Victor Hendrickson.
An article published by The Boston Globe on September 19, 1907, details the fatal accident 35-year-old Hendrickson had while working. According to the article, the Ames Plow Company employee was fastening a screw on a ladder when his vest got caught in an adjacent revolving shaft. Hendrickson died an agonizing death, "...nearly every bone in his body was broken, and he was partially dismembered." His vest was so tightly wound around his neck that - if he hadn't been crushed - he would've strangled to death.
Could the screams be some sort of paranormal reenactment of the ghastly event? After all, a common explanation for ghosts is usually a violent or untimely death, which, in this case, is entirely fitting.
But it's not all bad. Sam Baltrusis, in his book Haunted Boston Harbor, mentions that the building also displays plenty of playful poltergeist phenomena. Salt and pepper shakers mysteriously move by themselves, and a barrel has been seen inexplicably rolling down the hall.
Visiting Ned Devine's Irish Pub
A casual restaurant by day and a bustling nightclub by night. Ned Devine's is located in Faneuil Hall's lively Quincy Market. The pub serves up delicious New England cuisine, cocktails, and draft beers. It is open every day from 11:30 a.m. to 2 a.m.
What to see at Faneuil Hall
Faneuil Hall & Marketplace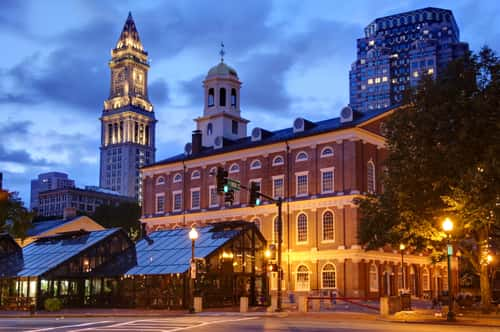 Once the designated meeting place for the daring Sons of Liberty, it was where colonists protested against the Sugar Act (1764) declaring "no taxation without representation," as well as where merchants brought their goods to sell. Since inception, Faneuil Hall has served as both a marketplace and meeting hall, witnessing some of the most significant debates in history.
The golden grasshopper weathervane that tops the hall was used during the War of 1812 (fought between the US and the British over maritime rights) to spot spies. People were asked what is on top of Faneuil Hall? And anyone who didn't know the answer was definitely not American. Today, Faneuil Hall continues to make history with the naturalization ceremonies it hosts. Every year, hundreds of immigrants take the Oath of Allegiance as new US citizens within its walls.
Quincy Market
Faneuil Hall was expanded in 1826 to add the Quincy Market, the first open-air market in the US. Its historic 19th-century buildings are home to 18 restaurants and 35 small eateries, serving every cuisine imaginable. Must eats at this market are the steaming clam chowder, Boston cream pie, and - since this is Beantown - baked beans and brown bread.
North Market & South Market
Adjacent to Quincy and close to the waterfront, North and South Markets are a sought after tourist destination, with plenty of shops and entertainment to enjoy. When visiting the North and South Markets, don't be surprised if you come across some peculiar street performers and magicians, all within a few feet.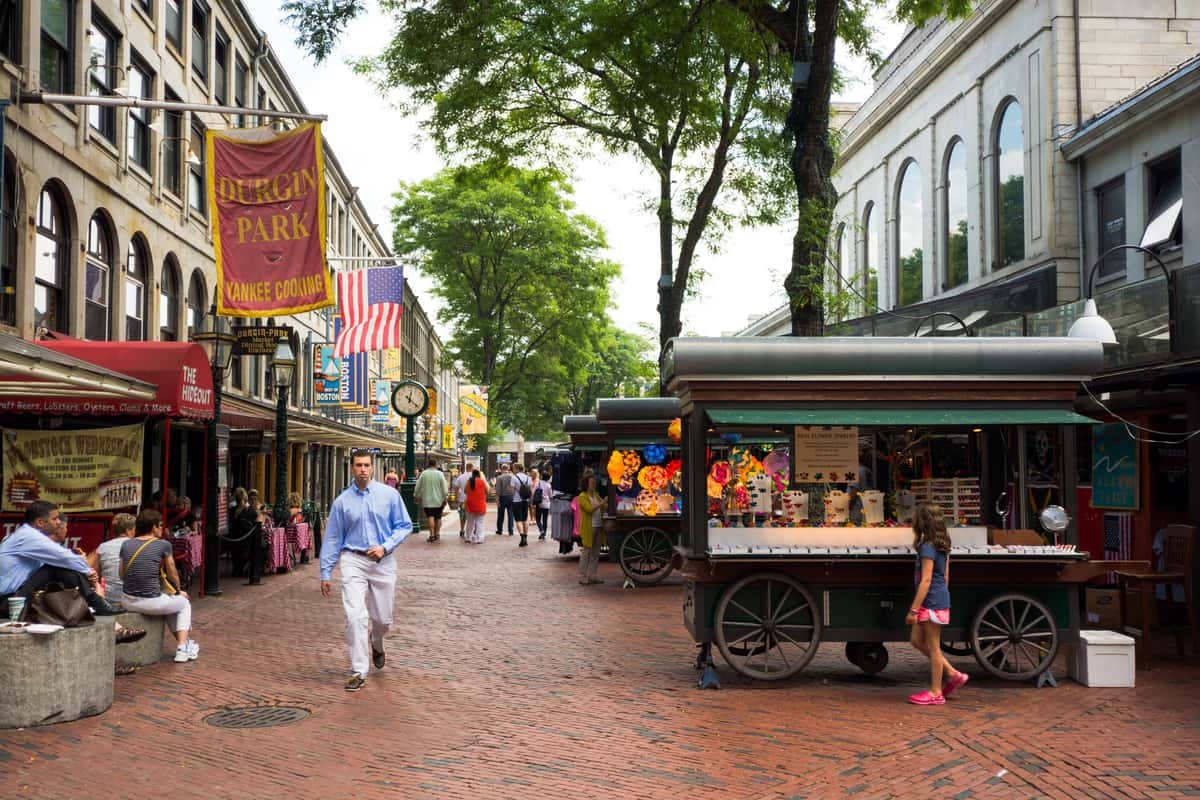 Despite Ned Devine's ghosts being the loudest at Faneuil Hall, we can't help but think that the entire marketplace is plagued with spirits. After all, what was once the capital of the Massachusetts Bay Colony has plenty of hair-raising macabre history to go around.
Know Before You Go
Faneuil Hall is owned and operated by the city of Boston. The marketplace is open Monday through Saturday from 10:00 a.m. to 9:00 p.m., and Sundays from 11 a.m. to 7 p.m. Please note hours change slightly during the Winter and specific business hours may vary.
Location
4 S Market Street Boston, MA 02109