Constructed in 1672 by the Spanish government, St. Augustine's Castillo de San Marcos passed through a few hands, until eventually coming into the possession of the U.S. military. The distinctive star-shaped fortification is known for housing hundreds of Native American prisoners and ruthless European soldiers.
It's this military past that has been identified as the cause for the paranormal activity in the fort. The home of threatening shadow people and headless chiefs, no Florida ghost tour is complete without a visit to the Castillo de San Marcos.
Did you know?
The Castillo de San Marcos was constructed out of coquina, a semi-rare form of limestone. It is one of only two forts made of this material in the world.
The fort has a dark history as a prison for Native Americans, one of which was beheaded as a souvenir.
An adulterous woman stalks the Castillo in the afterlife. Catching a whiff of a strong perfume is a sign that she's nearby.
The Castillo's patina-covered cannons were once shiny bronze weapons.
The Ghostly Residents of the Castillo de San Marcos
The Embalmed Souvenir
Will you encounter Osceola's headless corpse within the walls of this old fortress?
Osceola was a Native American leader and member of the Seminole tribe. A cunning chief, he managed to avoid capture by the military during the Second Seminole War (1835-1842). That was until 1837 when he was tricked into custody with a false truce and transported to Castillo de San Marcos along with 200 of his men.
The chief had been in poor health before his capture and was suffering from chronic malaria, tonsillitis, and abscesses. Once incarcerated, prominent physician Dr. Weedon was called to treat Osceola, and the two became incredibly close.
Not long after, Osceola and several other Seminoles were transferred to Fort Moultrie in South Carolina, where he became somewhat of a celebrity. Townspeople flocked to the prison to catch a glimpse of this mystical man, and local painters convinced him to let them paint him, despite his illness.
While in South Carolina, only three months after his capture, the Native American leader died of quinsy, an infection in the back of the throat.
Surprisingly, Osceola's move to South Carolina didn't disrupt his friendship with Dr. Weedon. The doctor continued to visit and treat Osceola until his death, and even his family grew to love him.
The beautiful friendship took a sinister turn when the doctor decided to honor his friend by severing his head and keeping it as a memento.
Before the funeral, while the doctor was alone "preparing" the body, he cut off Osceola's head and wrapped the cut with a scarf. It didn't stop there, though. He also took some of the belongings the chief was to be buried with. A friend? A sleaze is more like it.
To preserve the head, the witch doctor placed it in a large jar with alcohol before bringing it to St. Augustine and displaying it in his drugstore.
Unfortunately, at the time, Native American body parts, especially the heads, were considered valuable trophies. People went to great lengths to obtain them, even if it meant desecrating a human being. And this story is just as troubling as it is frightening.
Many believe the chief still haunts the grounds of San Marcos, after all the trauma his corpse was subjected to.
Visitors often report seeing unexplained shadows walking in the fort, and some claim to have witnessed a headless apparition. Other phenomena include unexpected drops in temperature, sudden chills, and hearing disembodied voices.
These strange sightings have been attributed to the chief, but it could likely be any one of the Native Americans who took their last breath in the prison.
A Dangerous Perfume
According to legend, a local man with an interest in architecture uncovered a hidden secret while exploring the fort.
He was walking when he heard a hollow sound coming from one of the walls. After removing a few bricks, he exposed a hidden cavity within the fort and illuminated it with his lantern.
Inside, he found the skeletal remains of two individuals chained to the wall. He soon realized who they were, missing lovers Dolores and Manuel.
In 1784, Colonel Garcia Marti and his young wife Dolores arrived in St. Augustine to start a new life. The Colonel was assigned a handsome and charming assistant named Captain Manuel Abela, who Dolores welcomed with open arms.
Colonel Garcia was a cold man, too occupied with the fort and its soldiers to pay attention to his wife. Neglected and mistreated by her husband, Dolores sought love from another man, Captain Abela.
One day, Abela reported for his daily meeting with Colonel Marti. While shaking Abela's hand, the Colonel took a deep breath and narrowed his eyes in recognition. Marti had just smelled his wife's perfume on the Captain and immediately knew they were having an affair.
By the next day, both Dolores and Captain Abela were nowhere to be found.
When questioned about Dolores' disappearance, the Colonel claimed she had suddenly become ill and was taken to her aunt's home to recover. He also explained she would be moving back to Spain to live with family.
When he was questioned about the whereabouts of Captain Abela, the Colonel claimed he was sent to Cuba on a special assignment.
His story was strange since Dolores didn't seem ill and Abela would've never left without saying goodbye to his fellow soldiers. Despite the doubts, however, the Colonel was never questioned further.
It wasn't until their bodies were discovered that the truth came to light. Colonel Marti had kidnapped the couple and locked them away. Left to starve within the dark, cold walls of San Marcos. But it wasn't all bad. At least now there was an explanation for the hauntings.
People touring the Castillo have reported smelling a sweet, flowery perfume and feeling as if they're being watched.
Once you smell the strong scent, the hairs on the back of your neck will stand, leaving you with the feeling you've just encountered a restless spirit.
The Shadow Man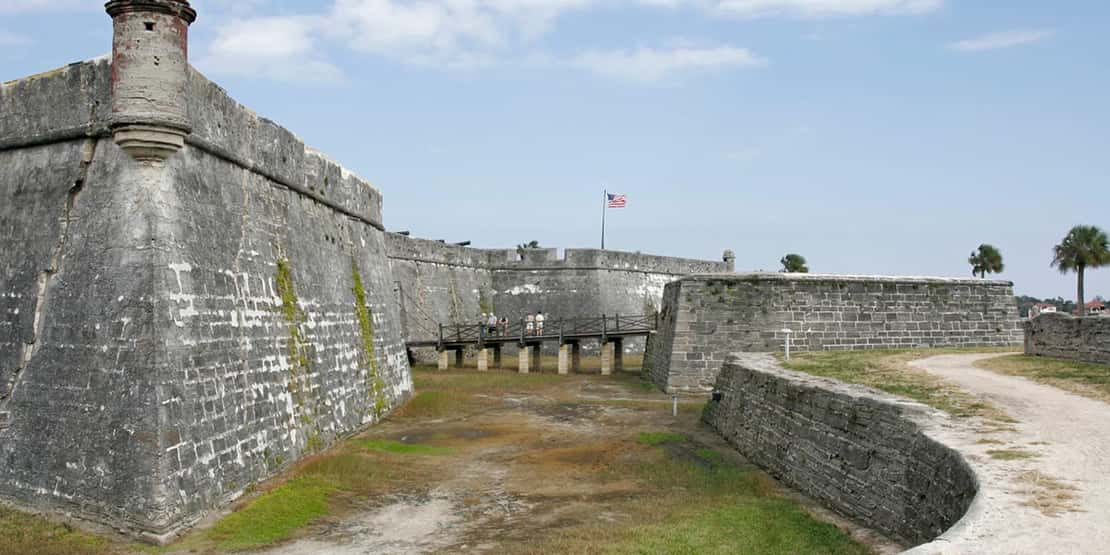 Local lore has always explored the unidentified ghostly figures said to haunt the fort. There are plenty of stories detailing paranormal encounters at the Castillo, but one stems from a personal experience our staff members had.
In 2018, our CEO and General Manager were visiting St. Augustine on business. Being avid ghost hunters, they decided to walk over to the fort to take photographs at night.
They were taking photos on the top portion of the fort when they saw a shadow figure walking over the drawbridge below. They described the character as being of average height and build and a brisk walker. Believing it was a man, they waited for him to pass so they could continue taking pictures.
When the person failed to walk into the Castillo, they looked over and realized there was no one there. They'd just seen an apparition. Both of them described the figure as the clearest shadow person they'd ever seen.
But don't take our word for it. Many visitors have seen this mysterious man walking the Castillo. He is said to pace back and forth by the walls, and some have even spotted him walking outside the fort.
Theories as to who this man is range from the spirit of a dead soldier to a frightening inter-dimensional entity.
Although we might never find out who this spirit is, a look into the past might help us begin to answer some of our many questions.
Brief Castillo de San Marcos History
The fort has seen its fair share of happenings since its construction. Initially a Spanish fort, it has fallen in the hands of the British, and the United States. Under U.S. control, it served as a military prison where members of different Native American tribes were held as prisoners.
Castillo Design and Materials
The 17th-century Castillo is the oldest masonry building in the U.S. and stands on the western shore of Matanzas Bay. The fort was designed by Spanish engineer Ignacio Daza in a unique star shape, based on a pattern of defense developed in 15th-century Italy.
Construction began in 1672, using a rare form of shell limestone known as coquina. San Marcos is one of only two forts built with this material, both located in Florida. Coquina is known for being a light porous material and would seem like a poor choice for a structure meant to support the city.
But the material had its advantages. While granite and brick fortifications crumbled when impacted by a cannonball, with the coquina the cannonball would become buried in the structure, fortifying it further. During the two attacks the Castillo suffered, in 1702 and 1740, the durable coquina walls never caved.
Artillery
The Castillo de San Marcos was equipped with gunpowder cannons made of solid bronze. Ingrained was a royal coat of arms, representing the Spanish king and queen who ruled during the weapon's construction. Despite being covered in green patina today, the Castillo's cannons were once as shiny as a new penny.
Whether it's the strong smell of Dolores' perfume, disembodied footsteps, echoing voices, or full apparitions, the Castillo will undoubtedly leave you speechless.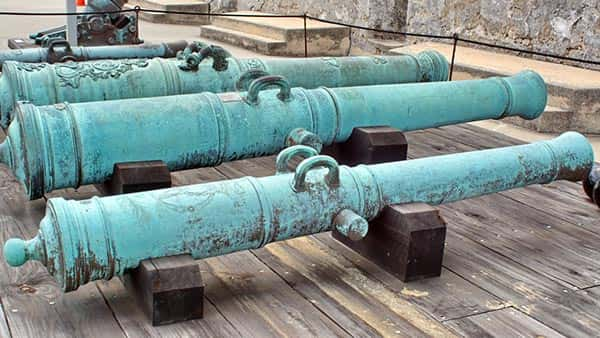 Know Before You Go
The Castillo de San Marcos is considered a "walk-in" park, open to the public for visits. The City of St. Augustine maintains a parking garage only a block away from the Castillo.