Turbulent, tempestuous, tenacious! Accused of bewitching pigs, possessing poppets, and effecting out-of-body experiences, Bridget Bishop was, if not a witch, an unwelcome woman. Locals believed that Bridget's ghost gallivanted across Salem; Bridget could send her specter, or spirit, to work spells on unsuspecting suburbanites. Did she kill her first two husbands? Curse the Shattuck's son? What about Bridget's black magic?
A Witch in Salem
Although Salem's slander was more tall-tale than truth, there was no denying that Bridget Bishop was bold. Unlike other women of Salem Village, Bridget wore a black cap, black hat, and red paragon bodice. Her fashions were independent. Her attitude? More so. Never submissive, Bridget rejected "woman's role" in seventeenth-century society. Bite Bridget Bishop and Bridget Bishop bites back! (That's enough to get you hanged, though.)
But who, exactly, was Bridget Bishop? Although Bridget wasn't the first accused of witchcraft in seventeenth-century Salem, she was the first executed. Yet Bridget's story is more tragic than magic. Punished for her strength and self-reliance, Bridget was sent to the gallows. It was 1692. Bridget Bishop was about to become Salem's first "convicted witch."
Who Was Bridget Bishop?
How do you introduce a woman of "singular character, not easily described?" To begin, Bridget Bishop, once Bridget Playfer, was born in England between 1632 and 1635. She married fellow-Englander Samuel Wasselby by 1660, though Bishop emigrated to Massachusetts Bay Colony shortly thereafter. Bridget bore one child from her marriage to Wasselby. The child, however, died in infancy. Wasselby joined the child in death by 1664. By 1666, Bridget bishop married a second time.
Marrying a Madman
Her new husband was Thomas Oliver, a widower and father of six. Together they bore a daughter, Christian Bishop. They had an otherwise brutal marriage – Bridget and Thomas were even brought to court in 1670, where their neighbor testified that Bridget had been "at one time bloody and at other times black and blue." Thomas argued that Bridget had "given him several blows." They both confessed to fighting. Consequently fined, the Judge ordered that they be whipped if they were unable to pay their dues.
They appeared for court again in 1678. Their punishment this time? Public humiliation. Indeed, "Bridget, wife of Thomas Oliver, presented for calling her husband many opprobrious names, as old rogue and old devil, on Lord's day, was ordered to stand with her husband, back to back, on a lecture day in the public market place, both gagged, for about an hour, with a paper fastened to each others foreheads upon which their offense should be fairly written."
Thomas Oliver died from illness in 1679, though not before claiming that Bridget Bishop was a "bad wife," who "sat up all night with the devil." Thomas' estate was nevertheless left to Bridget. Thomas' children, however, inherited only twenty shillings each. Exasperated, they accused Bridget Bishop of bewitching their father. Yet Bridget was never brought to court over their allegations, and it was assumed that Thomas' children had attempted to swindle their step-mother. Bridget Bishop didn't budge.
A Woman of Independent Means
Bridget's inheritance allowed her independence uncommon to women of Salem Village; Bridget Bishop was therefore feared. Yet with Thomas' property came Thomas' debts. Bridget was allowed to sell 10 acres of property to John Blevin for 45 pounds, and a smaller piece of property to Daniel Epes for 35 shillings and a fence. Although she held lifetime rights to Thomas' property, the court recorded that the property was "held for Bridget Bishop" by her third husband, Edward Bishop.
And the property? Ample with apple orchards, cradled by Washington and present-day Church Street.
Yet in 1680, Bridget Bishop was charged – and cleared – of witchcraft. Salem accused Bridget of using black magic to murder a neighbor. They also maintained that she had taken part in the Witches' Sabbath. There is no record of Bridget Bishop's punishment, although she did post bond. Bridget was tried again in 1687, though this time for stolen brass.
Although she maintained a "clear record" until 1692, Salem was suspicious of Bridget Bishop.
Bridget's "Black Magic"
Black magic, anyone? By the time of Bridget's conviction, she was charged with five counts of witchcraft. On June 2, the Blys accused Bridget of bewitching their pig. The pig, they said, had gone "stark mad." They also claimed that they had found "poppets made up of rags and hogs' bristles with headless pins struck through them with the points turned outwards" in the cellar of Bridget's house. Bridget provided a sufficient explanation for the dolls, but Bridget remained on trial.
On the same day, Richard Coman swore that Bridget Bishop had suffocated him while he slept. She had appeared in her "red paragon bodice," then "lay upon [his] breast or body and so oppressed him that he could not speak nor stir." Corman's wife lay beside him, unafflicted and unaware. Why couldn't Corman's wife see Bridget's specter? Did she ask why her husband dreamed of Bridget Bishop?
Corman's actual condition? Sleep paralysis, most likely.
Monkey Minion?
The most outrageous allegation against Bishop was that she had a monkey lackey – her "familiar," or "satanic minion." John Louder testified that Bridget Bishop had sent forth a creature whose "body looked like a monkey only the feet were like a cocks feet with claws and the face somewhat more like a man's than a monkey." The creature had ricocheted through the window, revealed itself: "I am a messenger sent to you for I understand you are troubled in mind, and if you will be ruled by me you shall want for nothing in this world upon which I endeavored to clap my hands upon it, and said you devil I will you." Louder survived the "affright," though was "struck dumb" for three days.
"A Snare and Sign of the Devil"
Stranger still? Samuel Shattuck's "corroborative proof of Bridget Bishop's being a witch," was that she once brought "to his dye-house 'sundry pieces of lace,' of shapes and dimensions entirely outside of his conceptions of what could be needed in the wardrobe, of for the toilet, of a plan and honest woman." This attire, the witness decided, was a "snare and sign of the Devil."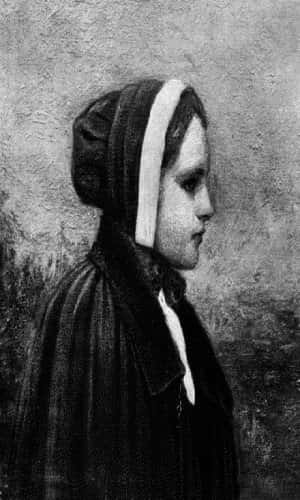 It was a peculiar accusation from Samuel and Sarah Shattuck… The Shattucks were Quakers, not Puritan. Hadn't the Quakers been "wanted" for "witchcraft" before?
Yet Samuel and Sarah Shattuck also testified that Bridget's lace fashioned poppets, or dolls used in witchcraft. The Shattuck's continued that Bridget's poppets had bewitched their once four-year-old child. The child, Samuel Jr., had inexplicable bruises and seizures; his body either contorted or convulsed. His father insisted that Samuel Jr. had been left "stupefied and void of reason." Who better to blame than the neighbor next-door? Especially if that neighbor had been accused of the occult.
Shattuck's solution? Fetch blood from Bridget Bishop. The advice had been solicited from a stranger, though it sounded curiously close to witchcraft. Fetching blood from Bridget Bishop, the stranger said, would be enough to break her spell. It wouldn't take much – just the scrape of the face, the scratch of the features. Blood was instead drawn on Samuel Jr., who had wandered too close to Salem's wayward "witch." Bridget had retaliated in self-defense.
Why should Bridget let Shattuck's son attack her?
Samuel Jr. continued to convulse. The Shattuck's blamed Bridget Bishop.
Bridget Bishop on Trial
With a catalog of charges against her, Bridget Bishop was prosecuted. Her trial was a one-day affair. The proof? Unsubstantiated – spectral evidence or tittle-tattle. She was examined by Judge Hathorne and Judge Corwin, yet was allowed no counsel. Bridget Bishop was refused a defense.
Hathorne accused Bridget of bewitching her first husband, yet Bridget retaliated that she had "no familiarity" with the Devil:
Hathorne: They say you bewitched your first husband to death.

Bishop: If it please your worship I know nothing of it.

Sam: Braybrook affirmed that she told him today that she had been accounted a witch these 10 years, but she was no witch, the Devil cannot hurt her.

Bishop: I am no witch.

Hathorne: Why if you have not wrote in the book, yet tell me how far you
have gone? Have you not to do with familiar Spirits?

Bishop: I have no familiarity with the devil.

Hathorne: How is it then, that your appearance doth hurt these?

Bishop: I am innocent.

Hathorne: Why you seem to act witchcraft before us, by the motion of your
body, which seems to have influence upon the afflicted?

Bishop: I know nothing of it. I am innocent to a witch. I know not what a Witch is.

Hathorne: How do you know then that you are not a witch?

Bishop: I do not know what you say.

Bridget kept her bite, however, so whenever Hathorne asked Bridget, "How can you know, you are no witch, & yet not know what a witch is?" Bridget retorted, "if I were any such person you should know it." Hathorne rebutted that Bridget may "threaten," but could "do no more than permitted." Bridget's reply? "I am innocent of a witch."
The Examination
On June 2, Bridget Bishop was subject to examination from nine local women. Dr. Barton oversaw the examination, attentive to unnatural growths or features. "Abnormal" aspects, such as a mole or wart, indicated witchcraft. Why? A "witches' teat," or witches' mark, suckled a witch's servant – like a familiar, or daemon. Witches' teats were anything from a skin tag to an insensitive patch of skin.
They decided that Bridget Bishop did, in fact, have a witches' teat – disguised as a third nipple. Yet by the second examination, the nipple had disappeared.
They also found an excess of flesh near the anus. Witches' teat? Indubitably.
"The first three, namely: Bishop, Nurse and Proctor, by diligent search have discovered a preternatural excrescence of flesh between the [genitals] and anus much like to teats & not usual in women & much unlike to the other three that hath been searched by us & that they were in all the three women near the same place."
The examination was no doubt degrading. Bridget Bishop had been stripped and searched. Her body had been debased, determined an exhibition of evil. For Puritan society, the examination would be humiliating. Bridget Bishop would have been disgraced.
Pined, Consumed, and Wasted by Witchcraft
Bridget's death warrant was released on June 10, 1692. Now accused of witchcraft against Abigail William, Anne Outnam Jr., Mercy Lewis, Mary Walcott, and Elizabeth Hubbard, Bridget Bishop was sentenced to "hang by the neck until she be de[ad]." The bodies of the girls were, by allegation, "hurt, afflicted, pined, consumed, wasted, and tormented." Sheriff George Corwin brought Bridget to Salem Jail; Bridget maintained her innocence, yet was indicted on five counts of black magic.
The Execution of Bridget Bishop
Salem had yet to erect "Hanging Hill," so Bridget Bishop was carted to a community pasture (today speculated to be Proctor's Ledge) – allowing the execution to be public yet away from town center. Bridget was blindfolded, her petticoats bound close to her body. With a noose around her neck, she was hanged until death.
Yet uncertainty plagued the prosecution. Nathaniel Saltonstall resigned from the Court of Oyer and Terminer upon Bridget's hanging, stating that Bridget was executed for "little more than wearing scarlet, countenancing shovel board, and getting herself talked about." These, Saltsonstall added, were "all offenses, but hardly capital offenses." The Court likewise began to doubt "spectral evidence," arguing that spectral evidence must be considered more critically. If they re-approached spectral evidence, or discounted it altogether, they thought that Salem's Witch Trials could come to a close.
Bridget Bishop's execution had shocked Salem. Some began to doubt the presence of black magic. Others began to fear for their lives. Yet nineteen more were to be hanged, and over 200 accused. Near sixty years-of-age, Bridget had been Salem's first "convicted witch" – but she would not be their last.
Bridget Bishop's Impact
Although we now recognize Bridget Bishop as a self-assertive woman, she had been unjustly struck by seventeenth-century Salem. We know that Bridget Bishop was a hero – a staunch character, true to herself. Yet Bridget was, too, a tenacious and thrice-married matron – or, for Salem Village, an easy target for a witchcraft conviction. She had likewise been a victim of domestic abuse, debt, and social discord. Bridget was "different," and therefore feared.
Massachusetts apologized for Salem's Witch Trials in 1957, yet Bridget Bishop was never mentioned. They did, however, reference "one Ann Pudeator and certain other persons." The Salem Witch Trials Memorial established a marker for Bridget Bishop in 1992, but Bridget's name wasn't cleared until 2001.
Paying Respects to Bridget Bishop
Looking to burrow into Bridget Bishop's world? Be sure to pay your respect at Proctor's Ledge, the location of Bridget Bishop's unjust execution. You can even find Bridget's name on Proctor's Ledge Memorial, reminding you to remember those lost to Salem's Witch Trials.
You can also stop by Turner's Seafood, or "Lyceum Hall." Built on the land of Bridget''s apple orchard, Lyceum Hall is a must-see spot. Superstition says that Bridget Bishop still stops there, herself...
Be sure to send word if you see her.