Covering four blocks of Austin's former Red Light District, City Hall is riddled with poltergeists. From gamblers to working girls, get ready to meet the Ghosts of Guy Town.
Did You Know?
Austin City Hall is located in Austin's Former Red Light District
The building was designed by Antoine Predock
The City Hall site contains a time capsule
Working Girls haunt the area
The Ghosts of Austin City Hall
It's no surprise that this infamous district is now known as Austin's Most Haunted. Even if the neighborhood goes by a different name, the streets of Guy Town are filled with the ghosts of their former inhabitants.
While the ghosts of gamblers, drunks, and prostitutes proliferate the district, City Hall is the most popular spot for paranormal activity. Since the site's 2004 construction, paranormal disturbances have doubled in frequency.
The Ghost of Adelle
Their most commonly-sighted poltergeist is a former working girl by the name of Adelle.
Adelle was highly-regarded in the district and was even considered a voice for fellow prostitutes. She was outspoken with her suffragette views, campaigned for women's rights, and took up for the underdog.
In time, she decided she'd open the ultimate bordello.
Not everyone took kindly to Adelle's professional aspirations, most notably her fiance. Rumor has it that he became increasingly jealous of her work, demanding she quit her career.
He was doubly enraged by her political outspokenness.
Regardless of what Adelle did, it didn't sit right with her husband-to-be. Unable to deal with his ever-increasing hatred for Adelle, he killed her in a fit of rage.
Adelle had been sleeping soundly that night, ignorant of her fiance's intentions. She was murdered while she slept.
Despite Adelle's tragic tale, those who've witnessed her poltergeist claim that she's a lively, spritely specter. She's often seen strolling near City Hall, though she's sometimes spotted by the establishment's third-floor window.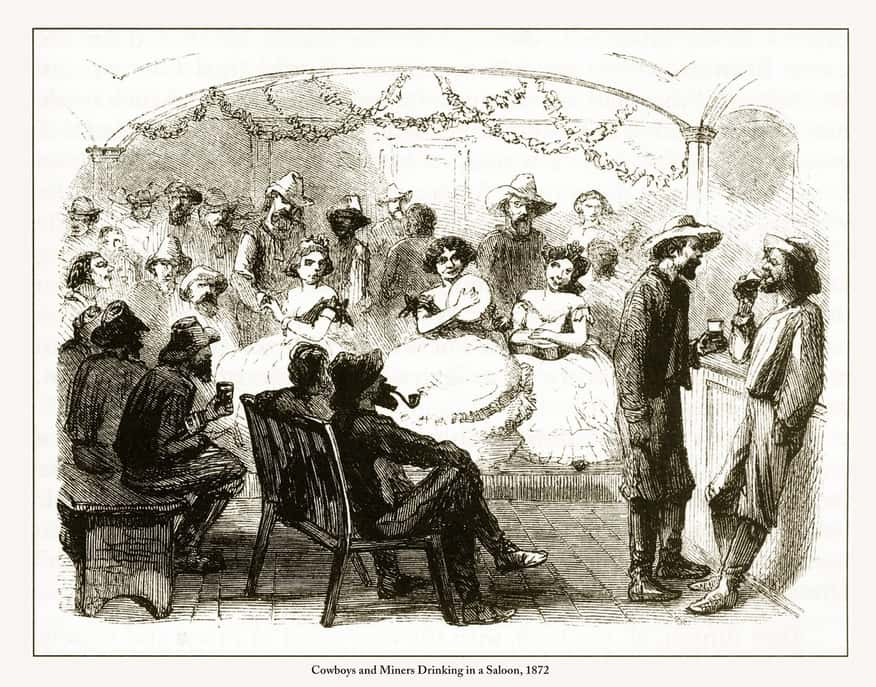 The Seedy Underbelly of City Hall
Referred to as Guy Town in the nineteenth century, the Warehouse District saw the onslaught of saloons, gambling halls, and bordellos.
These establishments were met with knit brows yet were essential to Austin's economy. Not even Austin's City Council could combat the economic necessity of their bawdy brothels.
Working Girls Run the World
By the turn-of-the-century, Guy Town was ruled by working girls. Hundreds of business-minded prostitutes ran the neighborhood, running both the blocks and bordellos.
The industry was so profitable that these "painted ladies" could buy their own dance halls by the age of twenty.
Austin's Ban on Prostitution
In 1870, the City of Austin moved to ban prostitution, with the City Council spearheading the agenda. Though they'd tried to put an end to Austin's New Amsterdam, their efforts were never realized: less than ten people were ever arrested for operating a bordello.
The working girls of Guy Town were so unaffected by the ban that they'd brazenly claim their trade on city records. Some even listed "prostitute" for their occupation during the taking of the census.
Austin's Early Years
While the City of Austin was incorporated in 1839, it didn't receive a City Hall for nearly twenty years. During two decades of uncertainty, the city council would meet in a barn owned by Mirabeau Lamar, the President of the Republic of Texas.
When Austin was given the old Texas Capitol Building in 1856, the building was used as both a City Hall and a Market House. It was again repurposed during the Civil War for the State Military Board.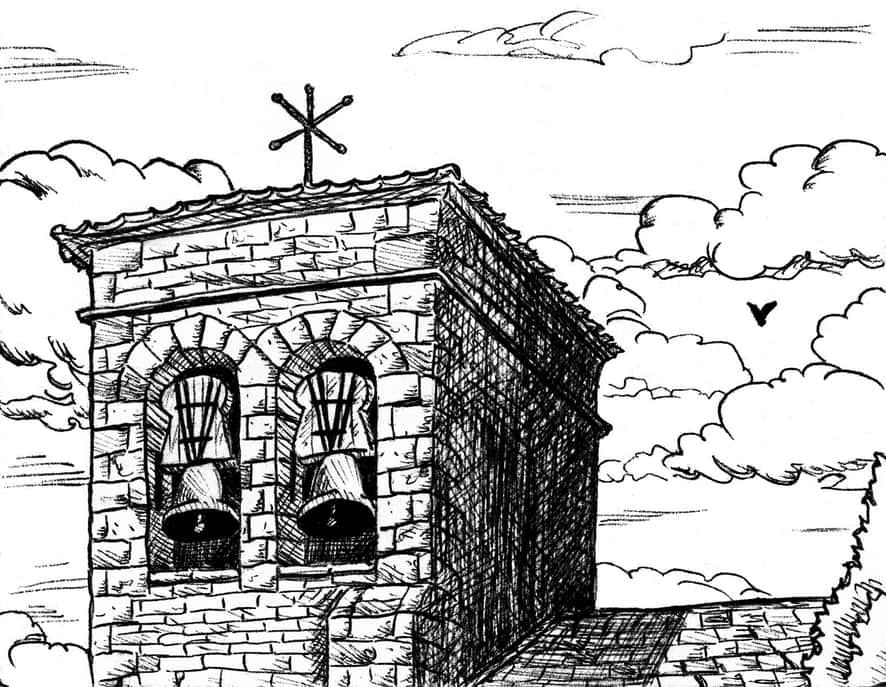 Bats in the Bell Tower
The City of Austin didn't receive its own City Hall until shortly after the Civil War. The establishment's design was unremarkable overall, though it did feature some eerie elements.
One feature in particular stood out among others: the bell tower.
The bell tower almost instantaneously became home to a large population of bats. Politicians were no longer the bloodsuckers of the building. The bell tower became an ominous addition to Austin's City Hall.
People soon began to believe that the building was haunted.
Rebuilding Austin's City Hall
By the turn of the century, Austin's City Hall had fallen into obscurity. So, to combat the building's drab design, Mayor W. D. Shelley announced plans to build a new and more favorable City Hall.
The Ceremonial Time Capsule
By 1907, the cornerstone for the new City Hall was laid during a celebratory civic event.
A ceremonial time capsule was even provided, allowing the people of Austin to decide what mementos they wanted to be remembered. They included currencies from the century, alongside police payrolls, and an assortment of tickets.
The time capsule even holds a list of those employed by the city during the event!
The First and Second Expansion
Since the City of Austin had grown in size by 1938, the City Hall was too small to handle business. Although the building was updated and expanded, within fifteen years City Hall was again too small.
The building had become so overcrowded that some staff members of certain departments were forced to work in the hallways. So, Austin's City hall received a second expansion.
After this financially-enormous undertaking, the City Council began to realize that they were throwing cash in a money pit. Plus, city officials had grown weary with their gloomy environment. Virtually dungeons, their offices lacked windows and fresh air.
With few alternatives, the council proposed plans for a new City Hall.
Scandalous Sites for City Hall
Whenever they unveiled the proposed location, locals were delighted. Even council members thought the former Red Light District was a befitting choice for City Hall.
Designing Austin's City Hall
Designed by architect Antoine Predock, Austin's City Hall's unorthodox appearance turns heads. Predock's vision for the building was far from convention. Precock sought to create a space that would inspire innovation and inspiration.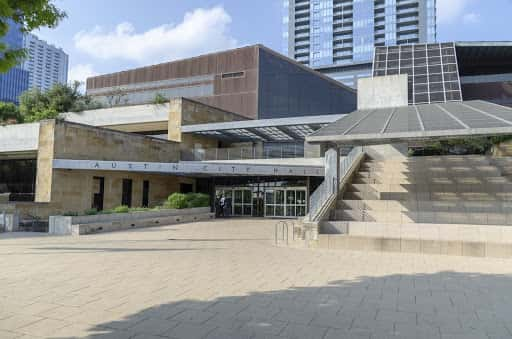 City Hall Today
Completed during 2004, this recent construction was part of a growing endeavor to revitalize Austin's Warehouse District.
Today, the establishment is joined by a collective force of downtown energy. Nestled among the Warehouse District, the property has become Austin's iconic symbol of creativity and experimentation.
With its prime location along Lady Bird Lake, Austin's City Hall bridges the metropolis with tranquility. You can't expect less from a region infamous for mixing business with pleasure.
Visiting Austin City Hall
Looking to bump into Guy Town's former working girls? Stop by Austin's City Hall at 301 West 2nd Street.