Originally built by a Canadian and run by a New Yorker, the Moore Theater is Seattle's oldest entertainment and performing arts venue. Known for its share of spirits and specters, it was even investigated by The Atlantic Paranormal Society (TAPS) for an episode of Ghost Hunters.
Did You Know?
The Moore Theater sits atop Seattle's oldest cemetery.
It once hosted a seance.
Some of the upholstery is known to permanently smell like cigar smoke.
It's said to be the actual site of singer Kurt Cobain's lethal overdose.
It's most known for activity (e.g. Electronic Voice Phenomena) in the basement.
Spooky Sights & Sounds
One of the ghosts often spotted is developer James Moore himself, speculated to be looking after the building and its productions to this day. Plus, many early actresses have been seen lingering and walking around – including Sarah Bernhardt, Marie Dressler, and some early twentieth-century Barrymores.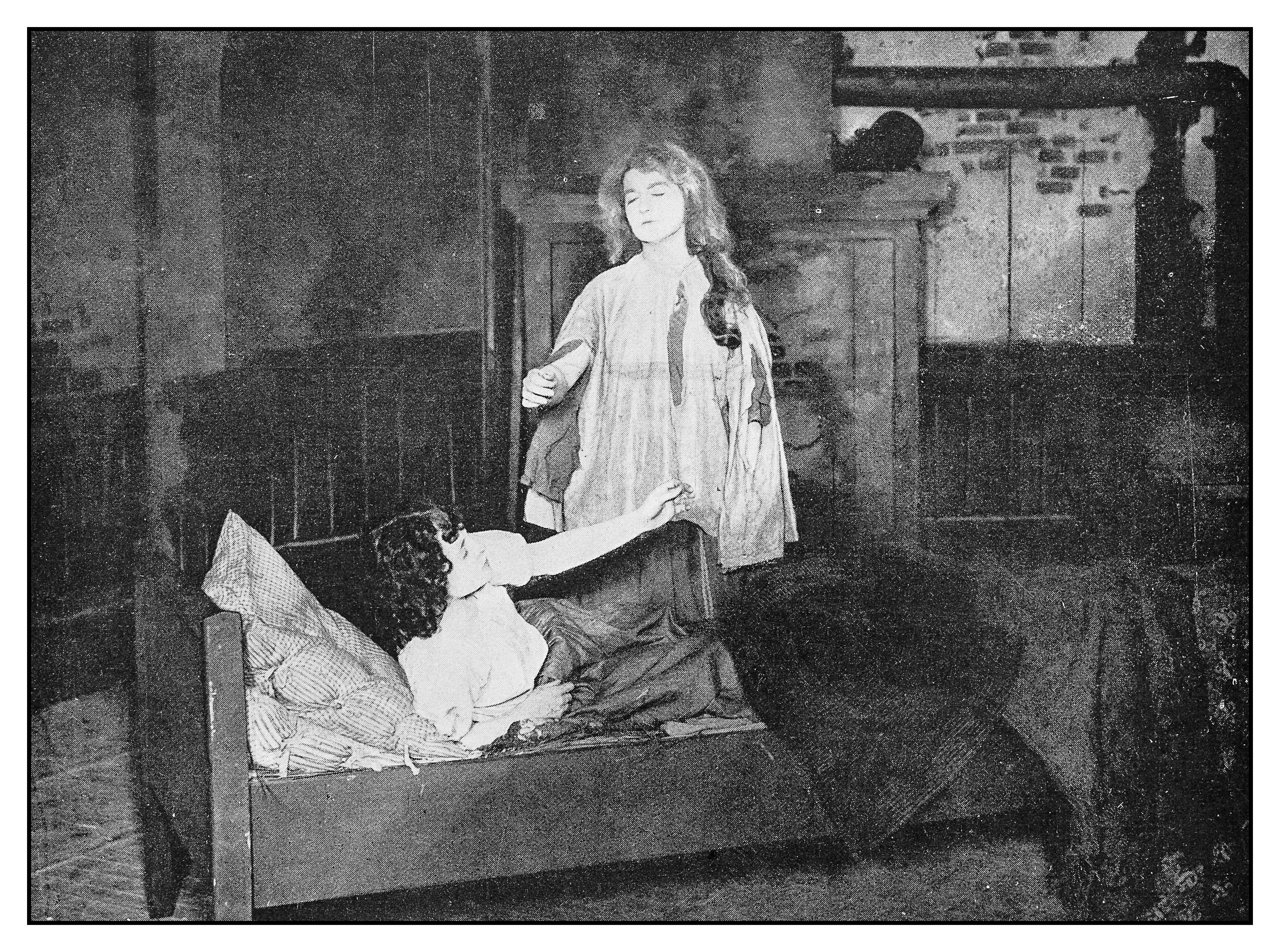 There are the sounds of heavy breathing and footsteps that have tailed guests and employees alike over the years, as well as unexplainable pressures, temperature drops, and other strange visions and noises experienced in the seating area.
The Seance in Seattle
One evening in the 1970s, several employees decided to officially hold a seance.
It went unfinished due to them being discovered and dismissed by the owners – the ritual being interrupted and going unfinished. It's surmised that this is one of the main reasons spirits can be seen here regularly despite there being few deaths at the venue.
Small items such as keys, pens, and even mobile phones have been known to disappear and reappear in various other locations if left unattended.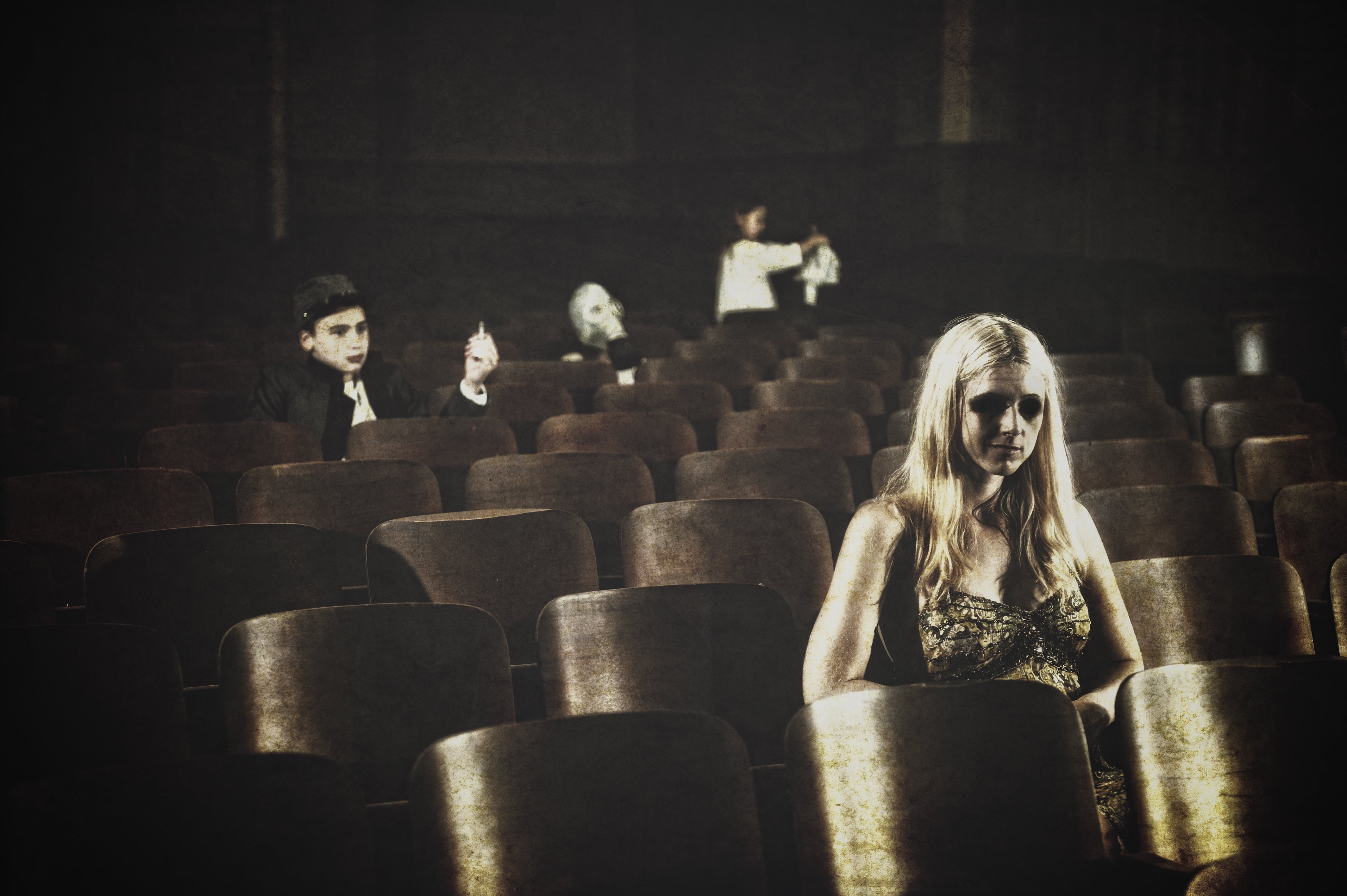 Televised Terror at the Moore Theater
In 2007, TAPS became the first group of paranormal experts to explore the building in its hundred-year history, filming it for the third season of the SciFi channel's Ghost Hunters series.
Interestingly, while their equipment, a regular and thermal video camera, did not pick up the usual signs of the afterlife, several of the team's members did profess to have paranormal experiences.
More than one guest has reported seeing orbs and feeling presences over at the adjoining Moore Hotel at 1926 2nd Avenue as well as the nearby Pike Place Market. It's possible that these ghosts have also come or come back to view a show or two.
History of the Moore Theater
The Moore Theater began construction in August and opened in December of 1907. It was designed by the talented E.W. Houghton, who already had three-hundred and seventy-five buildings under his belt, including Moore's Arcade Building on 2nd Avenue.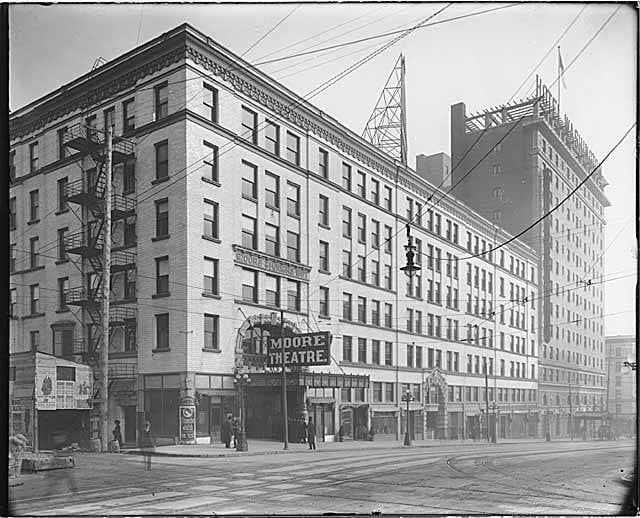 Originally, Moore wanted to put a theater in the hotel he owned on Denny Hill as early as 1903. Then a Regrade Project by the city leveled it and the Washington Hotel.
Determined, Moore recruited Houghton and the rest is history.
No expense was spared for the new venue's foyer, which featured thirty-thousand dollar marble plus Mexican onyx paneling and twenty-thousand dollar interior stucco – over eight-hundred thousand and five-thousand dollars today, respectively. It also had solid brass fixtures and statues of Greek muses.
Having been built in the era of Plessy v. Ferguson, the Moore had a separate entrance to a much less luxurious gallery above the balcony for African-American theater-goers. The entrance still exists to this day, though obviously no longer serving its original purpose.
With an official seating capacity of two-thousand four-hundred and thirty-six, the Moore was the third-largest theater in the United States at the time of its premiere. It currently seats one thousand eight hundred after some remodeling and refurbishment by Cecilia Shultz, who was the first woman to manage the theater between 1935 and 1954, and Henry Beckett who took over from 1954 to 1975.
In 1975, the theater was leased by a couple of film buffs, Canadian Darryl MacDonald and American Dan Ireland, who did three months of yet more renovation work and renamed it The Moore Egyptian in order to invoke the zeitgeist of 1930s cinema.
Only a year later, the Moore Egyptian hosted what would be the very first Seattle International Film Festival (SIFF). SIFF ran for a month at a time, showing as many as a hundred and twenty films in 1979.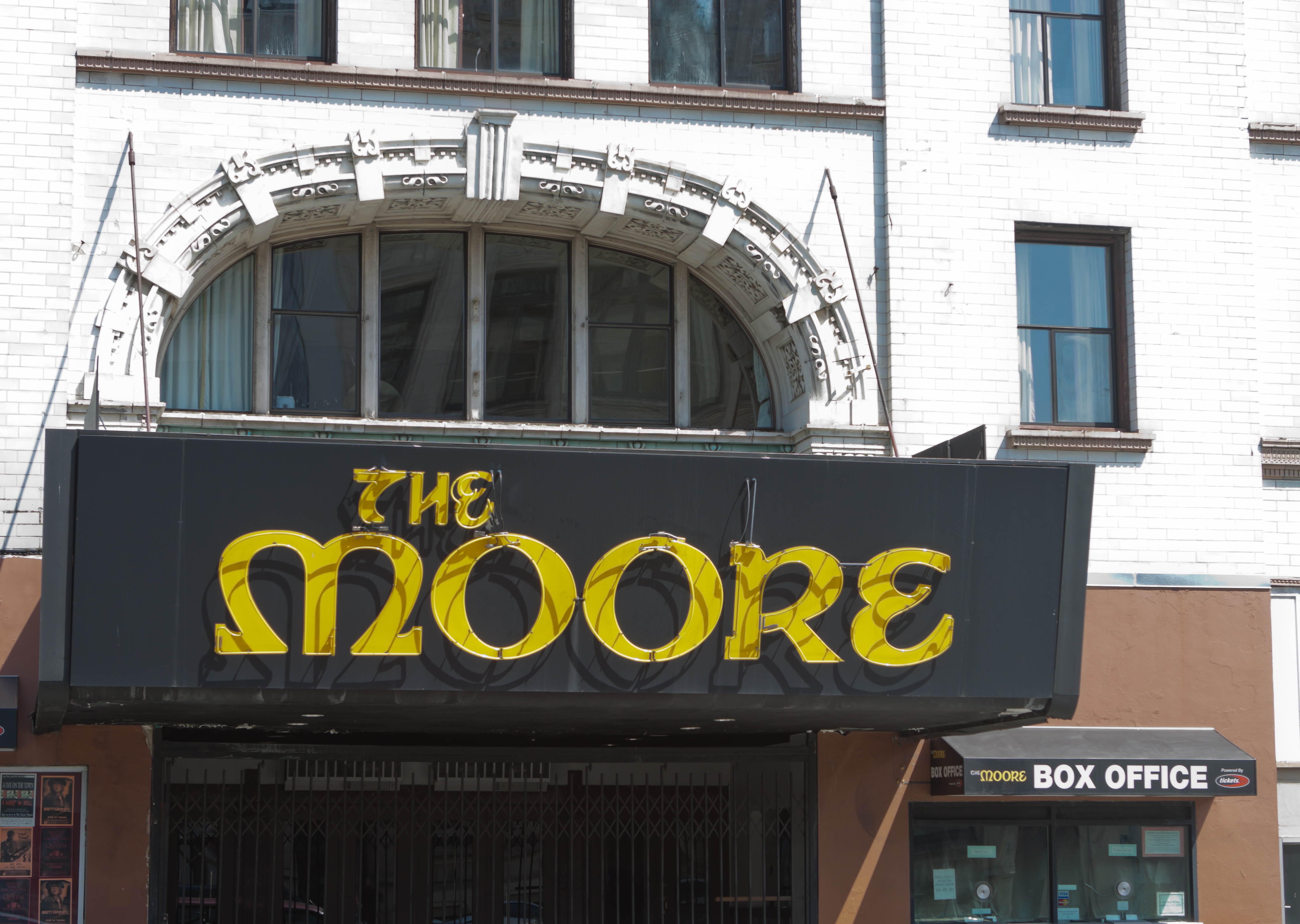 Lost in the shuffle as an average rentable property from when the pair lost the lease in 1985, it was rescued from obscurity in 1992 by Ida Cole of the Seattle Landmark Association – which became the Seattle Theater Group (STG) in 1999.
STG operates the theater to this day, leasing it from the current owners, family of attorney and real-estate investor George Toulouse.