We've partnered with The Haunted Drury Plaza Nashville to bring you a Room + Ghost Tour Package in Nashville. For more information, please visit their website.

300 Korean Veterans Blvd, Nashville, TN.
Did You Know?
Located in the Heart of Music City
Free 5:30 Kickback Menu
3 Minutes from Country Music Hall of Fame
Near the Ryman Auditorium
Ghosts of the Haunted Drury Plaza
What happens when you mix moonshine and murder? A slew of haunted hotels. That's why Nashville is one of America's top spots for paranormal getaways. From mysterious orbs to partial apparitions, those sensitive to paranormal energies will savor their stay at this luxury establishment.
After all, with its surrounding haunted attractions, it's no surprise that a few specters slip through.
Haunted Attractions Nearby
The Drury Plaza is located in the Heart of Music City, providing easy access to some of the city's most haunted locations. If you're looking for chills and thrills, this Nashville namesake has you covered.
Pop into the nearby Ryman Auditorium to learn more about Nashville's ominous Opry Curse or the Ghost of Thomas Ryman. Those with a soft spot for phantom poodles will adore Skull's Rainbow Room while country music connoisseurs will love Nashville's iconic Tootsie's.
Ghosts of the Ryman Auditorium
This infamous auditorium hosts more than those who dare to sing on stage. Populated by poltergeists, Ryman Auditorium is frequented by the dead as often as by the living.
After Captain Thomas Ryman passed away in 1904, his Union Gospel Tabernacle was renamed Ryman Auditorium. Yet, contrary to his wishes, the space was repurposed as a live music venue. Those sensitive to supernatural energies claim that's why Ryman's poltergeist stuck around.
Stop by during your stay at the Drury Plaza to see for yourself.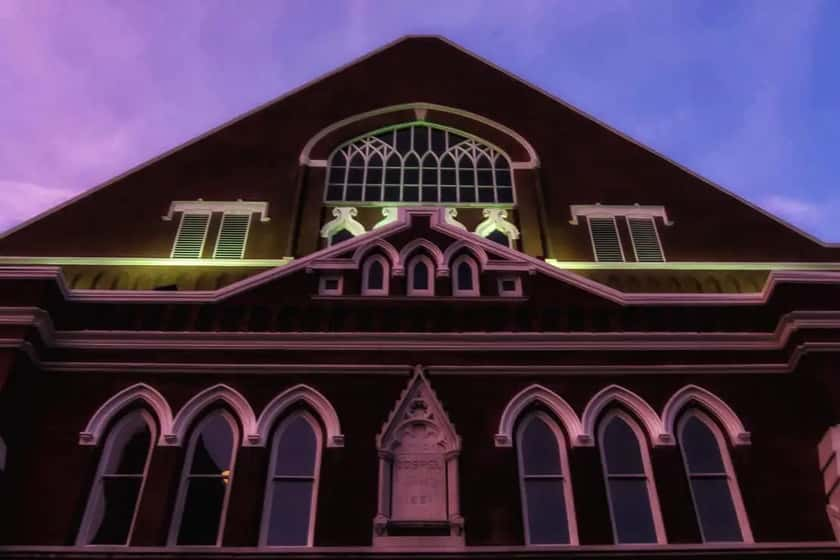 Phantom Poodles of the Rainbow Room
Whenever you think about bars in the Bible Belt, you may not think burlesque and speakeasies. Skull's Rainbow Room is here to change your mind. Located in Nashville's notorious Printer's Alley, this tribute bar isn't for the faint of heart.
The bar's most prominent specter belongs to David "Skull" Schulman himself, now considered a lifelong resident of the Rainbow Room. It's no surprise that his poltergeist haunts the house: this beloved bar doubles as the place of his death.
Yet, Skull isn't haunting the house alone. He's often spotted in Printer's Alley, pulled along by a tiny, white poodle. Is this Sweetie, the pup who witnessed his macabre murder?
Terrors at Tootsie's
Established in the '60s, this famous honkey-tonk quickly became a haven for country music superstars. Not only has it catered to living legends like Patsy Cline and Willie Nelson, it's also popular among poltergeists. From unexplained blackouts to full-bodied apparitions, see why Tootsie's is the most haunted bar in Nashville.
Making the Most of Music City
Can't stomach ghosts? Wind down with more amenable spirits at the Drury's complimentary "kickback." Every evening, patrons are welcome to a rotating menu of drinks on the house.
The Drury Plaza additionally offers world-class amenities, free Wi-Fi, and 24-hour fitness centers. A treat for ghosthunters and globetrotters alike, this haunted hotel will send you home with more than memories of Music City.