Why Walking Ghost Tours are better
I was recently asked by a mom, "why should we take a walking tour when there are trolley tours running every twenty minutes and carriages lined up waiting to show us around?" I thought about it for 30 seconds, and then it hit me, "Because you can!" Unfortunately, that wasn't a good enough answer, but after 30 more seconds I quickly ran through a few more reasons that flew off the top of my head and discovered that a walking tour really is the best way to explore a new destination. So, please allow me to share with you my three reasons why you and your family should take a walking tour.
Get Your Bodies Moving!
You can't argue that being active is good for you. Some say that "a family who plays together, stays together." And most of us spend a lot of time sitting in front of computers or in classrooms, so why not use the time away from your everyday responsibilities to be active; burn some calories!
Whether you're visiting Charleston, New Orleans, or Savannah, you're going to be tempted to experience some amazing cuisines. And the South isn't exactly known for health-conscious cooking. Down here, we love to use lots of butter, tons of cream, and then there's the frying, not to mention the sweets. I can sometimes feel my glucose levels start dancing when I look at a tall cold glass of sweet iced tea. Now, I'm a firm believer "when in Rome," and that means eating with the locals, but if you look around you, a lot of those locals are also walking. They know those grits and beignets aren't going to disappear from their tummies, hips, and thighs, miraculously.
The beauty of our walking tours is that they aren't a sprint, they are a proper stroll, which means that you cover about a mile or so in just less than 2 hours. It's a lovely pace for all ages and usually leaves our guests grateful for the opportunity to see the city up close and personal. It feels special to walk up to the monument, or the centuries-old building, or the gates of the cemetery where the souls from a different time have been laid to rest, and feel the shared sidewalks or the earth under your feet, rather than just doing a drive-by. A walking tour is designed to be an experience and activity for you and your family.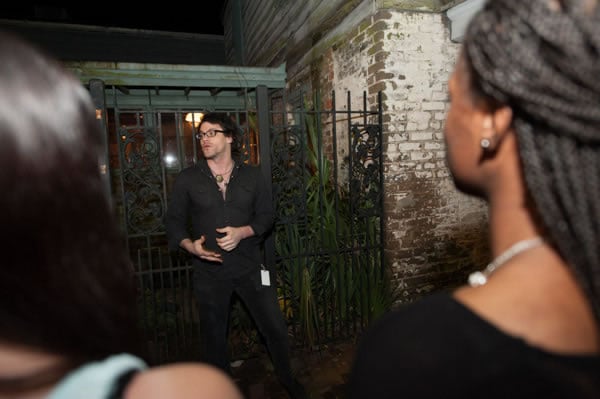 Discover a New Perspective
I understand that there is something romantic about seeing a city from the back of a horse- drawn, or mule-drawn in New Orleans, carriage. The clopping of the hooves and the rocking of the buggy can very quickly inspire you to imagine what it must have been like to travel by handsome cab. But let's be honest, the minute you realize that those poor animals are dragging people around for 8-10 hours a day in the sweltering heat and unnatural humidity of the Southern cities on the water, the picture quickly changes.
There's also the opportunity to see and go places by foot that aren't an option by carriage or trolley. Whether it's an old dark alleyway that was once used for transporting stolen goods, including humans, or the courtyards that once held high society garden parties, a walking tour is the only option that gives you the opportunity to experience those places in person. Strolling through an alley with your guide telling you the stories and legends of its past allows your mind to create the imagery of what it was like in the 1800s. The smells, the sounds, and the images come to life. Some guests have even had paranormal experiences while on our Dead of Night Ghost Tour, Ghosts of Liberty Tour, and Ghost of New Orleans Tour!
When you're traversing the streets and sidewalks with on one of Ghost City's professional guides, it's pretty much a guarantee that you are going to get a different perspective on the city you are visiting. Those moments between stops allow you to walk and talk to your guide; you can ask questions about the city and become privy to the spots that are a must and the places that should be explored. Our guides love giving our guests some insight on their city.
Another perk of a walking tour are the super juicy stories. When you're on a trolley or carriage ride, you tend to get an abbreviated version of each stop as it whooshes by you. On a walking tour, you're able to hear the story and absorb the facts and legends while standing at the location, and for kids, that's a huge bonus. They stay engaged and eager to hear more. But when you're on a trolley or in a carriage, it's difficult to offer many details as you're moving past the location, much less hold someone's attention while they wish they could hear more about that cemetery two stops ago. It's a shame because so many of these interesting locations really deserve your time and full attention; think about it, there's a reason why after decades and sometimes centuries, their ghosts haven't left.
Interactive
I can appreciate that not everyone is a social butterfly, and many are not fans of the "Chatty Cathy" in a group, but a walking tour gives you the option to hang back and strictly observe, or head to the front of the group and raise your hand at every stop. (I promise, not every tour has one.) Believe or not, many times there's a question from the gallery that sends the entire tour into a really interesting haunted history lesson. Our guides have a lot of experience and knowledge and only a short 90 minutes available to share it all with you, so it excites them to have a group that is thirsty for as much information as they can get.
I can speak from experience, walking tours bring out the best in most folks. Everyone is there for the same reason, curiosity. And even those that walk up, begrudgingly, as their significant other booked the tour while they would rather be eating crawfish in a local sports bar, by the 2nd stop their ideas for the evening have changed. I used to love to get the "skeptics" on my tours; the folks that were determined the tour was going to be snake oil and sensationalized stories, always ended up being the ones that asked the best questions. They didn't all convert to paranormal investigators or Civil War historians, but they always left with a smile a good story to take home with them.
It's always fun to see the kids make new friends on our All Ages Walking Ghost Tours. Watching the parent's smile and encourage the interaction, while pleased that their child is enjoying learning about the city's history, and hauntings is truly rewarding, at the end of the day, that is exactly why we give tours. We want to share and preserve the history of these magical cities and encourage our guests of all ages to continue the discovery of our country's past.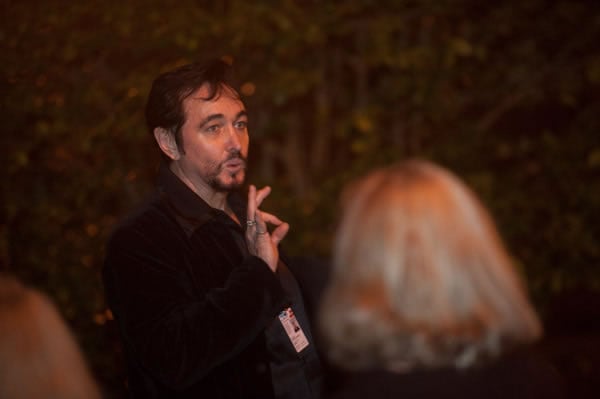 Still Asking Why Walk?
It would be silly and presumptuous to think that one walking tour is going to sum up a city's entire history, but we do a dang good job of painting the picture of how life was and what influenced the city's culture in less than 2 hours. Ghost City wants to provide each of our guests with the best experience imaginable, and encourage everyone to get involved with the history and hauntings. We also want to make your family trip a success!
Allow me to do a gratuitous recap on why your family should experience a Walking Ghost Tour. The obvious and usually not the first thing we think of when we are talking about a family vacation, Get Your Bodies Moving! There's no need to take all of those calories home with you. And we all need fresh air and blood flow to keep on truckin', so turn your holiday with the kids into a covert mission of mild exercise and exciting history lessons with walking and ghosts.
Take advantage of a local to give you a new and interesting perspective on the city you are visiting. Our guides will take you to the hidden gems of the city, places you can't access on a trolley or carriage, and give you an unusual and unique experience through the imagery and intrigue of their stories and tales. And who knows, you might just have an experience to take home with you! Just be sure to leave that longtime resident behind, you don't want to literally take it home with you.
Have a group experience! What I love about walking tours is seeing my guests chat and share stories. It's wonderful to bring together a group of people from all over the world and spend 90 minutes discovering who the skeptic is, who the believers are, and introducing them to the rich history and mysterious legends of the city. The look on the child's face when he/she hears about the ghost of the pirate that helped win the Battle of New Orleans is priceless. Or when they discover that they are walking on a street that was built over a mass burial ground, their steps seem to get a bit lighter. Not to mention their fascination about all of the Revolutionary prisoners that were kept underground awaiting their fate in the Provost Dungeon. But, it's when a child pipes up with questions and curiosities that it truly feels like a home-run.
An Evening Family Stroll
Need we say more? A haunted history walking tour is perfect for the whole family! There is no better way to experience your holiday - so put on a pair of comfortable shoes, snag some bottles of water, grab the kids, and head out to the delightfully haunted streets for a guided walking ghost tour!